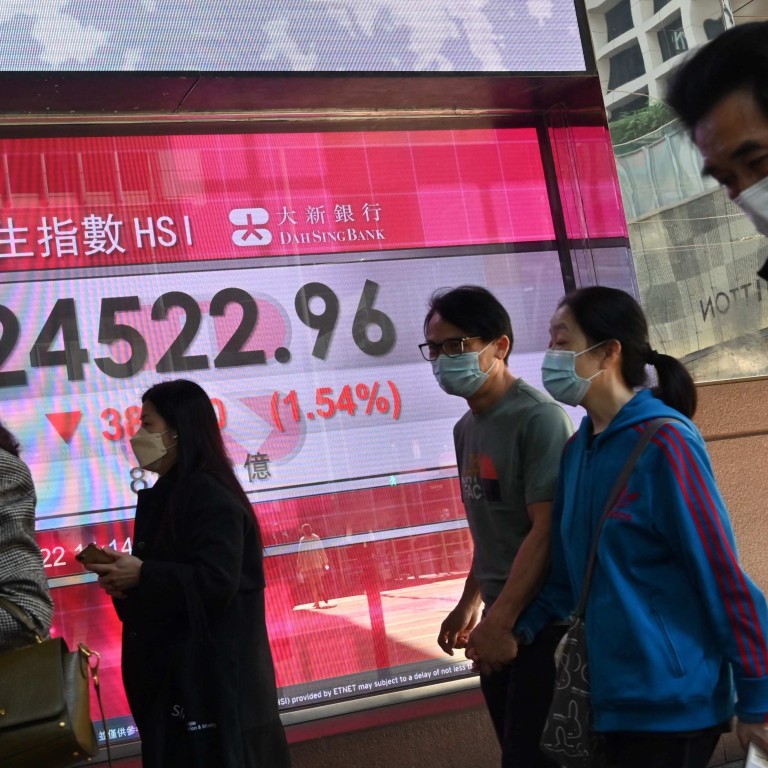 Hong Kong stocks trim losses, Alibaba rebounds as China inflation report spurs bets for more monetary easing
Stocks trimmed losses as tech firms rebounded from a sell-off triggered by denial on reports about Ant Group's IPO
Chinese carmaker Nio, video-platform operator Bilibili slipped after latest quarterly report cards disappointed analysts
Hong Kong
stocks
pared losses after a government report showed benign inflation in mainland China, boosting hopes for further monetary policy easing. Tech stocks also rebounded from a knee jerk sell-off.
The Hang Seng Index slipped 0.3 per cent to 21,806.18 at the close of Friday trading, trimming a loss of as much as 1.7 per cent. The Tech Index swung between gains and losses before closing 1.6 per cent higher. The Shanghai Composite Index gained 1.4 per cent.
Alibaba Group Holding advanced 1.4 per cent to HK$112.80 after losing as much as 3.9 per cent. Tencent added 0.4 per cent to HK$396.40 while Li Ning jumped 3.4 per cent to HK$65.35. Gains in the tech sector were limited by Bilibili, which sank 5.8 per cent to HK$219.80. Its first-quarter earnings disappointed analysts, prompting Credit Suisse and Goldman Sachs to lower their price targets.
"The rebound for tech stocks in the short term has ended, it should take some time to wait for another catalyst such as [stronger] economic activity," said Kevin Li, portfolio manager at GF Asset Management (Hong Kong). "The market is quite volatile. Visibility for the long term is not that good."
China's factory-gate prices rose at a slower pace in May, gaining 6.4 per cent from a year earlier, the statistics bureau said on Friday, versus an 8 per cent rise in April Consumer prices rose by 2.1 per cent, unchanged from April and lower than the 2.2 per cent consensus.
"China's slack inflation data for May underline weakness in the economy and add to the case for the People's Bank of China to increase stimulus further," said David Qu at Bloomberg Economics. "An extended slowdown in factory-gate inflation widens the opening for the PBOC to ease."