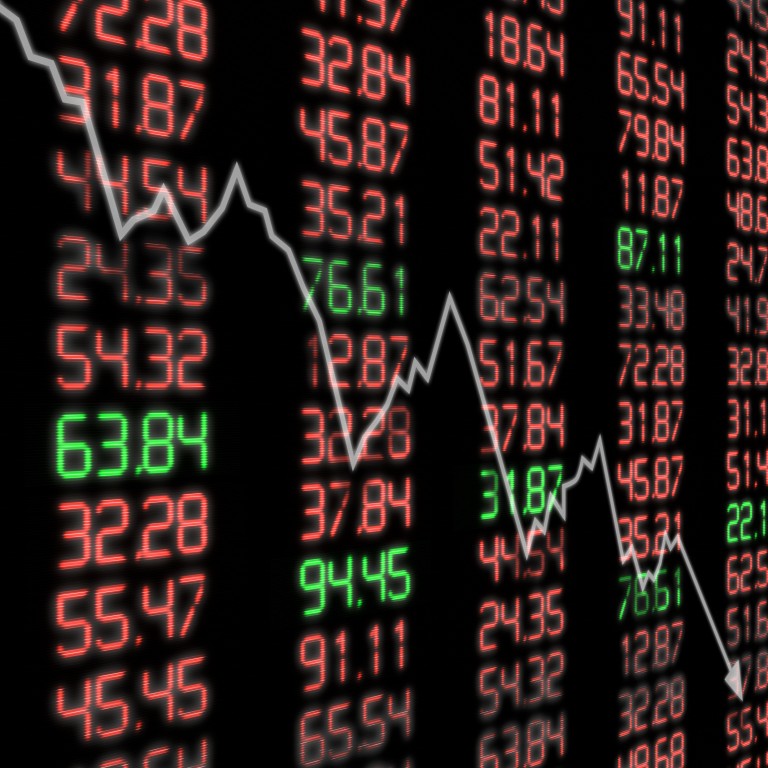 Alibaba, Meituan, Tencent sink Hong Kong stocks on regulatory pressure while China sticks to zero-Covid, slow-drip stimulus
Alibaba suffered from speculation over its ties with Ant Group after the recent departure of key fintech executives from partnership
The Politburo meeting on Thursday pledged to stay the course on zero-Covid strategy, offered no big stimulus to revive faltering growth momentum
Hong Kong
stocks
fell to its lowest in nine weeks as Alibaba Group Holding to Meituan paced losses amid renewed regulatory concerns. China's top leaders offered a relatively limited new stimulus, while pledging to stick to its zer0-Covid strategy.
The Hang Seng Index slumped 2.3 per cent to 20,156.51 at the close of Friday trading, bringing its losses this month to 7.8 per cent. It is the worst monthly performance in 12 months and also more than 10 per cent from the peak in June, sending the market into a technical correction. The Tech Index sank 4.9 per cent, while the Shanghai Composite Index lost 0.9 per cent.
Alibaba tumbled 6.1 per cent to HK$93.10 while Meituan weakened 6.2 per cent to HK$176.30. Tencent Holdings lost 4.4 per cent to HK$306.80 and NetEase declined 4.2 per cent to HK$144.70. Other notable losers included Budweiser and Longfor Group, each sliding more than 5 per cent.
Members of the Hang Seng Index have lost US$428 billion in market capitalisation in this round of technical correction, according to Bloomberg data. The 69 index members had recouped US$798 billion in value between the low in March and the peak in June.
"The peak [for regulations] has passed, but it doesn't mean that we're totally out of the woods," Ramiz Chelat, portfolio manager at Zurich-based Vontobel Asset Management, said in an interview. "The market still has a fair bit of scepticism, because of weak growth we saw in the second quarter, as well as the incrementally weaker data points we're seeing on the property market."
Risk sentiment was further dented as data showed a weak US economy, shrinking for the second straight quarter and
fuelling recession fears
, a day after the Federal Reserve raised its fed funds target by 75 basis point to a range of 2.25 per cent to 2.5 per cent.
Elsewhere, China's top leaders reiterated their zero-Covid stance at the 25-member Politburo meeting of the Communist Party, according to Xinhua news agency on Thursday, suggesting limited new stimulus ahead despite faltering growth momentum.
"The Politburo emphasised multiple targets of epidemic control, growth stability and development security at the meeting yesterday as it suggested flexibility on the GDP growth target for 2022," said Ye Bingnan, analyst at CMBI International. "This indicates that new policy stimulus may be limited [in the second half].
The earnings season offers the next test for members of the Hang Seng Index as they are likely to report a 30 per cent drop in the third quarter after an expected 32 per cent setback last quarter. HSBC will report on Monday while Alibaba is due to publish its results on Thursday.
Meanwhile, the head of China's biggest chip investment fund Ding Wenwu was taken away for investigation and has been out of contact, local media Caixin reported on Thursday. That follows a corruption probe into
Xiao Yaqing, who oversaw
China's technology and manufacturing sectors.
In Shenzhen, Empyrean Technology Co Ltd surged 129 per cent to 75 yuan on its trading debut. In Shanghai, Changshu Tongrun Auto Accessory soared 44 per cent to 44.01 while Hangzhou SDIC Microelectronics slipped 8 per cent to 58.15 yuan.
Major Asian markets were mixed on Friday. Japanese shares lost 0.1 per cent, while South Korean and Australian stocks added 0.7 to 0.8 per cent.
Additional reporting by Zhang Shidong