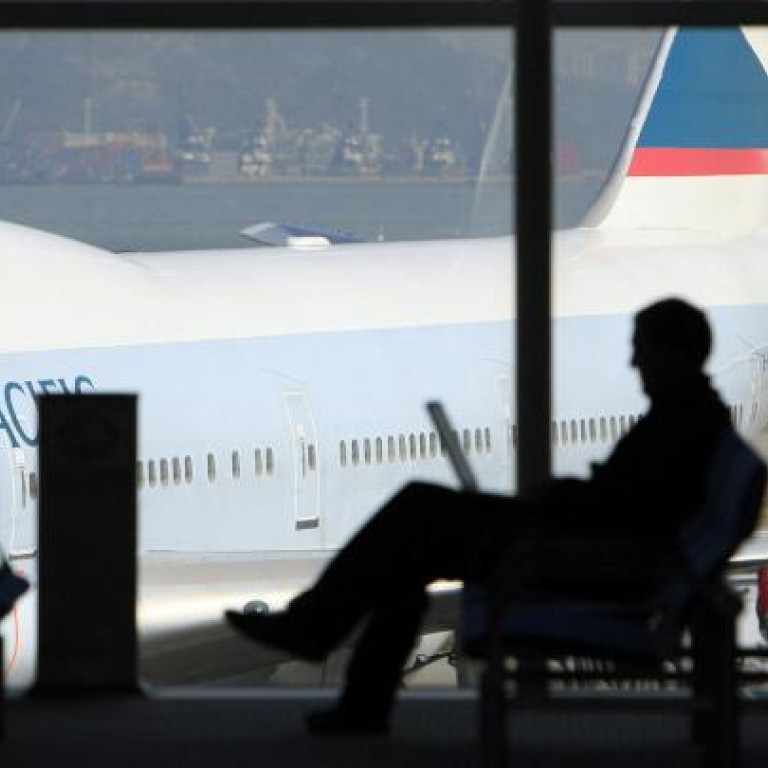 Time to rewrite Hong Kong's on-board rules on tablets?
American aviation authorities are taking another look at on-board use of electronic devices, a lead that Hong Kong might follow
Hong Kong's aviation regulator might be stirred into renewing its rules on the use of electronic gadgets on aircraft following the US Federal Aviation Administration's (FAA) decision to allow greater on-board use of the devices.
The widespread availability of tablet computers has made existing guidelines on the matter outdated, passengers complain.
Most carriers in the United States and some in Asia, including Air Asia, Virgin Atlantic, Air Asia X and Kingfisher Airlines, already provide Wi-fi connections for passengers, or intend to by the end of the year, and more are planning to jump on the bandwagon.
On-board Wi-fi connections let passengers to connect to the internet or download in-flight entertainment through live-streaming on the aircraft.
Cathay Pacific Airways, which is studying the application of air-to-ground Wi-fi internet services, welcomed the initiatives by regulatory agencies to review and potentially approve the broader use of personal electronic equipment on board, a spokesman said.
Under the existing guidelines set out by the Hong Kong Civil Aviation Department as well as other international regulators, it is the responsibility of carriers to verify whether devices using wireless local area network (WLAN), including Wi-fi connections, could interfere with aircraft systems.
The FAA said it would form a task force in autumn to define the testing methods airline operators should use to determine which electronic devices passengers can safely use on board. The study will not include cell phones.
"The main issue with interference from electronic devices is more related to cellular phones than any networks within the aircraft," said Michael Reilly, chief executive of Stellar Entertainment, a Sydney-based inflight entertainment system provider. "Use of cell phones on board raises a combination of issues surrounding electrical interference and also social issues," he added.
"That's why air-to-ground communication systems for now are focused on data rather than voice."
The Civil Aviation Department said it would keep up to date with developments about the subject and consider implementing any forthcoming requirements stipulated by the International Civil Aviation Organisation, the FAA, and the European Aviation Safety Agency when necessary.
This article appeared in the South China Morning Post print edition as: Time to rewrite HK's air rules on tablets?