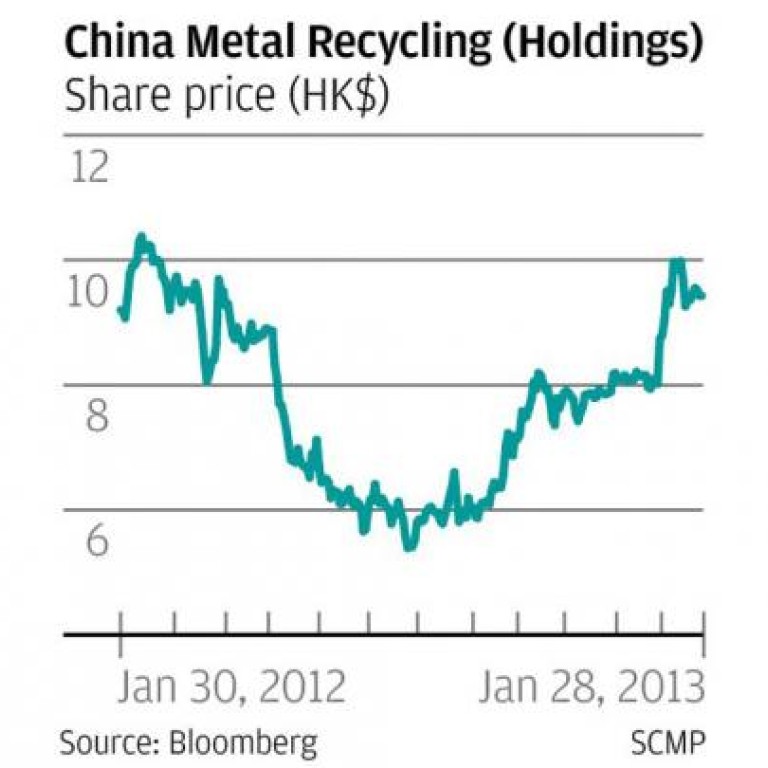 Scrap metal giant CMR denies fraud allegation by US firm Glaucus
CMR shares suspended after Glaucus Research claims firm has 'deceived market' over its size
The company that claims to be the largest scrap metal recycling operator in China has denied allegations of fraud made by the American short-seller Glaucus Research Group.
China Metal Recycling (Holdings) (CMR) is the largest mainland scrap metal recycling company in China, based on its 2008 revenue, according to a survey by the China Association of Scrap Metal Utilisation.
However, Glaucus, in its latest report, said: "CMR purports to be the largest scrap metal recycling company in China. We believe this is a lie. Publicly accessible import data from the Chinese government suggests CMR is a blatant fraud that has deceived the market about the size of its business."
CMR, which is listed on the Hong Kong stock exchange, said the allegations were "completely inaccurate and wholly unfounded". CMR's shares were suspended yesterday, pending a clarification statement on Glaucus' allegations. Glaucus put a target price on CMR shares of precisely HK$0. CMR's share price has risen from HK$6.02 on July 16 last year to HK$9.43 yesterday.
To produce its reported output, CMR needs to import 1.44 million tonnes of non-ferrous scrap metal a year, but data from China's Ministry of Environmental Protection indicates CMR has never been legally allowed to import more than 87,500 tonnes a year, Glaucus alleges.
CMR's revenue rose 47.3 per cent to HK$37.32 billion in the first half of 2012, with net profit up 4.3 per cent to HK$1.09 billion.
On January 25, CMR's chairman, chief executive and co-founder, Chun Chi-wai, sold a 29 per cent stake in CMR to China Energy Conservation and Environmental Protection Group, a Chinese state-owned enterprise, for HK$3.41 billion.
Glaucus said: "When the man who knows the most about CMR cashes out of the majority of his shares, investors would be wise to heed his example."
It pointed out that CMR's chief financial officer, Wong Hok-leung, resigned only six months after the scrap metal firm's initial public offering in 2009. Wong said he quit because CMR's board of directors failed to address concerns over the company's business and lack of access to company information.
Last year Glaucus alleged fraud at two other Hong Kong-listed firms, West China Cement and Shougang Fushan Resources. Both denied the claims.
This article appeared in the South China Morning Post print edition as: Scrap metal giant denies US firm's fraud allegation