Sinopec
Get more with myNEWS
A personalised news feed of stories that matter to you
Learn more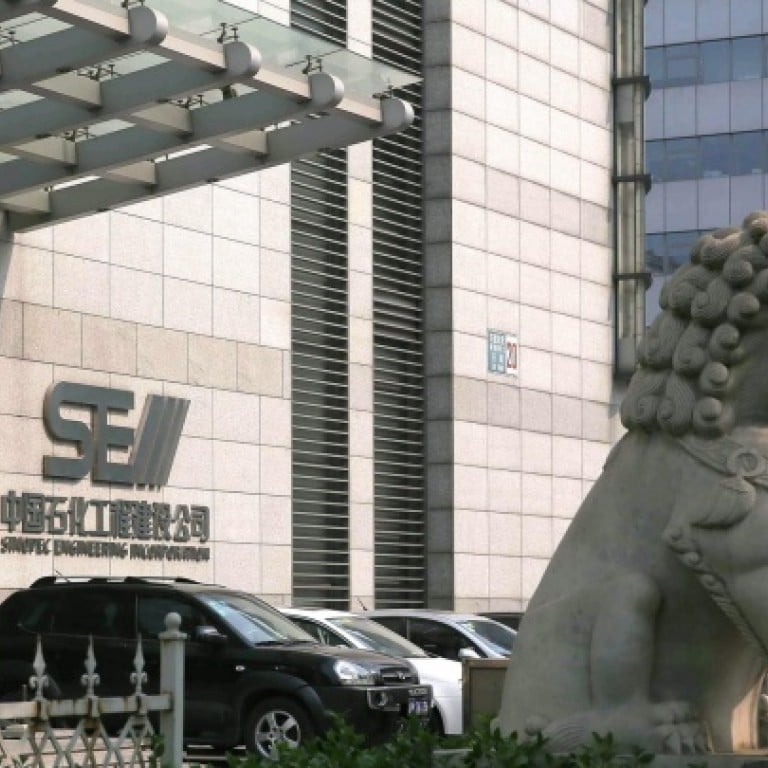 Sinopec Engineering's Hong Kong IPO to aid overseas growth
US$2.1 billion spin-off comes as firm does more business in the Middle East, Africa and the Americas and as reliance on parent decreases
The listing of Sinopec Engineering, a construction unit of China's largest oil refiner, China Petrochemical (Sinopec Group), will allow investors to gain exposure to the high-growth but risky overseas coal-chemical industry.
The firm, which builds petrochemical and refining plants, plans to raise about US$2.1 billion through its Hong Kong initial public offering.
That is more than the US$1.5 billion it had initially planned to raise, believing that a state-owned enterprise like itself deserves a valuation premium to its industry peers.
It has also enlarged the overall deal size by offering more shares.
Part of the proceeds will be used to fund overseas engineering and construction projects. The Beijing-based firm will adopt a one-stop asset-light solution model and offer financing assistance and commissioning services.
That will help it compete against the international players which have better technology and more patents.
"Korean competitors turned proactive in overseas markets starting from 2006, when the domestic market became saturated.
"They possess cost advantages achieved by strong support from their domestic manufacturing enterprises, global sourcing and relatively low labour costs," investment bank JP Morgan said in a pre-deal report, suggesting Sinopec Engineering could follow its South Korean rivals overseas.
The firm's backlog coverage ratio, which measures signed contracts versus revenue, was expected to remain at 2.2 to 2.3 times over the next two years, showing the company has sufficient orders on hand, and return on equity will stay at 8 per cent to 9 per cent over the same period, JP Morgan estimated.
The firm has built a presence in the Middle East, Africa and South and North America. Its new overseas contracts almost doubled to 5.6 billion yuan (HK$7.06 billion) last year from 3.5 billion yuan in 2010, but their profitability was hard to predict.
The listing is part of Sinopec Group's effects to internationalise its business after its chairman, Fu Chengyu, joined the refining giant last year from CNOOC, the offshore oil and natural gas producer that recently bought Nexen of Canada for US$15.1 billion.
Fu, CNOOC's longest-serving president, has gained a reputation for pursuing acquisitions in overseas markets.
Last month, Sinopec Group's listed unit, Sinopec Corp, the second-largest oil and gas producer on the mainland, raised US$3.5 billion with a bond sale, shrugging off poor mainland macroeconomic data.
Sinopec Corp, the world's second-biggest crude oil refiner last year, said proceeds will be used to fund the purchase of overseas assets from its parent firm.
It also announced a surprise HK$24 billion sale of shares in February to a handful of select investors at a big discount, prompting speculation that the oil giant would acquire assets, such as Addax Petroleum and Canadian oil sands developer Syncrude, owned by its parent.
In an effort to lessen its reliance on its parent for business, Sinopec Engineering has pursued contracts from oil refining companies outside the group. Revenue from the parent dropped to 50 per cent last year from 66 per cent in 2010.
Sinopec Group will own a 67 per cent stake in Sinopec Engineering after the unit is listed, according to the prospectus.
Sinopec Engineering was created in September with registered capital of 3.1 billion yuan through the consolidation of eight subsidiaries.
The company plans to raise between US$2.1 billion and US$2.7 billion by selling 1.33 billion shares, representing about 30 per cent of its enlarged share capital.
The firm has secured US$350 million from cornerstone investors, including China Export & Credit Insurance, China Aerospace, China Shipping and property-to-energy group Zhong Rong. Together, they account for about 17.5 per cent of the stock offering, people familiar with the deal said.
Bankers said the order book for the new shares of Sinopec Engineering was fully covered and additional cornerstone investors might place their order at the last minute.
The shares are being offered in an indicative range of HK$9.80 to HK$13.10 per share, or a price to book value ratio of 1.2 times to 1.5 times, based on forecast asset value this year.
The shares are expected to be priced on May 16.
This article appeared in the South China Morning Post print edition as: Sinopec Engineering listing to aid its overseas growth