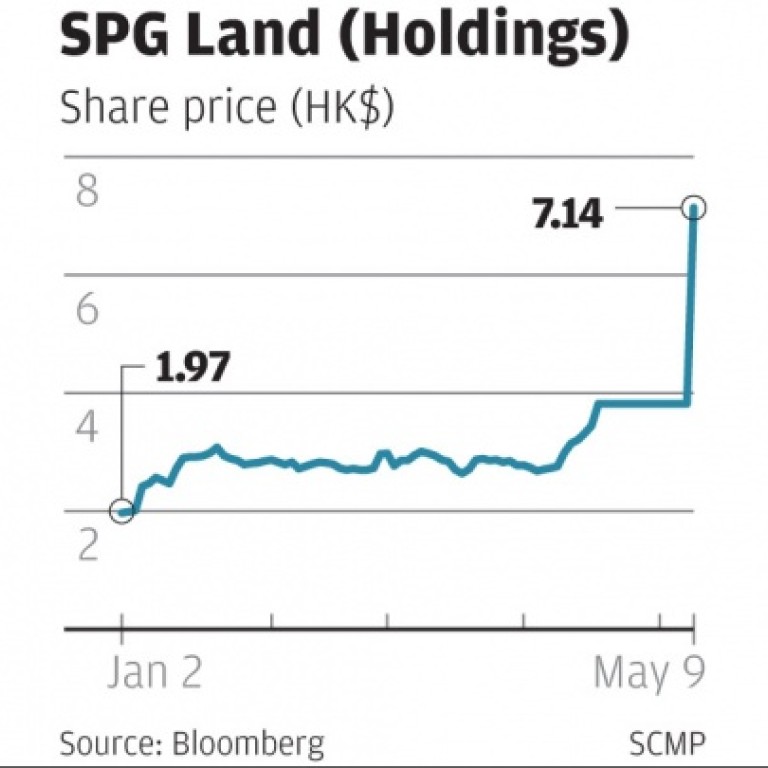 SPG Land shares soar on news of stake deal
Price spike comes as mainland developer Greenland acquires majority stake in SPG
Shares of SPG Land (Holdings) surged 86.91 per cent on an announcement that mainland developer Greenland Holding Group will acquire a majority stake in the company.
SPG Land, a developer focusing on the development of high-end residential and integrated properties in the Yangtze River Delta, saw its shares up HK$3.32 to HK$7.14 after trading resumed in Hong Kong yesterday.
"SPG is not purely a shell company, it has assets in value of 6 billion to 7 billion yuan," said Bocom International property analyst Alfred Lau. The stock won investors' favour yesterday as the deal will help the firm better utilise Greenland's balance sheet and its presence in China, according to Lau.
On Wednesday, SPG Land announced that Greenland agreed to subscribe to the subscription shares and convertible preference shares, representing 60 per cent of the enlarged issued share capital of SPG Land at a price of HK$1.9 per share, or a total consideration of HK$2.996 billion.
The share price represented a discount of 50.3 per cent to the closing price of HK$3.82 per share on April 18, the last trade before the stock was suspended from trading on April 19.
This is the latest backdoor listing sought by sizeable mainland developers.
Last year, China Vanke, the biggest mainland-listed property developer by sales, acquired a controlling stake in Hong Kong-listed Winsor Properties, while China Merchants Property Development also bought into Hong Kong-listed consumer electronics maker and retailer Tonic Industries in a bid to seek backdoor listings.
"Greenland has long been looking for listing status in a bid to enhance its financial channels," said Lau of Bocom.
Analysts said SPG had been suffering from liquidity risk as sales slowed since last year. Its total debt to capitalisation - a ratio that measures the financial leverage of a firm - is 68.7 per cent as of December 2012, according to Moody's Investors Service.
Moody's said in a report released on Wednesday that the new guidelines issued by the central government in February are to further clamp down on investment demand. Developers like SPG Land with large inventories of luxury properties - which are subject to policy controls - will see weak sales growth. These companies will need time and new funding to reposition their product strategy.
This article appeared in the South China Morning Post print edition as: SPG Land shares soar on news of stake deal