IPO
Get more with myNEWS
A personalised news feed of stories that matter to you
Learn more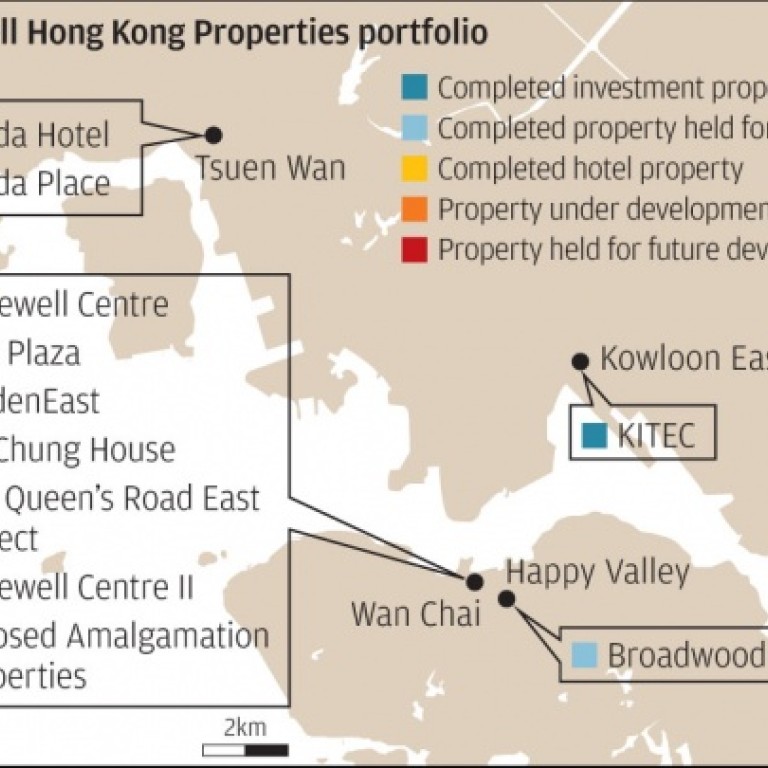 Hopewell arm eyes float amid upbeat outlook
Developer hopes to lure investors with high-rent projects Hopewell Centre II and 200 Queen's Road East in Wan Chai
Hopewell Hong Kong Properties, a spin-off from the conglomerate Hopewell Holdings, plans to raise up to US$800 million from an initial public offering in Hong Kong, cashing in on the positive outlook for the city's commercial property market.
Bankers said the company, the property arm of Hopewell Holdings, may raise between US$500 million and US$800 million, and the roadshow may kick off as early as Monday.
The new shares are believed to be priced at a discount of 30 per cent to net asset value, while the company is poised to offer higher earnings growth than the industry average, bankers said.
BOC International and Credit Suisse are the sponsors of the deal.
Analysts said the key to the fundraising plan is whether investors would bet on the upside potential of Hopewell's rental assets in Wan Chai, which will house its new developments Hopewell Centre II and 200 Queen's Road East.
Vincent Cheung Kiu-cho, national director of Greater China at the consultancy Cushman & Wakefield, is upbeat on the growth potential of Wan Chai on the back of the Hopewell Centre II development. Current rents in Wan Chai do not reflect the future value of the district, Cheung said.
Hopewell Centre II, according to the company, is expected to be a 55-storey mixed-use development, which will be an extension of the Hopewell Centre.
It will comprise a large conference hotel with more than 1,000 guest rooms, a retail section, office space and parking that can accommodate up to 168 cars.
The total gross floor area of the development is expected to be about 1.09 million square feet, with an investment cost estimated at about HK$9 billion.
As of March 31, the company had committed HK$4.41 billion to the Hopewell Centre II project, which is expected to be completed in 2018.
Average effective rent per gross square feet of office and retail space of Hopewell Centre is HK$30 and HK$38.10 respectively at present.
Patrick Wong, associate director for property research at BNP Paribas, said: "Hopewell Hong Kong enjoys a niche, as it will be the only listed property company focused on Wan Chai."
He said he, too, was positive about the growth potential of Wan Chai.
Alex Wong Kwok-ying, asset management director at Ample Capital, however, was less enthusiastic, saying the growth potential of the area was limited. But he said he expected some existing investors of Hopewell Holdings to dump their shares and shift to the property arm.
The pre-listing document said Hopewell Hong Kong's profit, excluding property revaluation gains, amounted to HK$396.1 million for 2012, up from 2011's HK$329 million. For the first half of this year, Hopewell's core profit rose 14.9 per cent to HK$232 million.
The company owns 3.5 million sq ft of gross floor area, including Hopewell Centre in Wan Chai, the Kowloonbay International Trade and Exhibition Centre (EITEC) commercial complex in Kowloon East and the Panda Hotel in Tsuen Wan.
This does not include developments under construction, such as Hopewell Centre II and 200 Queen's Road East.
The net assets of the company rose from HK$12.11 billion in 2011 to HK$21.62 billion at December 31, 2012, while current liabilities amounted to almost HK$10 billion. The loans will be partly be settled from the proceeds of the spin-off.
This article appeared in the South China Morning Post print edition as: Hopewell arm eyes float amid upbeat outlook