HKEX
Get more with myNEWS
A personalised news feed of stories that matter to you
Learn more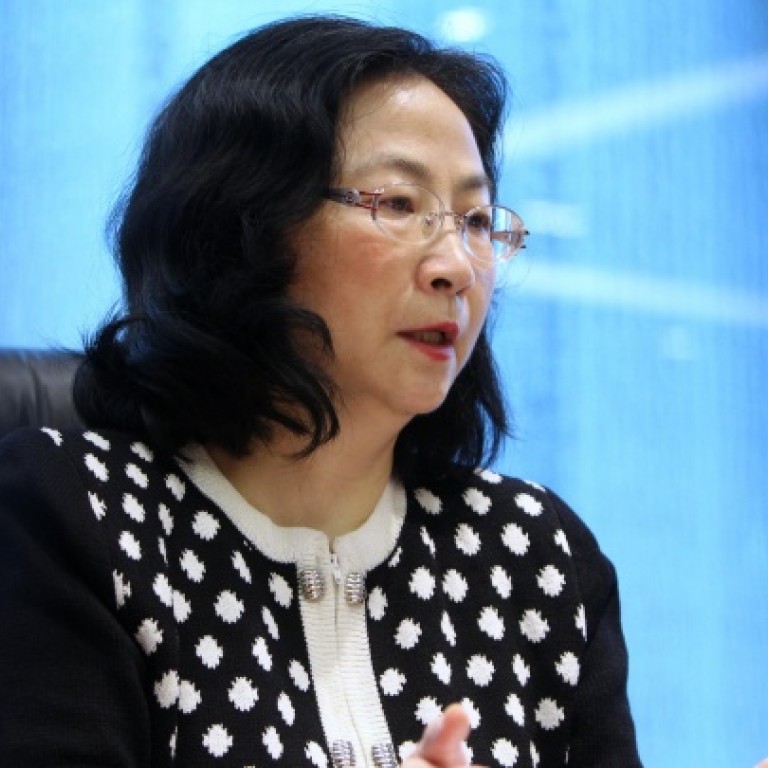 HKEx director Margaret Leung smashes the glass ceiling
A new director of Hong Kong Exchanges and Clearing, Margaret Leung wants the government to do more to help women reach the top
A veteran banker and newly appointed director of the local bourse, Margaret Leung Ko May-yee has been breaking the glass ceiling that keeps women down for a while. And she wants more women join her in smashing it.
Leung made history in 2009 when she became the first female chief executive of Hang Seng Bank. In 2005, she was the first Chinese woman to make it to the position of HSBC group general manager.
She retired from her 37-year banking career a year ago and recently accepted an appointment from the government to be a director of Hong Kong Exchanges and Clearing, the operator of the stock and futures markets. While many consider this an encouraging sign for more women on boards, she says it is not enough.
"Now I am the only female on the 13-member exchange board. So it is one woman with 12 men. Before me, there have only been two women directors of the HKEx. In Hong Kong as a whole, only about one in 10 directors are women. This is too low when you consider that we have an almost equal number of male and females in the world as well as in the workplace," Leung said in an interview with the .
"More should be done by the government and the exchange to encourage companies to promote women to top executive positions and to boards of directors," she said.
The mother of two daughters, Leung speaks with a smile and a warm voice. Sitting in her office, she wears her hair in soft curls and is dressed in a smart skirt suit. Her daughters gave her a pink handbag as a Mother's Day gift.
But the former chief executive is all business at work. She answered questions directly during a one-hour interview and expressed her points of view on a variety of topics clearly.
"It is not easy for women to climb to the top. On one hand, some male employers still prefer to hire males or promote male staff. They think female staff will at some stage prefer spending more time with their family," she said.
"This is not just a problem with the bosses, but also with women themselves. When I was at Hang Seng Bank, I wanted to promote some female colleagues who had the potential to be senior executives. But they told me they did not want to be promoted further because they preferred to spend time with their husbands and young children."
Leung supports the HKEx's new programme to encourage women who have stopped working to take care of family to return to the workplace. The programme offers courses and seminars to help former HKEx staff learn about the latest regulatory changes.
"Society now gives equal opportunities to women in terms of education and career. It is just a question of whether women want to take the opportunities and challenges to climb to the top," she said.
Leung recalled her university days in the 1970s: there were only a handful of women there, and some courses such as medicine, engineering and architecture were all men. About 20 per cent of the students in her bachelor degree courses in economics, accounting and business administration at the University of Hong Kong were women.
The average wage for male staff at that time was generally higher than that for their female counterparts even if they were doing the same job.
Now, there are more females than males in universities and wages are equal, she said. This, she added, provided a platform for women to become business leaders. But then, she admitted, not all women are aggressive enough.
"Many of my female classmates at university wanted to work for the government. They wanted a stable income and a secure life. Such a position would entail too much certainty for me," she said. "I wanted a job with challenges and responsibilities."
Her first job in banking was a trainee position at Bank of America that paid a monthly salary of HK$1,700. She jumped ship to take a better paying position at HSBC in 1978. At HSBC she grew to become a top banker, thanks to good bosses who trained her in both banking and management.
For women wanting to climb to the top, she offers a tip: be wise in choosing which departments you work for.
"I chose not to stay in departments which offered little chance of promotion. I liked to take on tough and challenging jobs that would give me an opportunity for promotion," she said.
This is why in 1983, when married with two young children, she still asked her boss to send her to Australia to head up a newly acquired business.
"When I worked in Australia alone [in 1985], I missed my husband and children so much. But I knew that was the price I needed to pay to develop my career," she said.
The experience proved to be vital for her to learn about setting up new businesses. Shortly after she returned to Hong Kong, she achieved her goal and was promoted to various top roles in both HSBC and Hang Seng Bank, its subsidiary.
As a boss, she hired people for their abilities, not their gender.
"It is through the different views of different people that we can move things forwards," she said. "Men usually are more aggressive while women normally are more cautious. What would have happened if Lehman Brothers had been Lehman Sisters."
This article appeared in the South China Morning Post print edition as: Boardroom pioneer