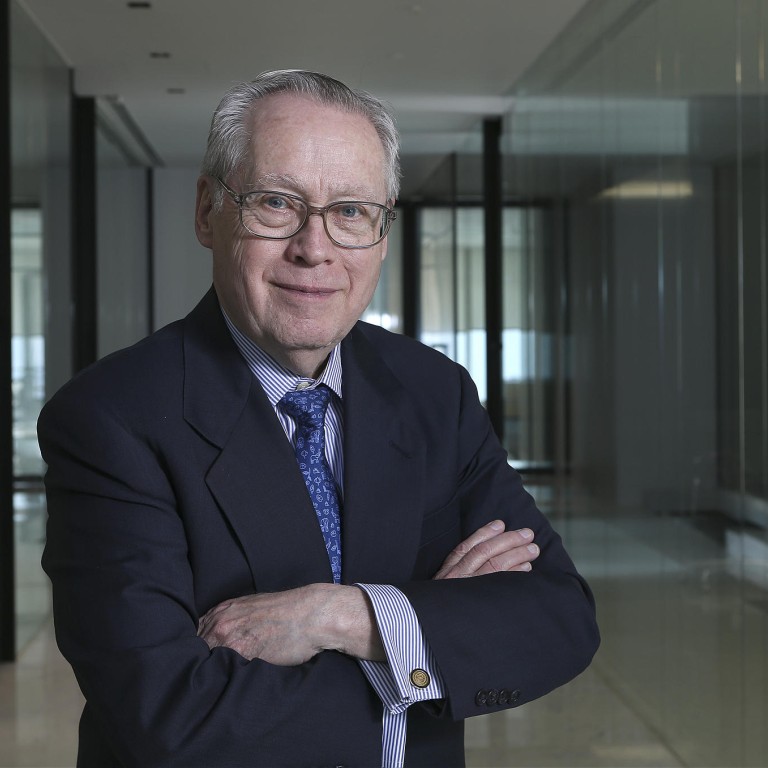 Funds will return to Asian bonds, says Fuss
Renowned investor says the worst is over for Asian bonds, after the regional markets suffered an outflow of funds last year on US taper fears
Dan Fuss, the legendary investor dubbed the Warren Buffett of the bond world, says the Asian bond market is on the road to recovery after concerns over developing markets prompted an outflow of funds last year.
Yield compression - or investors' expectations of declining yields - would continue this year before yields went up, Fuss said, thanks to the strong fundamentals in the region. The market's expectation of falling yields was the key factor that drove the impressive returns over many years for Asian bonds until earlier last year.
Loose monetary policies globally since the 2008 financial crisis - which were underscored by low or zero interest rates - had encouraged capital inflows into Asia's bond market in search of higher returns and currency appreciation. Yet the past year has seen investors' concerns about the outlook for emerging markets increase amid slowing economic growth.
In tandem with the growth concerns, the United States Federal Reserve's signals last year for a tapering of quantitative easing, with a spike in the returns of US government bonds, also prompted investors to cut holdings of bonds in developing markets.
Yet Fuss, vice-chairman of US-based Loomis Sayles & Co, said the situation in Asia's bond market was not as dire as in the 1997-98 financial crisis, when bond yields spiked as investors cashed out of the region. Moreover, the cycle of outflows was "ending", he said.
"In the early 90s, there was a crisis in the emerging market bond market and then there was a recovery. The capital inflows were beneficial but the outflows were damaging. But that was what I call a normal market experience in any market that's developing and attracting new capital," he said.
"I am using the past tense. We just went through a second one of these, not as bad as the first … This one is not as extreme as it was 15 years ago and I think it is ending. The thing that could interrupt it would be bad headlines about China and Japan."
Fuss, 80, manages the two best-performing large US bond funds over the past 10 years. His US$15.1 billion Natixis Loomis Sayles Strategic Income Fund and the US$21.7 billion Loomis Sayles Bond Fund returned more than 125 per cent over the period, taking the top two rankings for 65 bond funds with more than US$5 billion in assets that have been trading for at least 10 years, data compiled by Bloomberg shows.
"My view of the Asia markets in general is that on the fixed income side, things are getting better for individual countries for debt payable in their currencies," he said.
"The compression of yields of Asia that has gone on for a number of years still has a bit to go."
However, Fuss is sanguine about development of the region's bond market.
"The [Asian bond] market is still developing - it is far more developed than it was 50 years ago. But it is not as developed as the older Western markets, such as US and Europe," he said.
"One of the reasons is that it is growing faster, so its needs for capital are greater. In Asia, the demand per person is growing subject to their purchasing power.
"The dependency ratio [the number of dependents, children and the elderly, in relation to the total population] is climbing. With that situation, you wind up initially with a several-decade-long period of economic growth. That is the situation Asia is in right now."
While Fuss sees the bond market picking up, he said Asian stocks presented the best investment opportunities, benefiting from higher capital inflows.
Last year, global bond funds recorded just US$43 billion of inflows, compared with US$2.66 trillion a year earlier. Global equity funds saw US$2.52 trillion of inflows, compared with US$31 billion in 2012, according to Citibank data.
This article appeared in the South China Morning Post print edition as: Funds will return to Asian bonds, says Fuss