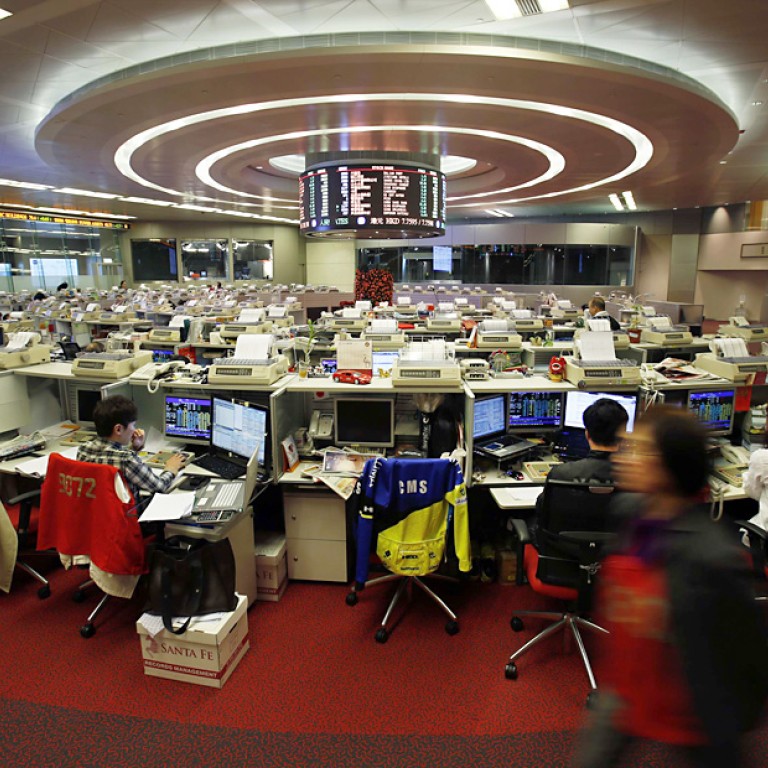 Opinion
White Collar
by Enoch Yiu
White Collar
by Enoch Yiu
Hong Kong brokers left out by new 'through train' plan
Industry players plan to lobby for changes so that they can also serve mainland investors
The latest version of the "through train" scheme - Beijing's plan to let mainlanders trade directly in Hong Kong stocks - is pulling into the station.
But unlike the last proposal in 2007, which would have benefited local brokers, this year's version seems to benefit mainland brokers more.
Let's look at the details. A mainland media report said on Thursday that Hong Kong Exchanges and Clearing and the Shanghai Stock Exchange had agreed to link their systems to allow investors on both bourses to trade in each other's market.
That led the market to believe the "through train" would soon be ready to leave the station. After HKEx saw its shares rise 5 per cent, it asked for suspension of trading in its stock 48 minutes before the market close. The exchange said that evening that no deal had been made although discussions were under way.
Based on the wisdom of "buy on rumour, sell on news", it makes sense for investors to act quickly. When Beijing announced the proposed "through train" scheme in August 2007, the stock market shot up and turnover tripled to more than HK$200 billion a day.
HKEx will definitely be a big winner if the scheme is implemented.
That is why chief executive Charles Li Xiaojia put the scheme in his three-year strategy plan in January 2012. After 18 months of negotiations, many believe there will be progress, but Beijing is still a long way from saying yes.
Looking back, while the 2007 version of the "through train" was announced officially, it still failed to get up a head of steam.
In August that year, the State Administration of Foreign Exchange announced on its website that investors could open foreign exchange accounts at the Bank of China's Tianjin branch to trade Hong Kong stocks.
Residents could also open accounts at bank outlets nationwide, which would act as agents for the Tianjin branch, and there would be no limit on the amount of shares bought.
The plan immediately made the qualified domestic institutional investor scheme obsolete. The QDII programme allowed mainlanders to invest offshore through fund products offered by banks or fund houses that succeeded in obtaining a quota.
If the "through train" plan had gone ahead, it would have benefited all the 450 or so brokers in Hong Kong as they would need to place the trades for the mainlanders when the money flowed in from Tianjin.
The 2007 "through train", however, was stalled as Beijing later considered the scheme to be too open and unamenable to control. It dropped the plan in November that year.
Under this year's version, which has yet to be confirmed, selected mainland investors would get a quota under a new version of the QDII, called QDII2, to trade Hong Kong stocks through a mainland broker on the Shanghai Stock Exchange, which would pass all the orders to HKEx for execution.
A similar arrangement on the Hong Kong side would allow investors, also subject to a quota, who want to trade A shares to get a local broker to place orders, which HKEx would then convey to its Shanghai counterpart.
The major difference is that with the new scheme, mainlanders would not trade through brokers in Hong Kong but through their counterparts on the mainland instead. This is the reason why the shares of several Hong Kong-listed mainland brokers shot up on Thursday.
Many Hong Kong brokers are far from happy with the situation and plan to lobby aggressively for a modification to the plan so that they can be allowed to serve mainland investors.
For Hong Kong's brokers, the latest iteration of the "through train" is far less sexy than the one that was dropped seven years ago.
This article appeared in the South China Morning Post print edition as: Hong Kong brokers left out by new 'through train' plan