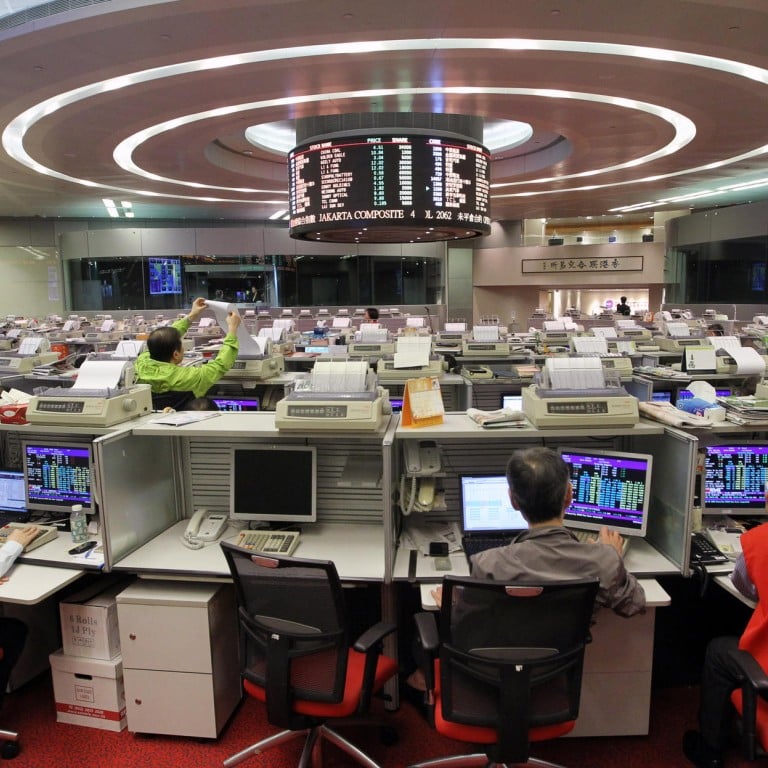 Hong Kong brokers urged to diversify as they lose out to fund houses
Industry experts say city brokerage firms must develop their businesses and get extra support from government as fund houses outflank them
Brokerage firms need to diversify or seek merger opportunities to avoid being squeezed out by the growing number of fund houses, industry players told the
Brokers, traditionally the largest group of intermediaries in the city, have been struggling in recent years due to falling market turnover, lower commission rates and competition from banks offering similar services.
The popularity of exchange-traded funds has also hurt brokers because such products, which track the constituents of an index, are more passive investments that do not require brokers to suggest stock tips.
The latest blow to brokers was losing their lead to fund houses in May in terms of the number of firms in the city, according to Securities and Futures Commission data released last week.
"This is the result of government policy which in recent years has been introducing measures to promote the fund industry," said Christopher Cheung Wah-fung, the legislator representing the financial services functional constituency. "The government has not helped the brokers to develop their businesses."
In an effort to encourage more fund houses to set up shop in the city, the government proposed a law change in March that would make it easer to launch fund products. The government and regulators also worked with mainland authorities on a plan to introduce a mutual recognition scheme that would allow cross-border fund sales.
Cheung said the government had not provided similar help to brokers and had instead implemented policies that hurt the industry, including the scrapping of the 0.25 per cent minimum brokerage commission in 2004 that led to a price war which had seen the commission rate fall to between 0.05 and 0.1 per cent.
In addition, the average daily market turnover now stood at about HK$60 billion, down from the 2007 peak of more than HK$200 billion, further eroding brokers' commission income.
Cheung urged the government to review its policies to promote brokers. "It should make regulations easier for brokers to merge to compete."
At the end of May, the number of licensed fund houses stood at 978, up 3 per cent from the end of last year, compared with 969 licensed securities brokerages, up 1.25 per cent. But the securities firms employed 27,723 people, almost four times the 7,409 working for fund houses.
Industry players said fund houses were also challenging the brokerage industry overseas.
"It's the normal pattern for the brokerage industry to develop first and for the funds industry to follow after investors get experience and seek efficient diversification," said Nick Ronalds, the managing director and head of equities at the Asia Securities Industry & Financial Markets Association.
"Some consolidation is typical for more mature industries such as brokerages. The funds industry has seen considerable innovation in recent years such as ETFs, sector funds, inverse funds, etc, and that accounts for much of the growth. And of course, the proximity of the giant Chinese market makes Hong Kong a natural headquarters for a regional funds strategy."
Mark Konyn, the chief executive of Cathay Conning Asset Management, said his fund house chose Hong Kong as its Asian hub in 2011 because of the city's financial infrastructure, sound legal system, large talent pool and proximity to its mainland markets and clients.
"Hong Kong has not disappointed with respect to any of these factors," Konyn said.
He said brokers were finding it more difficult to compete with other intermediaries around the world, not just in Hong Kong.
"Banks are increasingly offering retail investors access to stockbroker services at attractive prices. I see far more overlap between retail banks and retail stockbrokers that is putting brokers under competitive pressure.
"In other overseas markets, brokers are also under cost pressure as margins fall and volumes remain well below their peaks. Investors increasingly access stock markets directly using online discount platforms and institutional investors have been squeezing commissions for some time. These factors may be causing some consolidation within the broking community."
Konyn said, however, there was also some good news on the horizon for brokers, with the planned through train trading scheme that would permit Hong Kong and mainland retail investors to cross-trade stocks listed in Shanghai and Hong Kong.
"This will influence the way investors think about mutual funds investing in China."
This article appeared in the South China Morning Post print edition as: Brokers urged to diversify to compete