HKEX
Get more with myNEWS
A personalised news feed of stories that matter to you
Learn more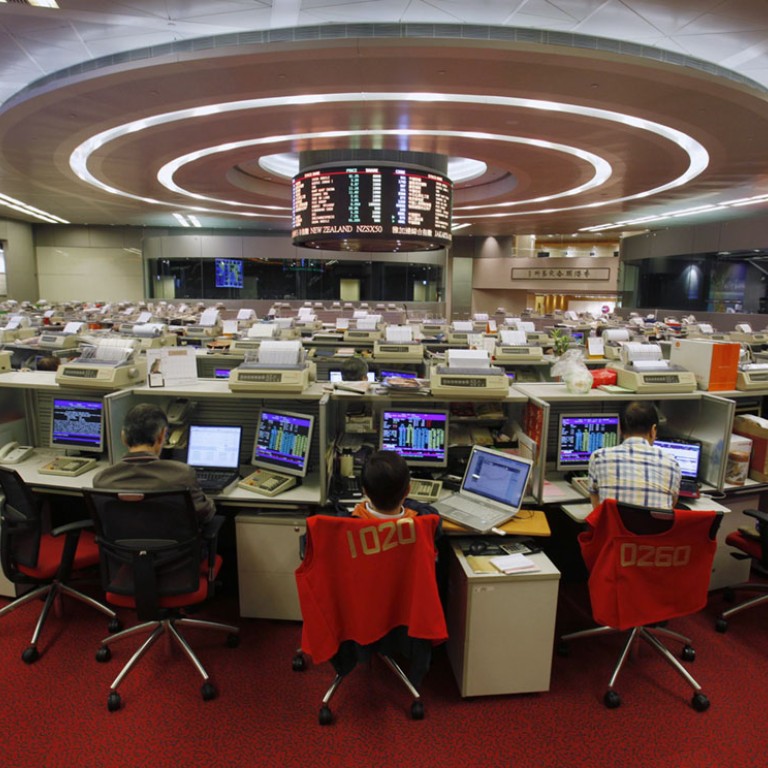 HKEx increases night trading hours for futures
Hong Kong exchange increases futures trading hours by 45 minutes in bid to head off regional rivals in the race for bigger share of turnover
Hong Kong Exchanges and Clearing will extend futures trading hours by 45 minutes from today as its rivals in Singapore and Japan also innovate to compete for market share and attract volume from elsewhere.
Nick Ronalds, the managing director and head of equities at the Asia Securities Industry & Financial Markets Association, an organisation of institutional investors, said falling turnover across Asia had prompted the moves.
"In short, exchanges are competing for pieces of a shrinking pie and are taking steps to defend existing market share and to make gains if possible," Ronalds said.
He said stock turnover had been off a bit this year while exchange-traded derivatives were down 23.2 per cent in the first half, which he described as "a decline that's way beyond the pain point".
Hong Kong's futures and options trading was down 4.2 per cent as of June, while that of the Singapore Exchange fell 13 per cent in the same period, according to Futures Industry Association statistics.
Ronalds said another factor was globalisation, which meant investors could now trade anywhere in the world through electronic systems.
"Some exchanges like the CME and Eurex have been trading virtually around the clock for some years to capture business from Europe and Asia, so it certainly makes sense for HKEx to extend its hours to get more European and US business," he said. "The more trading hours overlap with other time zones, the more traders elsewhere are likely to trade."
HKEx will, from today, close its night futures trading session at 11.45pm instead of 11pm in a bid to cover more Europe and US trade. The night session, which starts from 5pm, allows investors to trade Hang Seng Index futures and selected futures products.
The session now equals 9.5 per cent of day session volume, with 40 per cent of trading during the night session done from 9.30pm to 11pm when the US market opens.
Mark Konyn, the chief executive of Cathay Conning Asset Management, said night futures trading had been popular with international investors in Europe and the US.
"It makes sense for HKEx to have the extension to the hours … as other regional exchanges also position for similar business from overseas investors," Konyn said.
SGX said last week it planned to develop more derivatives focused on mainland China's stock markets, a move originally aimed at capturing derivatives trading demand arising from a connection between the Hong Kong and Shanghai stock markets.
Beijing announced the scheme - allowing investors to conduct cross-border trade worth up to 550 billion yuan (HK$695.3 billion) between Hong Kong and Shanghai - in April and it had been expected to start from last week.
However, the launch was delayed, adding to pressure on HKEx to introduce other plans to boost turnover, including introducing three metal futures contracts from next month. It is also consulting the market on whether it should change rules to allow companies with dual share structures to list here.
HKEx lost this year's mega initial public offering of mainland e-commerce giant Alibaba Group Holding, which opted to list in New York instead because that market allowed dual share structures.
The Tokyo Stock Exchange is considering further reducing the price increments for the shares of its biggest listed companies to defend its market share, according to a Bloomberg report, in a bid to attract high-frequency traders.
Stewart Aldcroft, a senior adviser and managing director of Citi Securities & Fund Services, said extending trading hours in Asian exchanges would be a sensible move to capture turnover from European markets.
"For global investors, they will look at the qualities of the companies they might invest in, and the extent of liquidity and trading activity of the shares. In this respect, Hong Kong and Tokyo are going to be the most popular choices," Aldcroft said.
Rex Auyeung Pak-kuen, the Asia president of US firm Principal Financial, said HKEx was better than other regional exchanges in terms of attracting international investors because it had a China concept.
Eleanor Wan, the chief executive of BEA Union Investment Management, said the Asian story was getting more popular for international investment.
"I understand that some fund managers in Europe or the US need to work in our time zone to trade. When they reach the scale, the next step would be to set up offices in Asia. This is getting more popular," Wan said.
This article appeared in the South China Morning Post print edition as: Night trade extended in battle for volume