Bonds
Get more with myNEWS
A personalised news feed of stories that matter to you
Learn more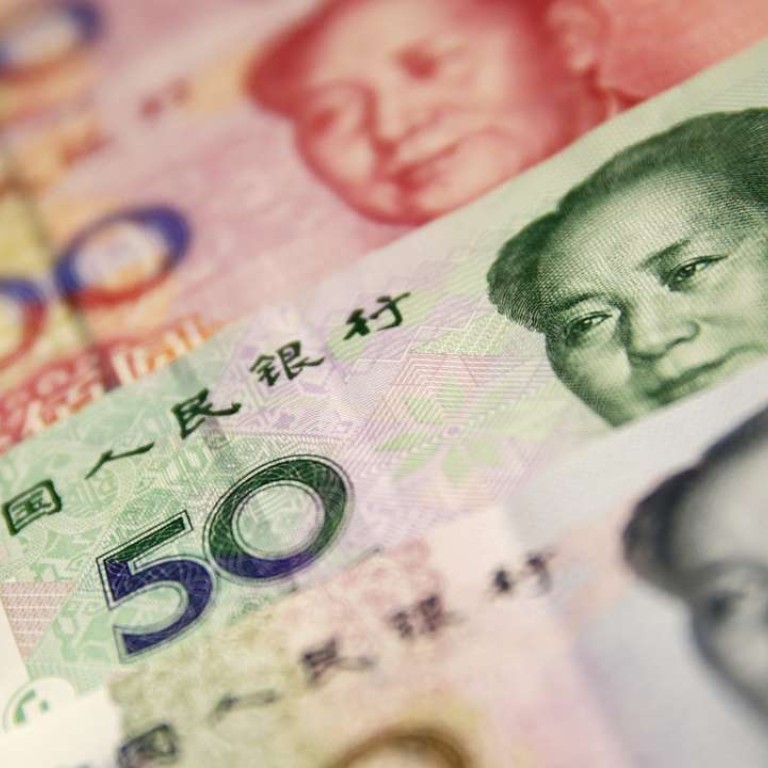 China needs a clear mechanism to address bond defaults
Corporate defaults are at record levels as the economy slows and the government withdraws its guarantees
As China's economic slowdown squeezes corporate profits, the country is facing a new problem: bond defaults.
A record number of Chinese companies are finding themselves unable to make payment on their debts. And the lack of an effective mechanism to deal with defaults means investors used to risk-free bonds are suddenly facing huge difficulty getting even a proportion of their money back.
Their only option seems to be a long and frustrating wait, with no guarantee of a satisfactory result.
Analysts see this lack of a reliable system to deal with bond defaults hampering the government's prospects of building a mature financial market and potentially dampening its efforts to attract more overseas investors.
Before 2014, bond defaults had never worried investors in China, thanks to the rising corporate profits that accompanied China's meteoric economic growth and the government's implicit guarantee for bond repayments.
But now the risks are becoming real. As the mainland economy loses steam, many Chinese companies are finding it harder and harder to turn a profit. Meanwhile, as the government moves toward a more market-oriented system, it is increasingly refraining from providing guarantees for bond repayment.
As of mid-August, 41 Chinese companies had defaulted on their bonds since the beginning of this year, more than in the two previous years combined, and amounting to a total of 25.4 billion yuan . In addition, more than 1,000 companies' ratings have been downgraded in the past two months alone, according to a report from Credit Suisse, increasing the risks of more default cases to come.
While bond default is a normal market phenomenon everywhere, the problem in China is compounded by the fact that no clear path or apparatus exists to resolve non-payment issues.
"The onshore Chinese bond market is still in its infancy and no reliable system has been established to address bond defaults," said Jamie Tadelis, co-founder and head of sales at SC Lowy, a fixed income specialist focused on Asia-Pacific, European and Middle-East markets.
This sentiment was echoed by Ivan Chung, associate managing director and head of greater China credit research and analysis at Moody's Investors Service in Hong Kong. He said: "Nobody has a clear idea as to how these cases will be handled and everyone is waiting for an answer from the government."
None of the seven default cases addressed so far this year was dealt with through a market-based approach - they were instead settled with interference from the government.
The standard practice in developed bond markets, in the event of defaults, is for bond issuers and investors to enter into negotiations before resorting to a bankruptcy court. If no settlement can be reached during negotiations, the court may decide on debt restructuring or bankruptcy liquidation, in which the company sells its assets to repay the debt.
"The problem is in China no such platform exists for bond investors to have a real and equal negotiation with bond issuing companies," said Chung.
"Especially in cases involving state-owned enterprises (SOEs) or local government-owned companies, issuers enjoy much stronger positions in the whole process. It's useless for the investors to make requests during negotiations because that's usually ignored."
In a recent example, the Dongbei Special Steel Group, a steel producer owned by Liaoning provincial government in northeastern China, defaulted on seven bonds between March and July this year, amounting to missed payment of 4.77 billion yuan. After three meetings with the bondholders, the company still hasn't put a solution on the table.
Even more infuriating for investors is the fact that the company's biggest shareholder, the state-owned Assets Supervision and Administration Commission of Liaoning Provincial Government, has not shown up at any of the meetings.
According to Chung, compared to more mature bond markets, the documents that companies use to issue bonds in China's domestic market include much less restrictive terms on the bond issuing companies and provide little protections for the buyers.
"Even when one same company issues bonds both in China and overseas, the terms of the bond document they use inside China are much looser (for the company itself)," he said.
Ming Ming, the chief fixed-income analyst at CITIC Securities in Beijing, added: "While private business owners face pressures from the market and they will have difficulties in getting new funds if they don't handle defaults properly, that pressure doesn't exist for government-owned companies."
The fundamental problem - and the reason behind the inequality in the current system - is a lack of protections for investors.
In more developed bond markets, when negotiation fails to solve the problem, bankruptcy liquidation means bondholders can at least recover some losses.
But in China, "when investors can't reach an agreement with the companies, they are unable to get these cases to the court; that's a big problem," said Chung.
Although China has had a bankruptcy law since 2006, it's never been used to address bond default cases.
"Creditors need to rely on a strong rule of law that can be put into practice to take default cases to court, instead of being stuck in endless negotiations with debtor companies," said SC Lowy's Tadelis.
"There is virtually no leverage for bond investors in the current legal system."
As a bondholder, if you can't get your money back, you will probably want to sell it to recover at least some losses. However, China currently doesn't have an active secondary trading market.
Under the circumstances, "if the unpredictable prospect after bond defaults remains, no one will be interested in high-risk corporate bonds at all, and all the money will take flight to quality such as government bonds," said Chung.
And that's definitely not what China wants as it strives to build a mature corporate bond market that will encourage companies to raise money in open financial markets instead of relying on bank loans.
This article appeared in the South China Morning Post print edition as: Bond defaults bring no joy to investors