Questionable quality has made traditional Chinese medicine hard to swallow overseas. Are the proposed national standards just what the doctor ordered?
Beijing hopes to expand the appeal of ancient herbal remedies, at home and abroad, by setting unified standards that ensure a consistency of quality more in line with western pharmaceuticals
Authorities selected 160 Chinese medicinal ingredients, including a Sars remedy, as the first batch subject to a new nationwide quality standard
Banlangen, also known as isatis root, a plant used to treat respiratory disorders, and Dahuang, a rhubarb root used to relieve constipation, are among the first batch of 160 Chinese medicine ingredients to be subject for the first time to nationwide quality standardisation.
The move marks a major step forward for modernising manufacturing in the fragmented traditional Chinese medicine (TCM) industry, after more than two decades of experimentation, according to analysts.
Beijing hopes to expand the appeal of ancient herbal remedies, at home and abroad, by setting unified standards that ensure a consistency of quality more in line with western pharmaceuticals. The perceived variable quality of Chinese medicinal concoctions has stood in the way of growth, many observers believe.
The Chinese Pharmacopoeia Commission of the National Health Commission selected the manufacturing standards for 160 so-called concentrated TCM granule products from nine firms as proposed quality benchmarks.
Of the 160 shortlisted standards published in November, some 55 per cent were submitted by industry leader China Traditional Chinese Medicine Holdings, according to a China Securities research report.
"Prior to this, the concentrated granule industry has always been in pilot production stage. Once the unified standards are launched, it will mark the start of the format becoming an official industry," wrote He Juying and Liu Ruofei, analysts at the brokerage.
One of the medicines on the list, Banlangen, was snapped up in vast amounts during the Sars epidemic that gripped mainland China and Hong Kong in the early 2000s.
Traditionally, TCM is consumed in liquid form called a decoction – a kind of tea or soup – produced by simmering processed medicinal materials ranging from roots, leaves, flowers and bark to fruit and sometimes animal parts, for several hours.
The quality of the ingredients varies according to weather, soil and plantation conditions, and the preparation process is complex, meaning the quality consistency of the medicines has long been a concern.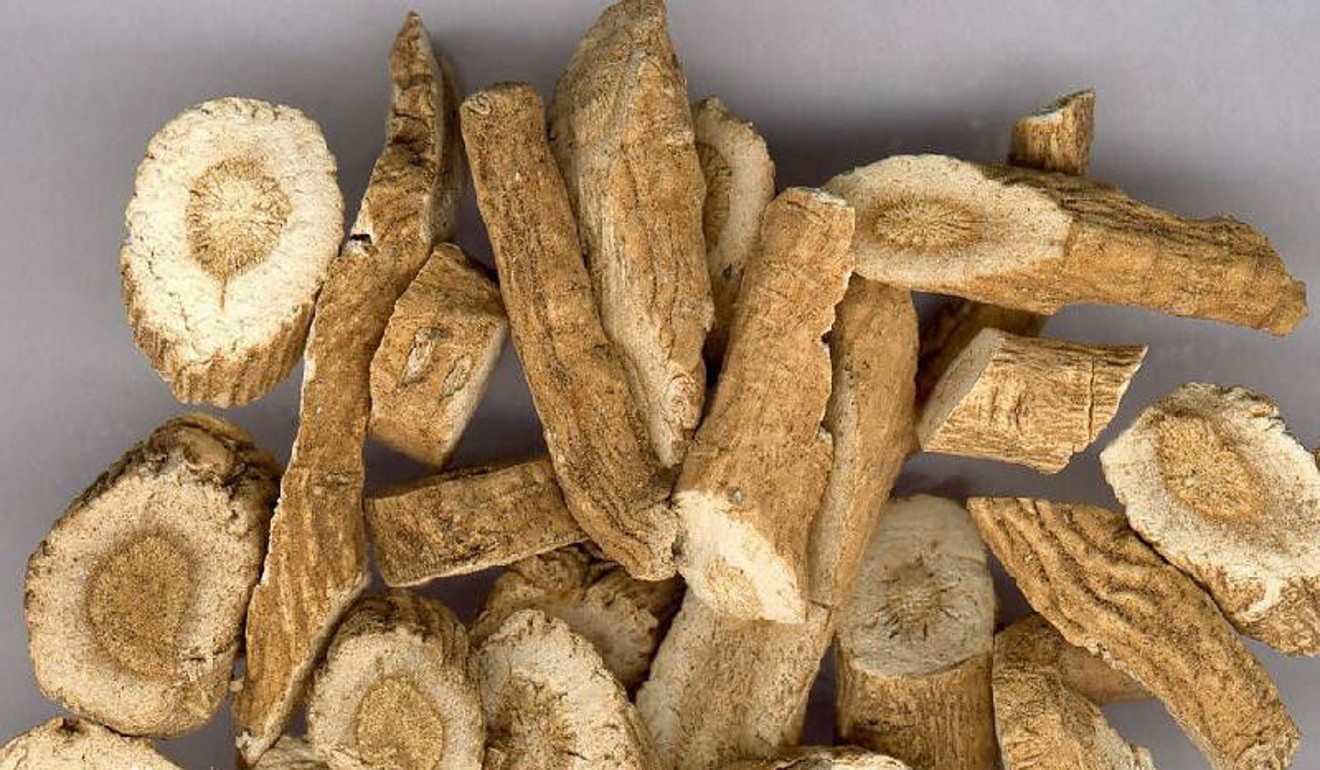 Over time, this has been addressed by the use of machines, not only to produce the decoction, but to further transform the product into other formulations such as granules, tablets, capsules and injections.
Produced by a process that involves spray-drying and granulation, concentrated granules could provide a stable, safe, easy-to-transport, store and consume alternative to herbal tea and soup. They can be ingested by dissolving in warm water.
By narrowing the gap between the convenience and the quality consistency of Chinese herbal medicines and western chemical drugs, Beijing hopes to expand their market potential both inside and outside China.
Western-style medicine still dominates in China. It made up 70 per cent of the industry's 2018 revenue, having enjoyed 16.5 per cent sales growth, while traditional remedies grew at a slower pace of 7.5 per cent to 637 billion yuan (US$92.5 billion) for a 30 per cent share of the market.
Traditional Chinese medicine is going through a makeover as the government tries to use 21st-century pharmacological research and manufacturing processes to improve quality and efficacy. Standardisation is the first crucial step of this long process.
A lack of standardisation has long been a key bottleneck in the TCM industry's development, especially when it comes to opening up export markets, since each manufacturer sets its own formulation and standards, according to industry executives.
"TCM quality standards are different from those for chemical drugs, and some of the standards adopted in the TCM industry have their limits as benchmarks of product quality," said a spokesman for China TCM, which is 32 per cent-owned by state-backed China National Pharmaceutical Group (Sinopharm).
"This resulted in a lack of quality consistency in some TCM products, which also made it difficult for them to obtain internationally recognised quality certification required for exports."
China's TCM exports amounted to US$3.9 billion in 2018, up 7.4 per cent from the previous year, while imports grew 19.4 per cent to US$1.86 billion, according to customs figures.
Inclusion by the World Health Organisation last year for the first time of a chapter on traditional medicine – including TCM – in the latest version of its influential global medical compendium has helped lift the international profile of TCM.
The WHO emphasised the inclusion was not a judgment on the efficacy of treatment.
Leading Chinese companies are splashing out money on projects in a bid to become standards setters and create barriers for rivals.
China TCM spent 209 million yuan on research and development in the first six months of last year, up 40 per cent year-on-year, mainly on the establishment of quality standards, especially for concentrated granules.
The standards for the 160 products – already vetted by an expert panel – are under a three-month industry-wide consultation before they are given final approval to become official industry standards.
Industry participants can challenge them by putting forward proposals for alternative manufacturing standards.
The shortlist came three years after Beijing got the standardisation ball rolling by asking the industry to come up with proposed concentrated granules manufacturing standards for all sorts of TCM products.
They included details on the decoction processes and end-product quality inspection parameters, such as the per gram content of active ingredients and the maximum tolerable heavy metals content.
The first two firms – both acquired subsidiaries of China TCM – were licensed to experiment with granules production in 1994, with the support of the state and various scientific research institutes. Six companies had won such licences by 2004.
Implementation of national standards will have major implications for the industry's competitive landscape, as those failing to reach them will in theory no longer be able to produce the particular products.
"However, we do not know whether these published standards will be adopted since other industry players are welcomed to challenge the submissions with alternative proposals," said Carol Dou, a senior health care analyst at investment bank UOB Kay Hian.
"We also don't know how quickly and stringently the standards will be implemented. There needs to be a balance in fostering virtuous industry competition while ensuring product quality of the entire industry is upgraded through standardisation."
The main challenge for the smaller players in meeting the standards set by industry leaders lies in the need to invest to upgrade their production capabilities and quality control processes, which is time-consuming and costly.
The 160 products on which proposed standards have been submitted account for around 70 per cent of the mainland's TCM market by sales, Dou noted. Many players produce 500 or more products based on their own standards.
Concentrated granules are the fastest growing segment within the TCM manufacturing industry, as it gradually took market share from traditional decoctions.
It has seen compound average annual sales growth of 44 per cent since 2006, reaching 18.5 billion yuan in 2018, according to Ministry of Industry and Information Technology data.
Still, it only made up 8.4 per cent of total decoction products sales.
"As technology improves and policies are fine-tuned, we believe the replacement of decoction pieces by concentrated granules will continue," said Phillip Securities analyst Zhou Lin in a recent report. He cited the forecast of market researcher Frost & Sullivan that the granules market would exceed 40 billion yuan this year.
Growth drivers include an exemption on TCM granules from a policy implemented in 2017 that banned public hospitals from making a profit from drugs distribution. This gave public hospitals the financial incentive to dispense granule products.
Also helping is the high propensity of consumers to spend on products that offer convenience, which is where TCM had been lagging.
However, the industry faces other challenges.
Although growing, it is constrained by a lack of experienced talent and innovation, a low level of industry concentration, major degradation of habitats from which many TCM ingredients are sourced, and a decline in the quality of some products, according to a 15-year strategic plan to develop TCM published by the State Council in 2016.
Results from annual spot checks done by the National Institute for Food and Drug Control released last August showed a pass rate of 87.8 per cent from 2,287 samples of Chinese herbal medicine concoctions tested. That is lower than the pass rate of 97.1 per cent among all medicines sampled.
Poor production processes, the use of substandard quality or fake ingredients, and the presence of contaminants such as heavy metals, fertilisers and solvent remains were blamed for the results.
Of 278 failed sample batches, some 60 were found to be contaminated with the toxin aflatoxin while 26 others were laced with residues of sulphur dioxide used to expel insects and to improve preservation.
To modernise TCM, Beijing's strategic plan called for the establishment of standards across the supply chain – from authenticity appraisal and quality management of herbs, through to downstream manufacturing processes and quality control.
Beijing aims for the nation to have a million TCM doctors by 2030, up from 398,000 at the end of 2014, under the plan, which made development of TCM a national development strategy.
The complexity of TCM is well documented, given over 11,000 medicinal herbs are used in China. Up to 20 herbs are used in any one formula, which is adjusted for the individual patient under the guidance of TCM theory.
"Over the past 30 years, [chemical] fingerprinting methods have dramatically improved … however, quality standards are challenging to establish, because of the complexity of potential active ingredients," said a paper by published last April by researchers at the pharmaceuticals school of Ireland's University of Dublin.
"It is rare that any single ingredient provides the overall evidence of medical efficacy [which] is often attributed to interactions of multiple plant-based chemicals … Solving the efficacy equivalence between decoction pieces and new formulations is an important problem for the modernisation of TCM.
"As TCM seeks increased entry to international markets which present rigorous legislative barriers, the quality, safety and efficacy are under increasing scrutiny."
Song Ruilin, executive president of the China Pharmaceutical Innovation and Research Development Association, said that documented scientific proof would be key to boosting the profile of TCM.
"When it comes to reform, regardless of whether it is granules or decoction pieces, the more important thing is not the format, but the identification of active ingredients and proof of their efficacy by applying modern scientific theories," said Song.
China TCM shares have gained 10 per cent since the announcement of the 160 proposed standards, outperforming the Hang Seng Index's 3.9 per cent.
"The fact that China TCM drafted 89 of the 160 vindicates its strong research capabilities and industry leadership," said CICC analysts Zhu Yanyin and Zou Peng in a note.