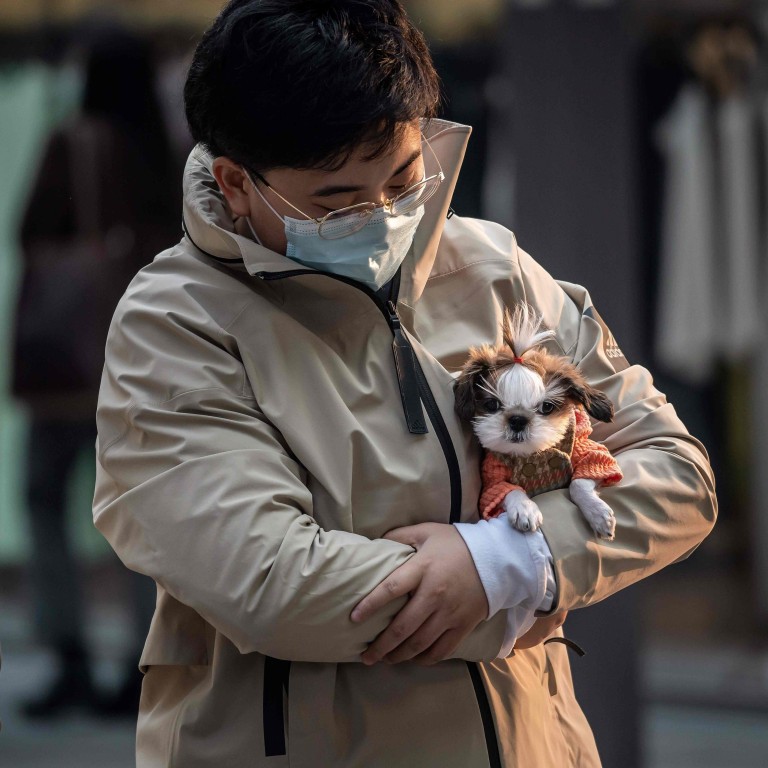 Asia-Pacific stocks end mixed in cautious trading as jittery investors weigh coronavirus damage
China's manufacturing sector continued to be hammered by the coronavirus in March
South Korea is first major country to hold general elections amid virus
Mainland China and other Asia stocks finished mixed in cautious trading Friday, as jittery investors weighed the latest death tolls and economic wreckage of the coronavirus.
Hong Kong and several other major markets were closed for Good Friday.
Overnight, the US Federal Reserve announced US$2.3 trillion in emergency loans to help the world's largest economy reeling from the coronavirus.
The US has become home to the largest number of coronavirus infection cases – roughly one in three of the world's total – and, with more than 16,000 dead, it is second only to Italy in total deaths. The latest jobless claims numbers overnight mean that nearly 17 million Americans have been thrown out of work by the virus, which has led to most of the country to be under lockdown.
Wall Street stocks rose on the Fed steps, which include assistance to small businesses and local governments and the purchase of high-yield bonds.
"When the virus does run its course, and it's safe to go back to work and safe for businesses to open, then we would expect there to be a fairly quick rebound," Fed Chairman Jerome Powell said.
About half of the world is in lockdown, with some places such as Hong Kong and Japan tightening restrictions and others such as Austria beginning to loosen them. The challenge is to restart economies without setting off a new round of spread of the respiratory ailment. China, where the outbreak began, is leading the world in getting factories back to work, after lifting strict lockdowns.
"New case curves have flattened the most where lockdowns have been most aggressive, including notably in Italy and Spain. This has given investors the confidence to believe that cataclysmic social and political scenarios will be avoided in developed economies. And as such, risk assets will rally on greater perceived certainty around the global economy opening up," said Stephen Innes, chief global strategist of AxiCorp.
Chinese airlines slid in the mainland as the coronavirus upended the travel industry and presented the world's airlines with their biggest challenge since the global financial crisis in 2008 and the September 11 terror attacks in 2001.
The mainland-listed shares of China Southern and China Eastern have fallen nearly 27 per cent and 25 per cent since January 14. Their Hong Kong listed counterparts have fallen even more since then: China Southern has fallen 37 per cent in Hong Kong while China Eastern has fallen 34 per cent.
China's manufacturing sector continued to be hammered by the coronavirus in March, new data from the National Bureau of Statistics shows, while consumer inflation eased.
The producer price index declined 1.5 per cent year-on-year last month, which was worse than the 0.4 per cent fall in February and above the 1.1 per cent contraction expected by analysts in a Bloomberg survey.
China's consumer price index rose 4.3 per cent from the previous year. That was a big drop from the 5.2 per cent gain in February, the data showed. Analysts polled by Bloomberg had expected an inflation rate of 4.9 per cent.
Elsewhere in Asia, markets were mixed.
South Korea's Kospi gained 1.3 per cent.
South Korea is the first major country to hold a general election amid the coronavirus, with voting getting under way Friday morning for the country's 300 National Assembly seats. President Moon Jae-in has been praised for his handling of the virus crisis, which, according to Bloomberg, could be a boost for him as well as his Democratic Party.
The South Korean city of Daegu, one of the largest outbreaks outside of China, on Friday reported zero new coronavirus cases for the first time since late February. The country reported 27 new cases, achieving a new low since daily cases peaked in late February, according to Reuters.
Meanwhile, Japan's Nikkei 225 advanced, closing ahead 0.8 per cent.
The country reported over 500 new cases on Thursday, in a sudden surge after the Tokyo Olympics were postponed.
Meanwhile, Kyoto, known for its vibrant markets stuffed with eating stalls and tucked-away stores selling everything from kimonos to porcelain kitten chopstick holders, is asking to be added to Tokyo and five other prefectures that have been declared in a state of emergency, according to Kyodo news service.
US and Singapore markets are closed for Good Friday.
Australia, Hong Kong and New Zealand stock markets are shut Friday as well as Monday for the Easter holiday.