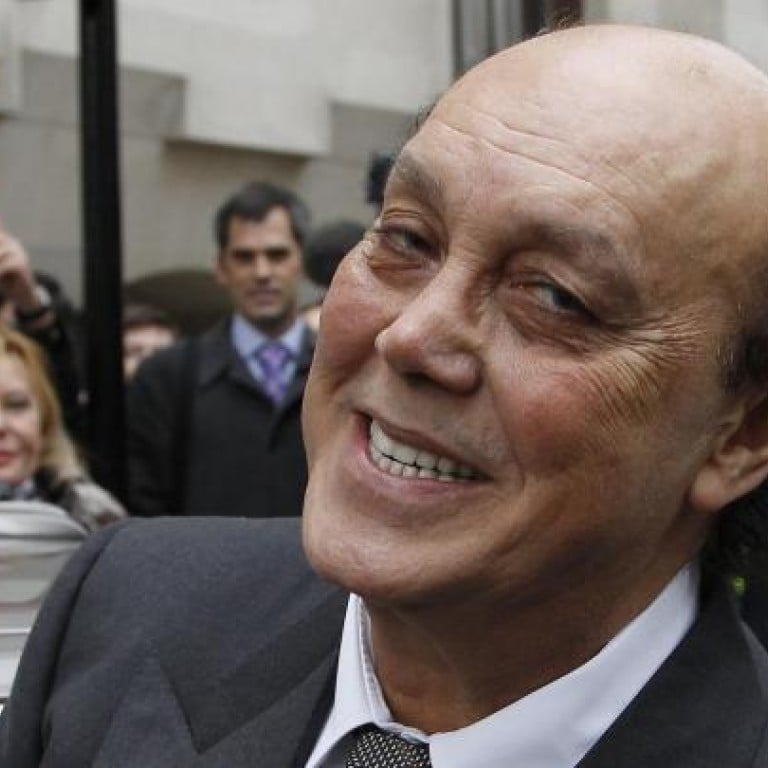 The week explained: Asil Nadir
I have been thinking quite a bit about Asil Nadir lately. Yes, this is the man at the centre of one of Britain's biggest corporate scandals, who has spent almost two decades eluding the authorities and has just started a 10-year jail sentence after being found guilty on 10 charges of theft from Polly Peck, the listed company he controlled and led to bankruptcy.
So, should Nadir simply be dispatched to the sordid ranks of corporate crooks? Well, there is nothing simple about Nadir. It is not easy to dismiss one of the brightest stars in Britain's corporate galaxy, courted by the powerful until he fled the law in 1993 for Turkish occupied Northern Cyprus where he is still regarded as a hero.
Many years ago, as a cub reporter for the London-based I interviewed Nadir, who was then running a small company called Wearwell. It was later subsumed into Polly Peck, which rapidly outgrew its origins in the clothing trade and became an international conglomerate with 200 subsidiaries and branching out into food, leisure and electronics.
At the time, Wearwell's shares were languishing and Nadir was talking in a desultory manner about the prospects for the rag trade, something I knew about as my father was also a rag trader at a nearby factory and had done business with Nadir. He spoke of him as being immensely likeable, albeit somewhere on the wrong side of sharp. This judgment was later to be repeated by a number of Nadir's associates, who, with benefit of hindsight, described him as having "dangerous charisma".
I was young, impressionable and very impressed by Nadir, who summoned me to the window of his office and pointed out a piece of adjacent land that he said had been acquired by his company and was worth a sum that I calculated (with his help) to be somewhere around double the firm's stated asset value.
Nadir was giving me a scoop and I hurried back to the office with news of my great story. Michael Brett, the 's editor, was less impressed and demanded to know if I had seen a written record of this transaction and questioned whether Nadir was merely trying to ramp his share price. I rang Nadir to confirm the information and he assured me that this story was solid and had not been given to anyone else.
However Brett was resolute as the was a staid and dependable magazine and he was not having some young reporter damage its reputation; so I was told to write a rather routine company report.
The story got out and the shares roared away, leaving me bitterly disappointed. It has taken me years to realise that the editor was right in his reservations. If an acquisition had doubled the company's asset value, why was it not declared in the proper manner instead of being leaked to a reporter who thought he got the story by trading on a slight connection with his father?
This was Nadir's way of doing business. He may well have had difficulty keeping his hands off money vested in his public company, but he had a marvellous eye for opportunity and a mischievous will to succeed in a world where he was very much an outsider. Even after fleeing Britain, his energy hardly dissipated and he did much to breath life into the depressed economy of Northern Cyprus.
What all this means is that, as ever in business, nothing is black and white. Nadir might well be a crook, albeit a thoroughly charming one, but he has a stellar list of achievements to his name. He spotted opportunities in the electronics business well before they became obvious to everyone else and Polly Peck did a great job producing womenswear at very affordable prices.
I kept in touch with Nadir after the debacle of my non-story and he later told me that, although he would have liked to have seen it published in the (a badge of respectability no doubt), he was not surprised that it had been spiked.
The craving for respectability mixed with an unstoppable urge to employ unacceptable means to gain advantages in business is characteristic of how a number of charismatic businessmen behave. We might be better off if it were otherwise - or would we?
This article appeared in the South China Morning Post print edition as: In charm's way