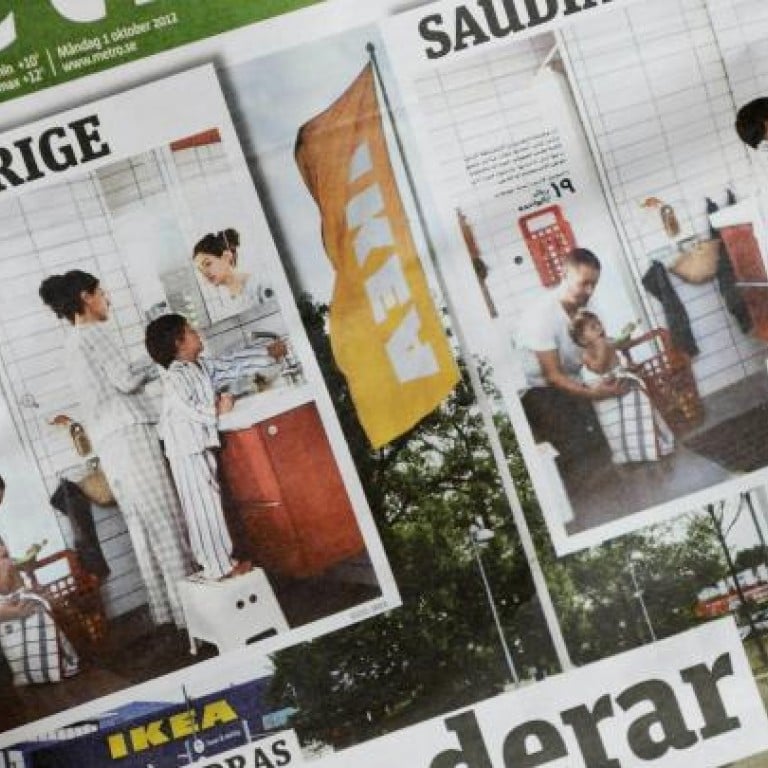 The Week Explained: Ikea controversy
Inter Ikea Systems, that company that sells basic yet hard-to-assemble furniture, has suffered a double whammy in Saudi Arabia after airbrushing women out of pictures in its catalogues.
At home in Sweden, Ikea has been criticised for pandering to Saudi attitudes towards women. And even though the female-free catalogues were designed to avoid trouble, the Saudis are none too pleased that Ikea has squeezed them into the international spotlight over their intolerant attitudes.
This shows the perils of global marketing and advertising. Global brands seem to be taking over the world yet have failed to solve the dichotomy between serving both local and international markets with the same products and slogans while attempting local variations.
This is not easily solved. Matt Haig, the author of , says, "Many companies have confused the era of globalisation with an era of homogenisation … the cultural differences between, and often within, countries can greatly affect the chances of success for a brand."
Ikea is not the first and certainly will not be the last company to approach the Saudi market with trepidation. Coca-Cola put women in its adverts in 2002 and was reprimanded, not least because its ads depicted what looked like flirting between men and women.
Starbucks, on the other hand, must have made a more careful study of the market because it abandoned its green logo (closely associated with all things Islamic) and replaced its mermaid with a crown-themed logo. Starbucks has since flourished in Saudi Arabia.
A far less controversial setback hit Ikea when a unit of the Jardine group started operating its franchise in Hong Kong. It failed to appreciate that do-it-yourself is not big here, and that the flat packs would likely stay in their boxes. This realisation was rapid and Jardine hired staff who, for a fee, would arrive with the items and assemble them.
Sometimes transitions to new markets are harder to fix, especially when the company is fixated on its own slogans and practices. Starbucks got into quite a lot of trouble in Germany when it invited its customers to have a or morning latte. In German slang that is an early morning erection.
There is also the widely told but possibly apocryphal story of Pepsi's attempts to enter the Taiwan market with its famous slogan: "Pepsi brings you back to life", which was translated into Chinese as "Pepsi brings your ancestors back from the grave", a rather less appealing image.
The origins of global branding stretch back to the 1880s but this form of marketing is really a phenomenon of the second half of the last century. Today, the problem of keeping the global local remains a contradiction in terms.
The power of brands lie in their international muscle and in the appeal of a product that glories in its global nature and cosmopolitan image. But what people really want is all of this and all of what they can get from the local market. This is why McDonald's does not sell beef to Hindus in India even though the beef patty is the heart of its burgers, and this is why Kentucky Fried Chicken makes a big thing about selling Chinese egg tarts to its Hong Kong customers even though the connection between this particular chicken and the egg is not apparent elsewhere.
Therefore, it seems a little unfair to criticise Ikea for its attempts to adapt to the Saudi market. It also demonstrates the international vulnerability of global brands. What happens in one of these markets can very rapidly have an impact on others. In extreme cases - such as the BP oil spill disaster in the United States, it affected oil extraction contracts elsewhere - but even a humble catalogue can spell trouble.
This article appeared in the South China Morning Post print edition as: Biting the brandthat feeds them