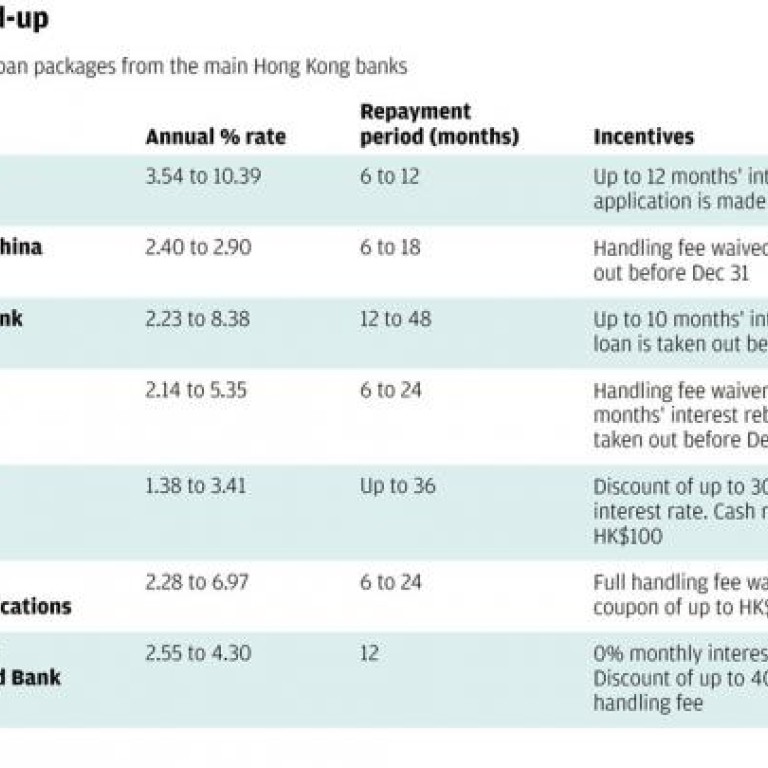 How to borrow to pay taxes
Green envelopes are starting to arrive in the mail forcing Hongkongers turn their attention to something far less festive than cards: tax.
For those who failed to set aside enough during the past year, help is at hand in the form of a tax loan. But which bank has the best deal?
Deals vary among lenders, so shopping around is important. Many complicated deals are on offer so it is necessary to understand exactly what you will be charged.
As a starting point, look for the annual percentage rate, or APR, which shows how much interest you will pay once all fees and charges are factored in.
At a glance, Standard Chartered Bank and HSBC appear to have the best deals, both advertising tax loans at 0 per cent interest.
The HSBC offer actually involves an interest rate rebate: the borrower will be charged monthly interest throughout the term, but the money will be returned once the loan has been repaid.
However, a handling charge is levied on the amount borrowed. As a result, the 0 per cent interest loan actually carries an interest charge of 3.54 per cent on an APR basis.
Customers will also pay more than 0 per cent interest on the Standard Chartered Bank loan. When the handling fee is included, the ARP works out to 2.55 per cent.  
When all such charges are considered, Dah Sing Bank  has the lowest rate out of the banks looked at, with an offer of 1.38 per cent on an APR basis, if taken as a package with other offerings, such as a mortgage. Borrowers must also borrow between HK$900,000 and HK$1 million and take out the loan before December 31.
For people who don't want to fulfil extra criteria in order to get a good rate, Fubon Bank has the best deal at 2.33 per cent.
Banks charge different interest rates according to the amount borrowed and the repayment term.
For example, HSBC has a rate of 5.43 per cent for people who borrow HK$300,000 or more over 12 months, and who do not qualify for the interest rate rebate. That rate nearly doubles to 10.39 per cent for  those borrowing HK$19,999 or less.
As a result, it is often worth married couples taking out a tax loan with the same lender, as some banks, such as Fubon Bank, will look at the total amount  borrowed by a couple and decide on a single rate as if it were a combined loan.
Many of the rates advertised are only indicative, and banks will set individual rates depending on the borrower's credit score.
Some banks also have fairly complicated tax loan offers, so it's vital that you read the small print.
For example, Dah Sing Bank is offering a 30 per cent discount to people who take out a tax loan before December 31, for an APR of 1.38 per cent. But the discount rate only applies to the portion of the loan that is being used to pay the tax bill. Interest on any additional money borrowed is charged at a higher rate. To qualify for the discount, borrowers must either take out a mortgage or a payroll service with the bank. To get the very lowest rate, they must also borrow at least HK$900,000.
Consumers also need to bear in mind how long they want to borrow the money for.
Some banks only offer loans  over a period of up to one year, but others give more time: Fubon  Bank offers the longest term of up to two years.
But although a longer term will cut the size of monthly repayments, dropping them from HK$58.06 per HK$1,000 borrowed to HK$23.33 per HK$1,000, based on a loan size of up to HK$49,999 taken out with Fubon Bank, you will pay more interest overall.
You are also likely to be charged a higher interest rate than if you were borrowing the money for a shorter period.
This article appeared in the South China Morning Post print edition as: Tax loans: read the fine print