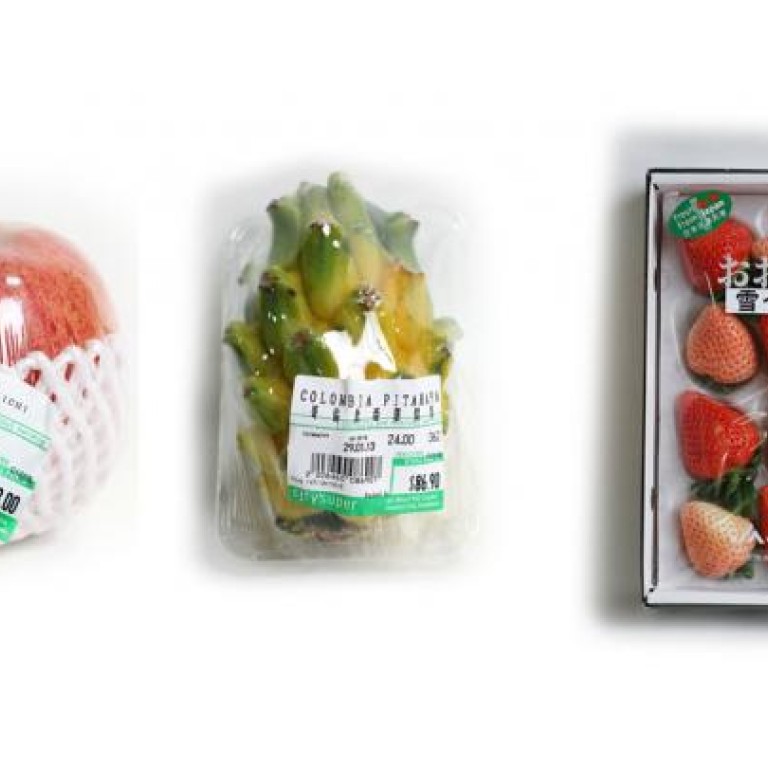 High priced fruit gifts a local tradition
When it comes to new year hampers, there's no forbidden fruit, writes Tiffany Ap
If you hand a client or civil servant a HK$500 lai see packet, there might be an awkward moment. The recipient may turn it down, or ask for permission from their boss. But what if you offer the same person a HK$458 artisanal Japanese melon, or perhaps a HK$1,288 fruit hamper?
Most likely there would be no problem. Fruit giving is such an ingrained part of the Lunar New Year holiday that few see it as an inducement of any kind, no matter the cost. Expensive Japanese fruit serves as a form of lai see. The gifts are appreciated by recipients and fly under the ethics radar. Offices fill up with hampers stuffed with fruit sent by clients with a money relationship to recipients.
The items can be extremely costly - anyone who has visited the city's upmarket grocery chains this time of year will know this. Melons sell in the realm of HK$400. Wellcome sells Fuji apples for HK$4.95 each but extra large Fuji apples engraved with lucky Chinese characters are more than double that price, at HK$10.80 apiece. A box of 12 Japanese strawberries fetches HK$688 at City'super.
Certainly the fruit is valued. Jasmine Chan, brand manager for clothing label Marco Visconti, has received three fruit baskets in recent weeks. She is usually given them during Lunar New Year and the Mid-Autumn Festival. These are not everyday fruit. "The strawberries and grapes are larger than usual. They're attractive - no blemishes - and they have a rich colour. The pears are huge and extra sweet."
The supermarkets wheel out huge displays for all the major holidays invariably involving giant, perfect looking Japanese produce swaddled in plastic and foam. Annie Chan, a fruit and vegetable buyer for City'super, says the best luxury fruit hamper sale times are Mid-Autumn festival, then Lunar New Year, Mother's Day and Valentine's Day.
City'super sells the hampers for between HK$888 and HK$1,288. There is a distinct hierarchy to the produce. Hongkongers pay a premium for anything from Japan, says Chan, and anything organic. "Consumers know that Japanese goods are high quality and there are strict safety regulations. Even if you grow the same variety in China, consumers won't trust them."
A Sekai Ichi ("number one in the world") apple from City'super is HK$68 while a Shizuoka melon sells for HK$458.
Shizuoka prefecture and Yubari city are both known for high quality produce. Just as French wine is defined by provenance, so are Japanese fruits and veggies.
A melon costing 12 times the price of a melon at a wet market is bound to put some off, but Japanese fruit is seen differently - people happily pay a premium.
"The difference between a HK$100 melon and a HK$500 melon? Yeah, you can definitely taste it. The [expensive] green melons are super sweet and melt in your mouth," says Hisae Tsutsumi, a marketing manager, 26, a fan of the Shizuoka variety.
Bar owner Ichiro Hiidome uses luxury Japanese fruit as cocktail ingredients as the flavours are intense enough to cut through the alcohol taste. He uses a quarter melon to create a white wine cocktail that costs HK$230. For other creations, he uses five Japanese tangerines ( ) or a whole pear from Nagano, for a single drink.
So Japanese fruit is an expensive - and much coveted - item that is exchanged with clients. Why does this not raise ethics flags?
Partly because fruit giving is such an ingrained part of local culture, it hardly ever runs foul of corporate or government rules on gift giving. The name for mandarins in Cantonese is a homonym for gold, so giving top-grade mandarins expresses a wish for the recipient's prosperity. Similarly, apples sound like the word for peace, and peaches symbolise longevity.
The Independent Commission Against Corruption says that, as per the prevention of bribery ordinance, employees can accept gifts such as fruit hampers from clients or suppliers, if they have permission from their employer.
Jamie Allen, secretary general of the Asian Corporate Governance Association, says he would personally put a limit of HK$200 on any gift accepted by an employee.
People widely exchange fruit baskets. Most often the offer is a simple expression of friendship with no intent to influence. Boundaries get blurred; for example when boxes of mooncakes, sent during Mid-Autumn Festival, come wrapped in 18-carat gold paper or jewel-encrusted packaging, as has been the case on the mainland.
"Does the person receiving the gift know how much it costs? If the person receiving the gift is aware of the value they should return it. If there is any gift that compromises you then common sense says you should return it," says Allen.
The law firm Baker & McKenzie drafted a note on the ethics of giving gifts to clients such as fruit and mooncakes during Chinese festivals.
As an example of bad gift-giving the firm cites the case of a Hong Kong executive who sent 15 boxes of mooncakes to the police who were investigating him.
However, Baker & McKenzie actually recommends giving gifts like fruit baskets, chocolates, or bottles of wine to clients, taking the view that the items are typically inexpensive and are often shared by the whole office. This is a view that Chan of Marco Visconti also takes.
Fruit baskets are great gifts, she says. "It's different to giving someone HK$1,000 in cash or a very expensive decoration which you can't share. I can't eat the whole basket by myself … The sender is saying they care about you and want you to be healthy."
The pride of Japan
: a hybrid of two cantaloupes, Earl's Favourite and Burpees "Spicy", this round melon from Yubari, Hokkaido has a very smooth rind. It is prized for its sweetness and its beautiful proportions. Yubari King melons are often sold in perfectly matched pairs. In 2008, a pair of Yubari melons sold for 2.4 million yen (HK$213,254). They normally fetch HK$600 to HK$1,200.
: these green-fleshed melons are meticulously cultivated in greenhouses. Vines are trimmed to grow only one melon so as to optimise the nutritional uptake and the fruits are even given plastic hats to prevent sunburn. There should be a smooth, symmetrical webbing on the rind and the stalk should be T-shaped. They cost about HK$500.
: A high quality melon, the same variety as the Shizuoka but several melons grow on a single vine. They cost about HK$300.
: the name means "number one in the world". One of the largest varieties of apples with a circumference between 30 and 45cm, it is thought to be a cross between Red Delicious and Golden Delicious. Colour is pale pink to red with stripes. Cost about HK$70.
: also known as Crispin, this green apple has a crispy, round body and a sharp taste. Introduced in 1948 in the city of Mutsu it is a cross between the Golden Delicious and the Indo apple. Cost about HK$60.
: an apple with a creamy pale yellow flesh. As the name suggests, it is a cross between a Jonathan and a Golden Delicious. Cost about HK$40.
: a large, firm yellow apple with a buttery-rich texture and tropical, almost mango-like notes. It is a cross between the Golden Delicious and Ralls Janet varieties. Cost about HK$40.
: this apple has a pale yellow skin with blushes of red-orange and is covered in many white dots known as lenticels. It is strongly aromatic and many describe its flavour as a blend of pineapple and pear. Cost about HK$30.
: developed by growers in Fujisaki in the late 1930s, its parents are two American varieties, the Red Delicious and Ralls Janet. Features a pink speckled flush over a yellow-green background. Fuji apples are widely grown in Japan, China and the United States. Cost from HK$10-HK$50.
This article appeared in the South China Morning Post print edition as: Ethical sweet spot