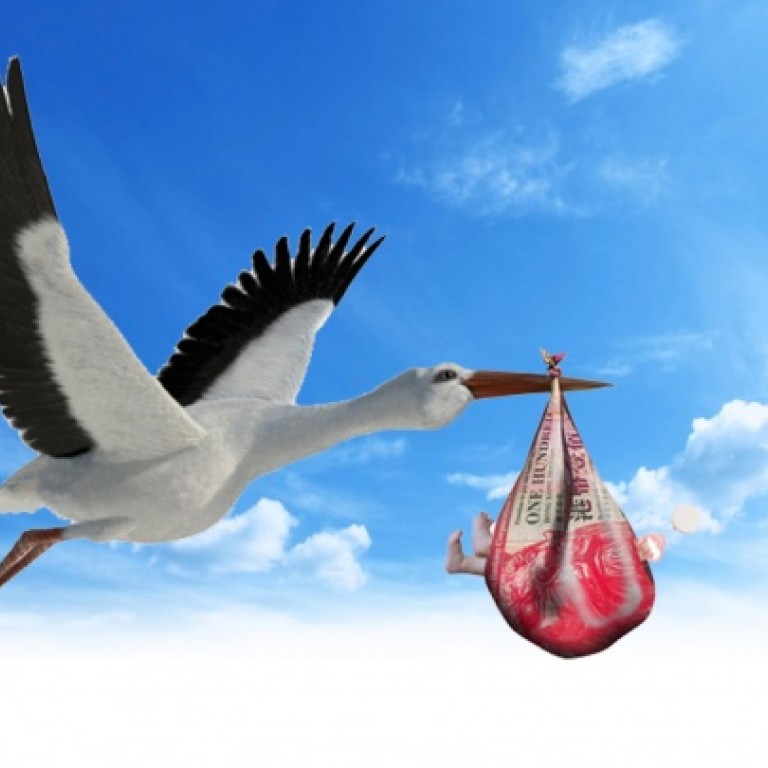 Forking out for the stork
Pregnancy can be fraught enough, but the medical bills for giving birth in Hong Kong sometimes add an extra layer of anxiety for parents-to-be
Maternity services offered at Hong Kong hospitals present a wide range of choices for almost any budget. Selecting the right one is a personal decision that involves considerations such as affordability, the level of comfort desired during the hospital stay, quality of medical care and intangibles such as the ability to bring in an outside doctor.
"Shopping for a hospital is like taking a second mortgage out on your home," says Shannon Ng, describing how the cost of giving birth in Hong Kong can add up. Ng is an expectant mother and plans to have her baby at the government-operated Queen Mary Hospital. "For us, it was about finding the right balance between affordability and good health care."
Ng and her partner reached their decision after conducting a cost/benefit analysis on the various options. In the end, they selected a trade-off, utilising Hong Kong's publicly-funded medical system for the delivery of the baby, but supplementing ultrasound scans and prenatal visits throughout the pregnancy with a private doctor.
Ng, who is 17 weeks into her pregnancy, estimates the total medical bill for having her baby at between HK$30,000 and HK$40,000.
Ng said a big factor in the decision were uncertainties over costs at private hospitals. Private hospitals offer maternity packages based on natural births or caesarean deliveries, but the costs easily add up beyond the advertised price in the brochure. It costs more to upgrade the room, which can range from a shared ward with multiple beds to a private hotel-like suite. An epidural analgesia shot is extra. Some hospitals even charge a fee to have the father present in the room during the delivery.
If a mother tries natural labour but ends up needing an emergency caesarean, that will tack on more fees to cover the cost of the operating theatre and an anaesthetist. A last-minute caesarean can easily double the bill, as mothers need to stay longer in the hospital. Most natural deliveries require a three-day hospital stay, whereas mothers who undergo surgery will take about five days to recover before they are ready to go home.
The Consumer Council estimates luxury hospital packages start at around HK$100,00 for a four-day plan, but can rise to well above HK$200,000 in the case of a caesarean.
Finding the best medical care is another important consideration when choosing between public and private options.
Alicia Eaton, a mother of twin boys born in 2012, opted for Hong Kong Adventist. Eaton made sure she toured the maternity ward before booking a space. A radiographer by profession, who had experience working in hospitals, she knew what to survey the scene for.
"I noticed there were a few free rooms and the nurses were not running about. I've seen that in public hospitals in Australia where they look really tired and they've been working massive shifts. When that happens, mistakes can be made. But they were not over-exerting themselves. It looked like a pleasant working environment," she says.
She also spoke to the nurses to gauge the level of service. "I'd ask things such as what kind of care would [the nurses] be involved in with the newborn? What was the basic wait time to actually deliver? What was the likelihood of sharing the room? How often was the ward overcrowded, if at all?" Eaton says.
Eaton says she also peppered hospital staff with questions about specific issues that were flagged by her online research. "Someone commented that if it was busy you might be placed on the surgical ward instead of the maternity ward [after giving birth], meaning you'd be on a different floor to your newborn. That was a concern, but I asked the nurses and they said the likelihood was very low."
New Zealander Helen Douglas says she and her partner chose Queen Mary Hospital as the location for the birth of her daughter by caesarean earlier this year. The quality of emergency services was a factor in the decision, according to Douglas, who said she could have taken out medical insurance to ease the cost burden of a private hospital.
"Medically it's a good place to be, if something goes wrong [at a private hospital] you end up at Queen Mary Hospital anyway," Douglas says. She was in a ward designed to accommodate eight women, an experience that at times left her longing for more privacy.
"It would have been nice to have a private room, but you are there for such a short period of time, it doesn't matter," she says.
If you have a private doctor, make sure the medical facility of your choosing allows visits by external healthcare professionals. If there is a conflict, it is not clear that deposits made to secure a private hospital bed will be refunded. Generally, refunds are only issued in instances where there are clear medical grounds that necessitate patient transfer.
But whether parents choose the private or the public route, booking early is essential. Devanshi Bhatnagar, who gave birth at Hong Kong Adventist Hospital last year, paying approximately HK$100,000, says she had to make do after a cheaper private hospital closer to her home was booked out.
Securing a private hospital spot involves a long waiting process, which means it is necessary to book just 10 weeks into a pregnancy, she says.
This article appeared in the South China Morning Post print edition as: Forking out for the stork