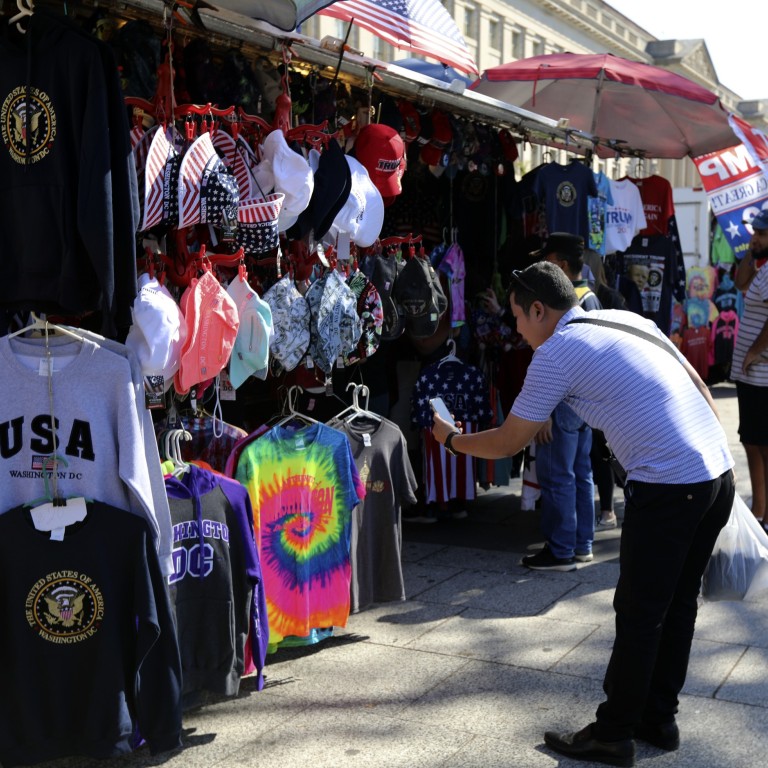 China's outbound tourism likely restrained as trade war, yuan weakness deter overseas travels: Euromonitor
The number of Chinese taking overseas trips is likely to be reduced by impact of trade war and yuan weakness over the next five years: Euromonitor
Yuan has weakened 7 per cent this year against the US dollar, induces 'currency manipulator' tag
China is expected to suffer more than the US in outbound tourism over the next five years under a scenario of heightening trade war between the world's two largest economies, according to an analysis by Euromonitor International.
The number of Chinese travellers going overseas is estimated at 160 million by 2024, instead of an upside potential of 165 million without a trade war, the market research firm said in a report released on Wednesday. Some 135 million Americans are seen making overseas trips by 2024, or just 1 million fewer than a no-war assumption, it said.
The scenario analysis is based on the US raising trade tariffs on Chinese imports by 15-25 percentage points and China retaliating by slapping higher rates on all American imports and restricting the operations of multinationals in the Asian nation. Euromonitor sees a 28 per cent chance of this playing out.
"The US is less impacted by the trade war in terms of the effect on GDP and relative price levels than China is," Caroline Bremner, industry manager on travel at Euromonitor, said in an email interview. She highlighted that signs of slower growth and a slide in the yuan could further weigh on Chinese outbound travels.
China's economy grew 6 per cent last quarter, the slowest pace since records began in March 1992, and its manufacturing engine is stuttering on the back of a slump in exports. The yuan has weakened more than 7 per cent against the US dollar since the start of 2018, making overseas holiday more expensive. The US Treasury officially labelled China as a
currency manipulator
in August.
Ongoing geopolitical tensions between the US and China have also chilled business confidence and investment, hitting consumers' spending power over the past year. Both sides have followed up with higher tariffs on goods since the US targeted steel and aluminium exports from China in early 2018.
Despite efforts to find a deal, the fallout has reverberated, stoking recession worries. Last month, the International Monetary Fund trimmed its forecast for the world's economic growth to 3 per cent for 2019, marking the slowest expansion since the global financial crisis.
China has since stepped up initiatives to promote inward investment to insulate the economy from further damage. The number of domestic trips, which have already been gaining over the past five years, may rise to 7.5 billion in 2024 from an estimated 5.3 billion this year, according to Euromonitor.
That is not looking good for Hong Kong, one of the top three destinations for Chinese travellers in recent years. Five months of anti-government protests have forced mainland tourists to shun the city, especially during peak travel season around the so-called golden week national holiday in October.
Hong Kong saw a 40 per cent slump in tourist arrivals August, the worst since the outbreak of Sars (severe acute respiratory syndrome) in 2003, government data shows. Travellers from mainland China recorded the second-biggest drop among arrivals that month.
The trend may not reverse any time soon. While Hong Kong saw a more than 13 per cent gain in arrivals in the first half, a slump beginning in July could drag the annual figure down for an 8.7 per cent decline versus 2018, Euromonitor said.
This article appeared in the South China Morning Post print edition as: Trade war likely to crimp Chinese overseas travel