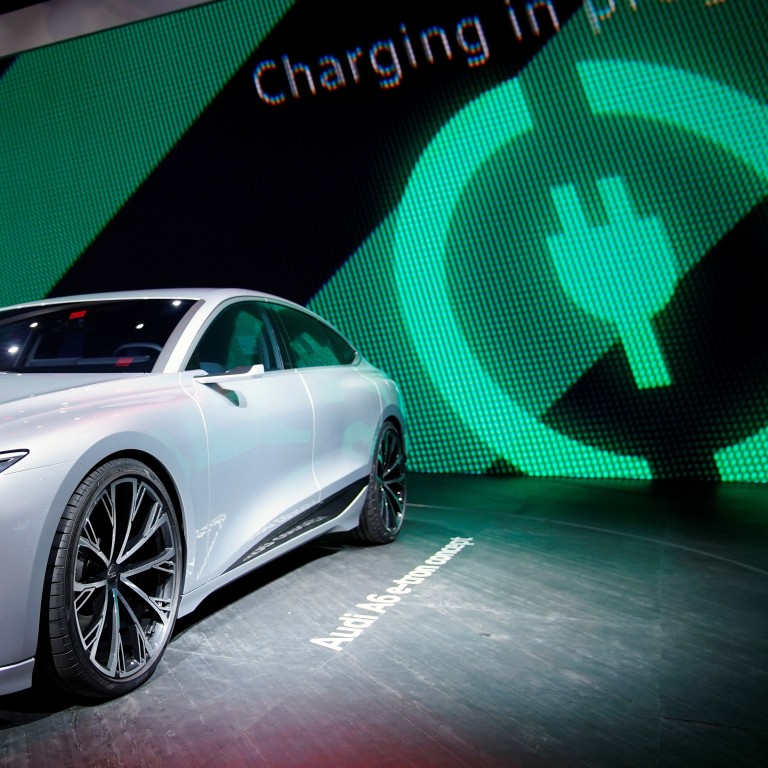 Power cuts may stifle Chinese demand for electric vehicles as charging stations in parts of the country suspend operations, say analysts
The temporary suspension of operations at charging stations is likely to put some motorists off switching to a new-energy vehicle, say analysts
Since last week, the outages have caused some charging stations to shut down during rush hours, leaving some electric cars unable to take to the roads
China's power cuts
could put a dent in the booming electric vehicle (EV) sector as the suspension of charging stations in parts of the country keeps some
battery-powered cars
off the roads, analysts said.
"In northeast China, electric cars have been greeted with a lukewarm response for many years," said Zhang Fan, a car insurance broker in Jilin province. "The power cuts could further siphon off buying interest in electricity-powered vehicles."
Since last week, the power cuts in provinces from Guangdong in the south to Jilin in the northeast have caused some charging stations to suspend their operations during rush hours, leaving some electric cars unable to take to the roads.
Analysts said the outages had resulted from Beijing's tightening of coal supplies and pressure on local governments to meet energy consumption targets before year-end.
Other provinces grappling with power outages include Henan, Sichuan, Zhejiang, Yunnan, Heilongjiang, Ningxia, and Inner Mongolia.
In the northeast, Heilongjiang and Jilin provinces are facing a surge of electricity consumption as the chilly winter season draws near.
"It is ironic that EVs, which are supposed to support environment protection, are falling victim to efforts by governments to cut carbon emission," said Eric Han, a senior manager with Shanghai-based business advisory firm Suolei. "Some would-be EV buyers in the northeast may delay their decisions to buy due to the ongoing power cuts."
By the end of June, China had more than 6 million electric vehicles on its roads. They need electricity equivalent to about 3 per cent of the total consumption by mainland households, according to Gao Shen, an independent analyst in Shanghai.
Chinese President Xi Jinping announced last September that the country will aim for peak carbon emissions by 2030 and carbon neutrality by 2060. However, the country's electricity generation has continued to grow at a clip, with power produced by major firms increasing 13.2 per cent year on year.
"The rising penetration of EVs could ratchet up pressure on power producers and grid operators in the coming years because of a soaring demand for charging networks," said Han.
China had 1.95 million public and privately owned charging piles at the end of June, 47.3 per cent more than in 2019, according to the China Electric Vehicle Charging Infrastructure Promotion Alliance. Almost three quarters of the infrastructure was concentrated in the 10 most developed regions such as Beijing, Shanghai and Guangzhou.
In the first eight months of this year, the country's carmakers, ranging from Tesla with its Gigafactory 3 to General Motor's local joint venture SAIC-GM-Wuling, delivered a total of 1.47 million new-energy vehicles – which comprise pure electric, plug-in hybrid and fuel-cell cars – a jump of 202 per cent from a year ago.
The environmentally-friendly cars represented 11.6 per cent of total vehicles sold from January to August.
Swiss bank UBS forecast in March that three of every five new passenger vehicles sold on the mainland by 2030 would be powered by batteries.
One EV owner in Jilin felt the electricity outages were unlikely to hinder the sector's projected growth.
"I do not feel that the power cuts will have a big impact on the booming EV market," said Zhou Bin. "The power cuts are a temporary move to curb carbon emission, and it will come to an end sooner or later."
Han said that use of smart-grid technology would help ease the shortage of electricity and facilitate growth of the EV industry. It would allow renewable energy to be converted and integrated into power grids while EVs could sell extra electricity back to the energy infrastructure when supply ran short during peak times.