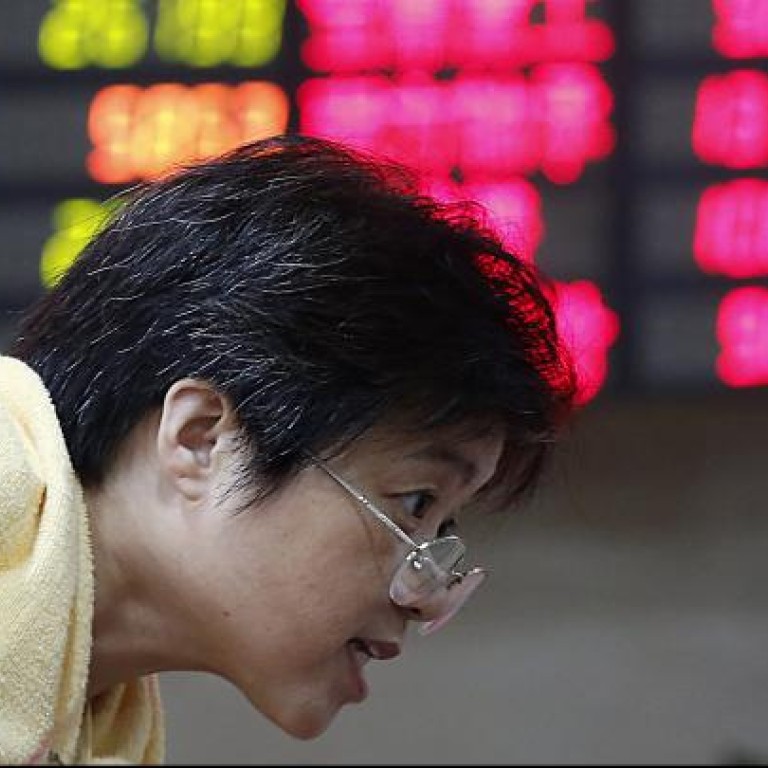 Market Wrap: Mainland banks drop on reports that new loan growth is stagnant
Mainland banks dropped on Tuesday, dragging down the broader market, after A shares lost ground and a newspaper reported that new loan growth at the nation's big four banks had been flat in August, which investors fear could point to further economic softening.
A source indicated that the big four banks lent 220 billion yuan in new loans in August, virtually unchanged from July, according to mainland business paper 21st century Business Herald, and analysts said this might reflect banks' reluctance to advance money in an uncertain economic environment.
"Lenders are being cautious about making new loans," Castor Pang, head of research at Core Pacific-Yamaichi, told SCMP.com. "Every indicator seems to be pointing to a negative direction for Chinese lenders."
However Pang said the news is not a big surprise. "What really dented market sentiment and curbed turnover is the growing risk of a hard landing for China, which just seems to keep rising," he said. 
The Shanghai Composite Index lost 0.75 per cent to close at 2,043.65, as property developers, banks and steelmakers dropped. The gauge is the world's worse performing major market over the past year as of Tuesday's close.
A fund manager who asked not to be named, told SCMP.com that he won't consider buying either Hong Kong or mainland stocks until next year. "There's just too much uncertainty right now, and that's why there's not much turnover in the market," he said.
He said he is considering allocating capital in the US market, especially some real estate investment trusts (REITs). In Hong Kong, he favours firms with stable fixed income, such as The Link Real Estate Investment Trust.
Yue Yuen Industrial (Holdings) (
0551.HK
) rose 4.68 per cent to HK$23.5. Citi maintained its buy rating on the stock in a morning note, citing a recovery in its manufacturing margin and sequential improvement in its China retail business.
Coking coal producer Mongolian Energy (
0276.HK
) lost 4.48 per cent to HK 0.32 said it may record a "substantial" gross interim operating loss, blaming low coking coal prices and weak sales.
Yashili International (
1230.HK
) rose 0.67 per cent to close at HK$1.51. The company is a potential acquisition target for Mead Johnson Nutrition Co. and Abbott Laboratories, Hong Kong's Sharp Daily reported Tuesday, citing unidentified sources.