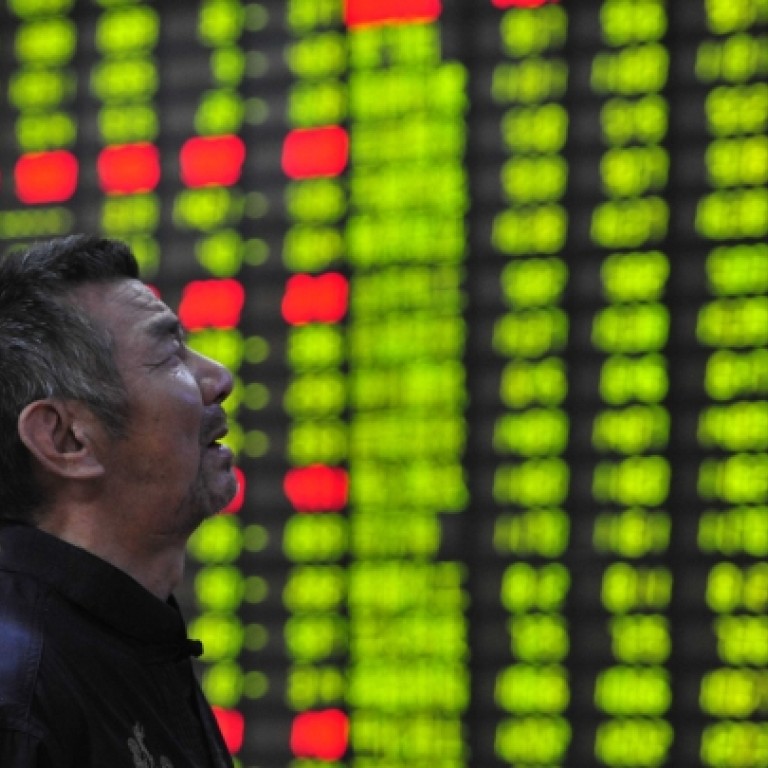 Hong Kong and China shares rebound, but extend weekly losing streaks
Hong Kong shares rebounded from multi-month lows on Friday, led by high yielding stocks including the property sector, even though they ended the week lower for a fifth time in a row.
Mainland Chinese markets also bounced off six-month lows as strength in technology and pharmaceutical stocks countered losses in the banking and energy sectors. Volume was weak as money rates stayed tight.
The CSI300 of the leading Shanghai and Shenzhen A-share listings rose 0.7 per cent after ending on Thursday at its lowest since December. The Shanghai Composite Index gained 0.6 per cent. This week, they shed 2.7 and 2.2 per cent, respectively.
The Hang Seng Index rose 0.4 per cent to 20,969.1 after closing on Thursday at its lowest since October. The China Enterprises Index of the top Chinese listings reversed midday gains to slip 0.2 per cent.
A twelfth straight loss sank the H-share index to its most technically oversold level since August 2011 as it slumped 5 per cent this week in its worst weekly loss in more than a year. The Hang Seng benchmark lost 2.8 per cent.
It was the fifth-straight weekly loss for the two benchmarks.
Shanghai volume on Friday neared this year lows as China's short-term funding costs jumped to their highest levels since early last year. A hardline stance by the central bank against injecting liquidity has made the market reverse expectations of monetary easing, traders said.
"Whether Thursday's low is the bottom in this sell-off is not as important as the fact that investors should now be taking this time to accumulate some quality names," said Larry Jiang, chief investment strategist at Guotai Junan International Securities.
On Friday, Hong Kong property developers were among the leading percentage risers among benchmark components. New World Development shares rose 2.4 per cent from Thursday's nine-month closing low.
New World's shares have now fallen 21 per cent from a high on May 8 and are trading at a 31 per cent discount to its historical forward 12-month earnings before Friday, according to Thomson Reuters StarMine.
Link Real Estate Investment Trust (REIT), among the hardest hit as investors bailed on fears that the US Federal Reserve could taper its aggressive monetary stimulus, jumped 3.2 per cent in its best daily gain in five months.
With effect from Monday, Galaxy Entertainment will take Esprit's place on the Hang Seng Index, while PICC Group will replace Aluminum Corporation of China (Chalco) on the China Enterprises Index.
In Hong Kong, Galaxy jumped 4.8 per cent, Esprit gained 2 per cent, PICC Group rose 2.5 per cent, while Chalco dived 7.5 per cent to its lowest close since October 2008. Volumes for all four counters surged towards the end of Friday's session as funds based on these indexes adjust their holdings.
Some banking names were weaker in the mainland as a cash crunch lingered, with China's Ministry of Finance failing for the first time in nearly two years to sell all of the 15 billion yuan worth of nine-month bills.
In Shanghai, China Merchants Bank slid 0.9 per cent, while Bank of Communication declined 0.7 per cent.
Official Chinese newspapers on Friday blamed Thursday's steep losses on hot money flows. A Shanghai Securities News report, citing the views of an economist with Galaxy Securities said that a rate cut was no solution to stopping those flows which were being underpinned by yuan appreciation prospects.
With growth anaemic and chances of stimulus slim, growth-sensitive energy and material counters were weaker. China Shenhua Energy fell 2.1 per cent in Hong Kong and 0.8 per cent in Shanghai.