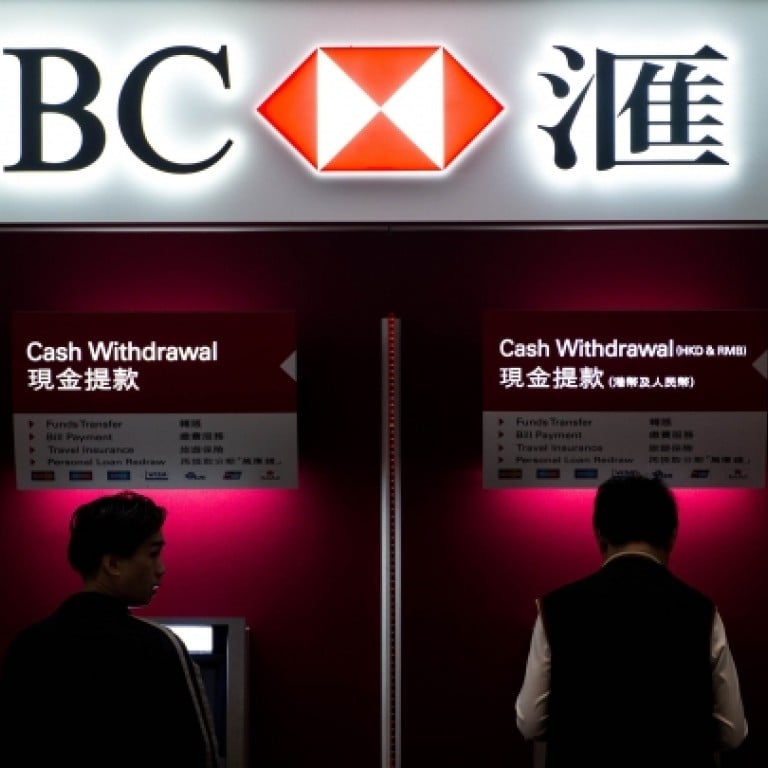 Opinion
Wealth Blog
by Anna Healy Fenton
Wealth Blog
by Anna Healy Fenton
HSBC to refund credit card cash withdrawal fees for UnionPay card users
Cash advance fees
Readers, we have a result. Whether it was because of persistent badgering by this column, based on your experiences, or direct customer complaints, HSBC has agreed to refund the fees if you have no option but to use your credit card to get cash overseas.
To recap on the ongoing saga of HSBC's change to chip ATM cards, the bank has finally given me answers. HSBC switched from the globally accepted Cirrus and Plus clearing systems – the symbols on the back of your plastic cards – to the cheaper, China-based UnionPay system earlier this year. When they told customers, as they claim they did, I and many others missed it and as a result, got stranded, cash-less, overseas. Because ATM machines which support UnionPay are not that common outside Hong Kong and China. And overseas HSBC branches are not that numerous either. In the past, you could poke your Cirrus/Plus card in pretty much any ATM anywhere and extract cash. Not any more.
Think, link and travel
In fact, your HSBC ATM card will not even work in HSBC machines in nine countries. Many customers only realise this when they get there. In addition, the bank unilaterally re-set everyone's overseas cash withdrawal limit to zero on March 1. Again, few people got the message. I and many others were caught out. Now, to get cash overseas, customers must inform their branch before travelling. To be sure, go in person. When I tried to do this retrospectively from the Taunton HSBC branch in England, the bank's phone banking headquarters refused to believe their own manager was who he said he was, so no dosh.        
It goes on and on. HSBC says you can still access the Cirrus network via your credit card to get cash overseas, if you link all your accounts. But there's a snag as customers have discovered – not every foreign bank will give you this option. So you are forced to take a cash advance on your credit card, for which customers have been charged. One Hong Kong customer finally got the charges refunded when she returned from having to use credit card cash in Holland. The bank said it was a "one off goodwill gesture" but this has now changed. Read on. 
HSBC explains
So here is HSBC's chance to clear up the muddle.  
The bank's spokesperson says: "First, to comply with HKMA requirements, the overseas ATM daily withdrawal limit for all ATM and credit cards issued by all banks in Hong Kong has been reset to HK$0 from 1 March 2013. To continue to use the service, all holders of ATM cards issued in Hong Kong are required to perform the activation."
The HKMA requirement was introduced to protect Hong Kong bank customers when they use the ATM withdrawal service overseas, they say. (It first and foremost protects the bank, of course) This is applicable to all ATM and credit cards issued by all banks in Hong Kong. "Cards that are issued outside of Hong Kong are not subject to this Hong Kong-specific requirement." This is a weird one. It seems HSBC only care about the security of Hong Kong-based customers – in Malaysia last week HSBC had not even heard of the new chip ATM cards.
But I digress. HSBC again: "Separately, for the greater protection of ATM users, HKMA has mandated all banks in Hong Kong to adopt chip-based technology for ATM services. UnionPay has been selected as our network provider for ATM chip cards. HSBC ATM chip card customers can withdraw cash from all HSBC ATMs in the world (except nine markets: Argentina, Brazil, France, Greece, Malta, Mexico, New Zealand, Panama and Turkey) as well as from ATMs which are covered by the UnionPay network."
The Netherlands, HSBC adds, is also currently not covered by UnionPay's ATM network. So it's actually 10 countries. "Customers travelling to markets that are not covered by the UnionPay network are advised to link their bank account(s) to their HSBC Visa/MasterCard if they want to use the ATM service of the PLUS/CIRRUS network where available."
Then, the bank says the customer may choose on the overseas ATM they are using and which account they want to withdraw cash from on the PLUS/CIRRUS ATM network. Big 'but' here. "The availability of this function/feature is dependent on the ATM maintained by individual bank overseas; it would be difficult to provide a list of locations where this service is available." I had asked for such a list, since customers report they travel for hours in places like London, Dublin and Sydney without finding a UnionPay compatible bank ATM or HSBC branch. 
Fee will be waived
HSBC continues that this is still a contingency option, in case customers find they encounter difficulties with a UnionPay or HSBC ATM. "If the ATM does not show such selection, cash withdrawal from credit card account will be charged with a cash advance fee, as was the case prior to the changes," the bank adds.  "However, as a result of the current access issue, we will continue to waive the cash advance fee for customers having experienced difficulties with overseas withdrawal."
OK folks, your read it here first. They will refund the cash advance fee if you can't get at your bank account via your pre-linked credit card.
"Lastly, as reported in your paper last week, we are preparing to offer solutions in the next few months to customers who deem it necessary to access another international network in addition to the UnionPay network." This unfortunately, will be many of you.  "There is currently no plan to change our existing network arrangements in the rest of Asia." Now, they admit there is a problem. But at least you no longer have to traipse from town to town as TV journalist Andrew Dawson did in Australia and Ireland, unable to find a UnionPay-friendly ATM.  
Or you could, as HSBC helpfully advised customers in a recent letter, just get out some cash in foreign currency before you travel. Yes, seriously. Or you could switch banks – I hear others are still signed up to Cirrus. And thank you to all of you who have contacted me about this. Keep writingin with your money-related experiences.