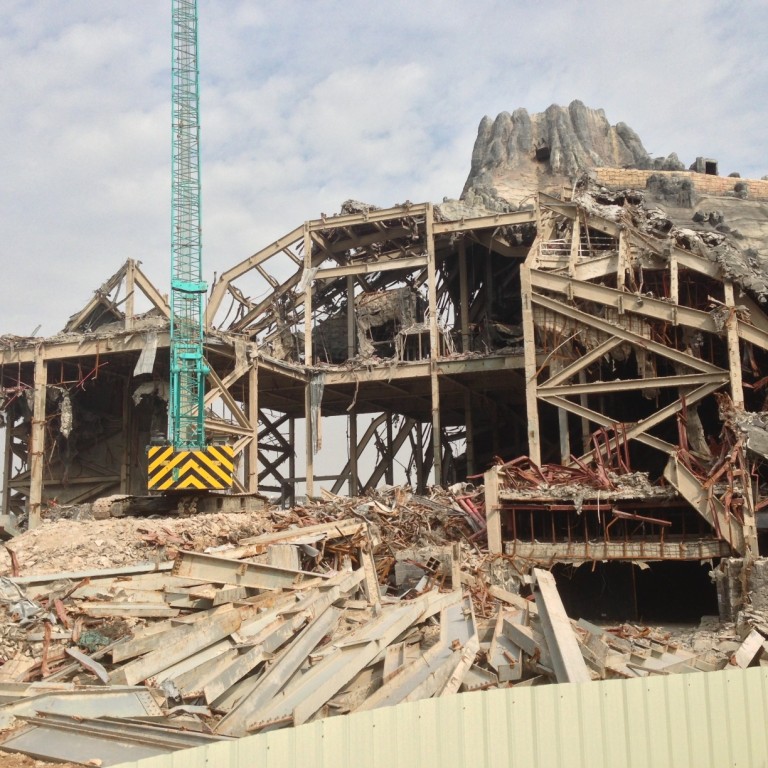 Opinion
Wealth Blog
by Anna Healy Fenton
Wealth Blog
by Anna Healy Fenton
Macau's fake volcano disappears
Not only will the fake volcano at Fisherman's Wharf in Macau never erupt again, it will very soon cease to be at all. Macau tycoon David Chow Kam-fai has called time on the doomed duo: the volcano and the Roman amphitheatre, the showpieces of the odd theme park between Sands casino and Macau's ferry piers.
Seven years ago on New Year 's Eve it has its soft opening, briefly, belching choking smoke over the inhabitants, then fell silent after an accident.
Four days later, the SCMP reported that two mainland tourists - a woman and her young son - were injured, casting doubts over the safety of the HK$1.9 billion entertainment project.
A mechanical breakdown had caused two motor vessels to collide on the River of Fire water ride. The 37-year-old woman fell into the water from one of the vessels, breaking a bone in her chest, while her son, who suffered minor injuries.
The six-minute water ride ran inside the 40-metre-high artificial volcano was immediately halted.
These days, it's hard to find reference to this episode online and apparently staff have long been forbidden to even mention it.
Yet another casino
But the failed volcano was hard to ignore the weekend before last. In between the noise of racing cars and bikes at the Macau Grand Prix, the thunk of the demolition gear could be heard. 
In its place will be, guess what, a casino. Macau really needs more casinos. Back in the summer Chow announced it would be a casino resort complete with opera house and dinosaur museum. Dinosaurs? The man has no sense of irony. Chow and his Macau Legend Development, a second-generation casino operator have been in the game almost as long as Stanley Ho Hung-sun with his SJM gambling empire.
But this time Chow will be playing in the big shark pool with Sheldon Adelson's Las Vegas Sands and Steve Wynn's Wynn Resorts on Macau itself. Their massive casinos, hotels and shopping complexes are already long established.
Back with a bang
But Chow would have us believe he is the come back king. "It is my time to come now," Chow, 62, told reporters in the summer. Macau Legend Development's July listing on the Hong Kong stock exchange raised US$283 million, less than half of the target.
Former Macau political heavyweight Chow has kept his head down since Fisherman's Wharf flopped. It was a difficult joint venture with Ho.
With the IPO cash bankrolling the new casino resort, Chow hopes to compete against his Las Vegas rivals.
If Chow's big dream sounds familiar, investors have heard a similar tune before. Merrill Lynch and US hedge funds Och Ziff and TPG-Axon and other backers sunk US$400 million into the theme park in 2006, recovering about a third of their investment three years later.
Macau's glitzy casino palaces pulled in far more punters than the sweaty outdoors of Chow's big dream. "We were never wrong," Chow said. "For me it was a park. We are not making money there. It was a gift to the society. Now we are going to build the park into a resort."
Chow, an ex Vegas junket operator himself, should know what he is doing. It's in his blood - his mother ran VIP gambling clubs in the 1970s for Ho, but with six casinos due to open in the next three years, competition will be intense. But as long as China keeps granting visas to gamblers, demand should, in theory, be limitless. But Cotai strip already has Sands' 1,500 gaming tables, 9,000 hotel rooms, an apartment complex and multiple high-end brand shops.
Macau out-performs Vegas 12 to one
A typical good month in Macau grosses US$3.54 billion, according to government statistics, half of what Las Vegas generates in a year.
Chow's existing gaming operations operate via a service agreement with Ho's SJM, which also runs his tasteful baroque Legend Club and Pharaoh's Palace casino. Here punters are greeted by giant sphinx heads and golden columns.
Chow needs the government to grant him a total of 500 gaming tables, but he's up against other operators, with numbers strictly capped. A few months ago, Manuel Neves, head of Macau's gaming body, reportedly said the government had promised to support Chow's project, including the casino operated under SJM's licence, but did not specify a number of tables.
Macau Legend has enough cash to start development without needing to raise more until next year, according to Sheldon Trainor, the company's executive director, adding that extra cash would be raised by debt financing, rather than issuing new shares.
Chow is a colourful character and keen gambler himself. An investor in African agriculture and honorary consul in Macau for Cape Verde, he also plans a development on neighbouring Hengqin island. Let's hope his ambitious expansion plans come to fruition this time.