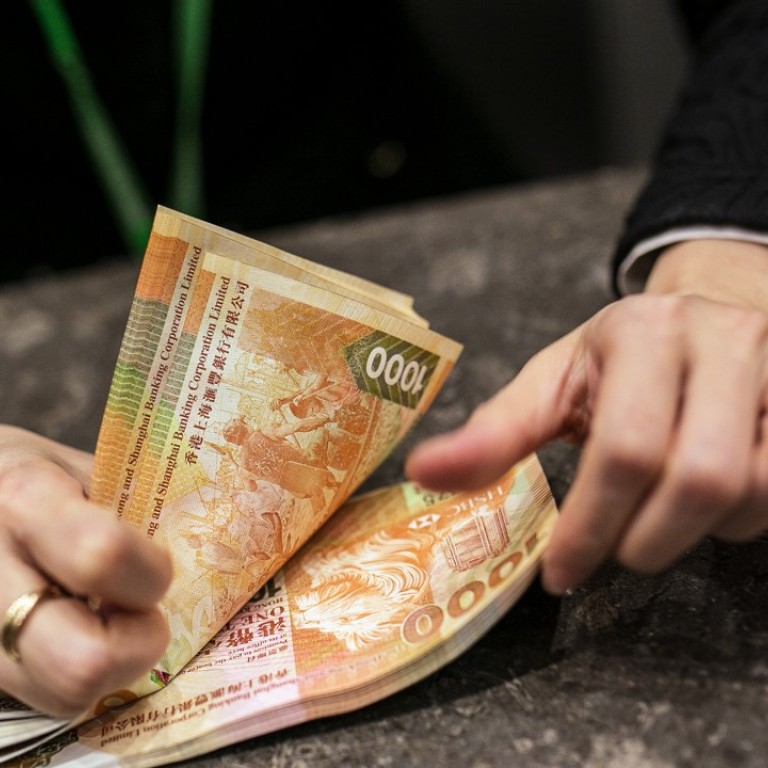 Hong Kong Monetary Authority spends HK$1.77 billion to defend currency
Hong Kong dollar needs to be defended for third time this month as US-China talks end with little progress in Washington.
Hong Kong's de facto central bank again intervened in the currency market to defend the city's currency, this time buying HK$1.77 billion while selling US$225 million during New York trading hours on Thursday.
The Hong Kong Monetary Authority's intervention, which will result in a withdrawal of banking liquidity, comes as the US and Chinese officials ended two days of trade talks with no breakthrough, weighing on the Chinese yuan and Hong Kong dollar.
HKMA's intervention, the third time this month, is expected to reduce the city's aggregate balance – a measure of banking liquidity – to HK$91.03 billion (US$11.6 billion), effective on August 27.
Hawkish comments in the minutes of the US Federal Reserve's last policy meeting released earlier this week also fuelled expectations for tighter US monetary policy next month, which in turn is boosting the outlook for the US dollar against the Hong Kong dollar.
Friday early evening trade showed the Hong Kong dollar was changing hands at 7.8499 against the US currency, a hair's breadth away from the lower limit of its permitted trading range. Under the city's linked exchange rate system, the Hong Kong Monetary Authority is obliged to keep the local currency trading in a range of 7.75 to 7.85 to the US dollar.
Meanwhile, onshore yuan, traded in the mainland, was down 0.05 per cent to 6.8812 per dollar, falling for a second straight day. Offshore yuan, traded outside of China, strengthened 0.23 per cent to 6.8778 per dollar.
Li Bo, an official at the People's Bank of China reiterated earlier this week that China would not pursue competitive currency devaluation and would not use its currency as a weapon to deal with trade frictions. Li's comments came after President Donald Trump accused China of manipulating its currency in an interview with Reuters.
Westpac Asia head of macro strategy Frances Cheung said that while the monetary authority would like to see an increase in Hong Kong dollar market rates, there would be a potential for the rates to overshoot and leading to a rapid adjustment of asset prices and capital outflows.
"Risk is still to the upside for Hong Kong dollar rates, upon potentially further drainage of liquidity via currency intervention and the prospects for prime rate hikes," Cheung said.
Pressure is mounting for the city's commercial banks to raise their prime rates given that the HKMA is expected to raise benchmark rates in lock step with the Fed to maintain Hong Kong's currency peg to the US dollar.
Property shares in Hong Kong slid on Thursday to one-month lows amid fears that interest rate rises would make mortgages more expensive and weigh on home prices in the world's least affordable city.
In a sign of the effects of rising interest rates showing in the property market, major Hong Kong developers Nan Fung Development and Sun Hung Kai Properties have sold new homes below market price in recent weeks.