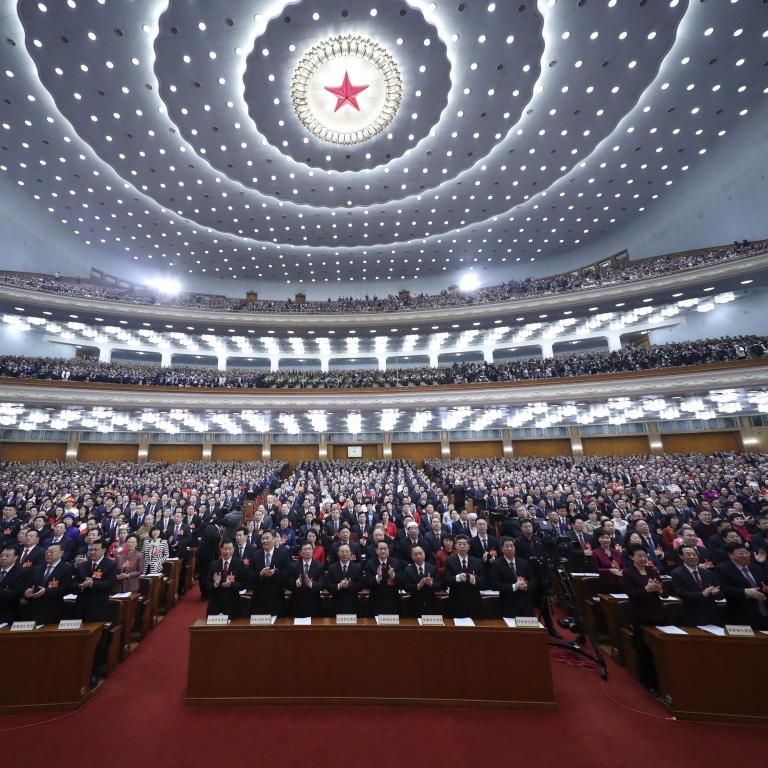 China's billionaire lawmakers are fewer and less wealthy, as 2018 stock market rout crimped their ranks and fortunes
The combined wealth of China's lawmakers fell 14 per cent to 3.4 trillion yuan (US$504 billion) this year, while the number of dollar billionaires fell to 93 from 104, according to Hurun Report
In 2016, the 50 wealthiest members of the US Congress were worth a combined US$2 billion
The combined fortunes of US dollar billionaires in China's legislature, who outnumber their peers in the US Congress, shrank by 14 per cent last year, slashed by a rout in the world's worst-performing stock market.
Their combined wealth fell to 3.4 trillion yuan (US$504 billion) from 3.93 trillion yuan in 2018, according to data compiled by Hurun Report. The number of dollar-denominated billionaires fell to 93, out of 5,000 delegates to the legislative and political advisory branches of the Chinese government, compared with 104 in 2018, Hurun said.
As China's political elites gather for their annual legislative meetings this week in Beijing, these tycoons – most of them self-made billionaires who've earned their fortunes from property, technology or manufacturing – will be the public voice for the rights of private enterprises. China's private sector contributes more than half of the nation's tax receipts, 60 pert cent of gross domestic products and generates 80 per cent of urban jobs.
China's billionaires have flourished during President Xi Jinping's tenure, as the technology and real estate industries boomed. In 2013 during the first year of Xi's presidency, there were 87 dollar-denominated billionaires among the delegates to the National People's Congress (NPC) and the Chinese People's Political Consultative Conference (CPPCC), according to Hurun's data.
By comparison, the 50 richest members of the US Congress had a combined wealth of US$2 billion in 2016, according to Roll Call's data. Darrell Issa, co-founder of automobile components maker Directed Electronics, and the Republican Representative for California, was the wealthiest congressman that year, with a net worth of US$283.3 million. Issa left office in 2019.
Still, some Chinese private entrepreneurs have found their business environment to be i
ncreasingly inhospitable
, in a political and economic system dominated by the Communist Party. Among their gripes are having to compete with state enterprises for financing,
arbitrary enforcement
of legal protection, as well as
inequitable access
to market and resources.
All eyes are on the billionaires who make the ranks of the NPC and CPPCC, at a time when economic growth has deteriorated to the slowest annual clip in three decades, while a trade war with the US persists.
China's stock market was among the world's worst performers last year, with the Shanghai Composite Index ranked last out of 94 primary benchmarks with its 24.6 per cent decline. Hong Kong's Hang Seng Index fell 13.6 per cent in 2018 while the Hang Seng China Enterprises Index fell 13.5 per cent.
Various regulators and government departments have rolled out a flurry of beneficial policies, but businesspeople are still looking for details of how these policies would be implemented.
Some of the key issues include how to ensure private firms get better access to credit, which the banking regulator has vowed to achieve, as well as any further reduction in the heavy tax burdens on companies. Better protection of business owners' property rights from local governments' abuse of power is also critical.
Pony Ma Huateng, the founder of Tencent Holdings, remains the wealthiest Chinese lawmaker in the legislature, with his net worth estimated at 255 billion yuan. The chief executive of China's largest games publisher and dominant social network was elected to the legislature in 2013.
At the CPPCC, as the government's political advisory body is called, property magnate Hui Ka Yan remains the richest delegate with a fortune estimated at 250 million yuan. Also known as Xu Jiayin in mainland China, Hui is the chairman of China Evergrande Group and represents the business and economy sector in the CPPCC.
Jack Ma, the chairman of Alibaba Group Holding and China's wealthiest businessman with US$43.1 billion in estimated wealth, is not a delegate to the NPC or the CPPCC. Alibaba owns the South China Morning Post.
Richard Liu Qiangdong, the founder of JD.com, saw his estimated wealth crimped by 8 per cent to 75 billion yuan last year, following a 49 per cent slump in his company's stock. Liu, who was briefly arrested last September in Minnesota for alleged sexual assault, remains a CPPCC delegate as US prosecutors dropped criminal charges against him after a three-month investigation.
Shu Yuhui, chief executive of health care product giant Quanjian, was confirmed by a CPPCC spokesman on Friday to have been disqualified as a representative.
Shu was arrested in January on suspicion of false marketing and operating pyramid schemes, and has been under criminal detention since.
This article appeared in the South China Morning Post print edition as: Fewer billionaires among lawmakers as stock market fall hits fortunes