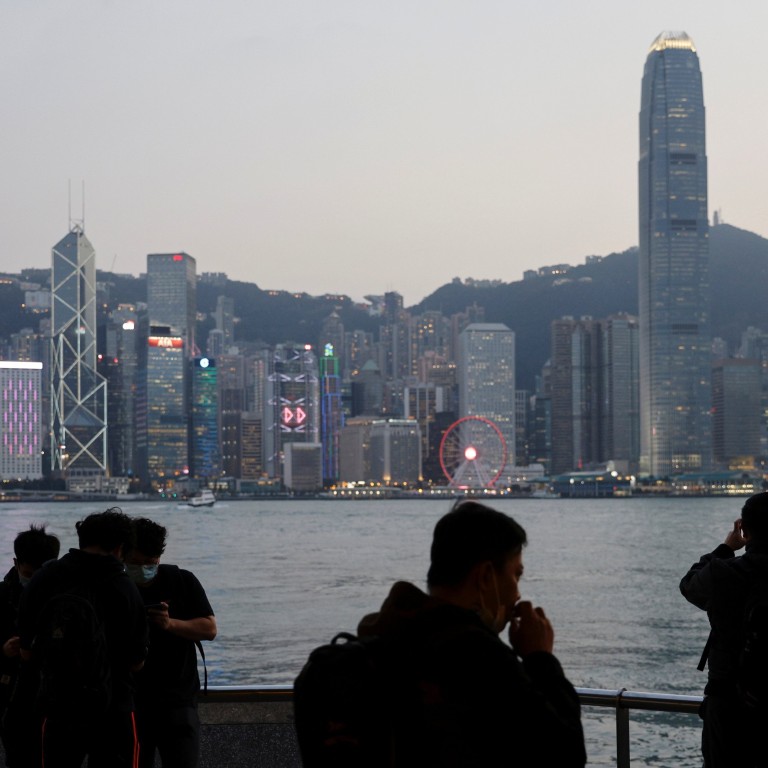 Hong Kong's multimillionaire population hit record high last year even as its economy had its worst recession on record
About 515,000 people are estimated to have US$1.28 million each in total assets last year, up from 413,000 in 2019, according to Citibank's Hong Kong Affluent Study 2020
As governments took measures to save economies, many investment instruments appreciated in value, generating gains for investors, lender's head of retail banking says
The number of multimillionaires in Hong Kong hit a record high last year – despite the city recording its worst recession on record because of the pandemic – according to the results of a survey released by Citibank on Thursday.
As many as 515,000 people in Hong Kong were estimated to have HK$10 million (US$1.28 million) each in total assets last year, up from 413,000 in 2019, according to Citibank's Hong Kong Affluent Study 2020, which was conducted between November last year and January this year. A multimillionaire is defined by the bank as someone who has more than HK$10 million in total net assets and at least HK$1 million in liquid assets.
"The population of Hong Kong multimillionaires continues to grow unabated during the pandemic, and has even set a record high," said Josephine Lee Kwai-chong, Citibank Hong Kong's head of retail banking. "Even with the outbreak of the pandemic, governments around the world have taken measures to save [their economies] and stabilise the financial markets. As a result, many investment instruments, including stocks, bonds and foreign currencies, have appreciated in value in 2020 and generated gains for investors."
The jump in multimillionaires came amid a 6.1 per cent contraction in Hong Kong's economy
last year
, the biggest such annual drop on record. As the coronavirus pandemic pummelled the city, its jobless rate rose as well, increasing to
7.2 per cent in February
, its highest level since 2004.
The disparity between the haves and have-nots is widening, because the poor have become poorer amid the pandemic, said Louis Tse Ming-kwong, managing director of Wealthy Securities. "You need to make ends meet, you don't have spare cash to invest," he said.
A lot of businesses have closed, which has led to an increase in unemployment, Tse said, adding that he expected unemployment to continue to rise. The economy will suffer as a result of this, because people are not spending any more.
"People who have capital to invest in stocks, I think after March – when the market saw a strong rebound – they should have scooped up large returns from stocks. If they invested by the end of last year, or the beginning of this year … they might have made a killing. That's why their fortunes have increased," Tse said. 
According to the Citibank survey, the multimillionaires' median wealth stood at HK$15.5 million, according to a poll of 4,043 Hong Kong residents aged between 21 and 79. This represented a slight drop from the HK$17 million
in the first half of 2020
, mainly due to an increase in the number of newly minted multimillionaires, who may not have such high net asset values, Lee said.
During the pandemic, 25 per cent of multimillionaires saw their liquid assets increase compared with the end of 2019, with a median increase of HK$1 million, according to the survey. More than half of these, or 65 per cent, said the main source of increase was investment returns, among which stocks were the highest contributor with a 95 per cent usage rate.
"Multimillionaires [in Hong Kong] are becoming more globalised. Recently, they have increased their investment allocations to mutual funds and bonds," Lee said.
About 48 per cent said they held investments in mutual funds over the past three months, compared to 40 per cent half a year ago, according to the survey. About 26 per cent had invested in bonds, compared to 16 per cent during the first half of 2020.
"We can see that multimillionaires are diversifying their assets and carrying out risk management," Lee said. "They want to globalise their investment portfolios. This applies to their property investments as well."
About 71 per cent of the multimillionaires' total net assets were distributed in property holdings. They also showed more confidence about the prospects of the property market, compared to half a year ago. About 15 per cent expected property prices to increase in the next 12 months, compared to 7 per cent from the last survey half a year ago.
About 8 per cent expressed an interest in buying property in Hong Kong, while 14 per cent and 27 per cent of respondents showed interest in purchasing property in China and overseas, respectively.
Hong Kong, which had the third-highest number of billionaires in 2020, had
80 billionaires last year
according to the
Forbes'
World Billionaires list. It added nine billionaires to the list last year, despite the pandemic hitting its service-oriented economy hard. Li Ka-shing, who retired in 2018 from CK Hutchison, the conglomerate he founded, saw his fortune grow by US$12 billion to US$33.7 billion last year. He remains the city's wealthiest resident.