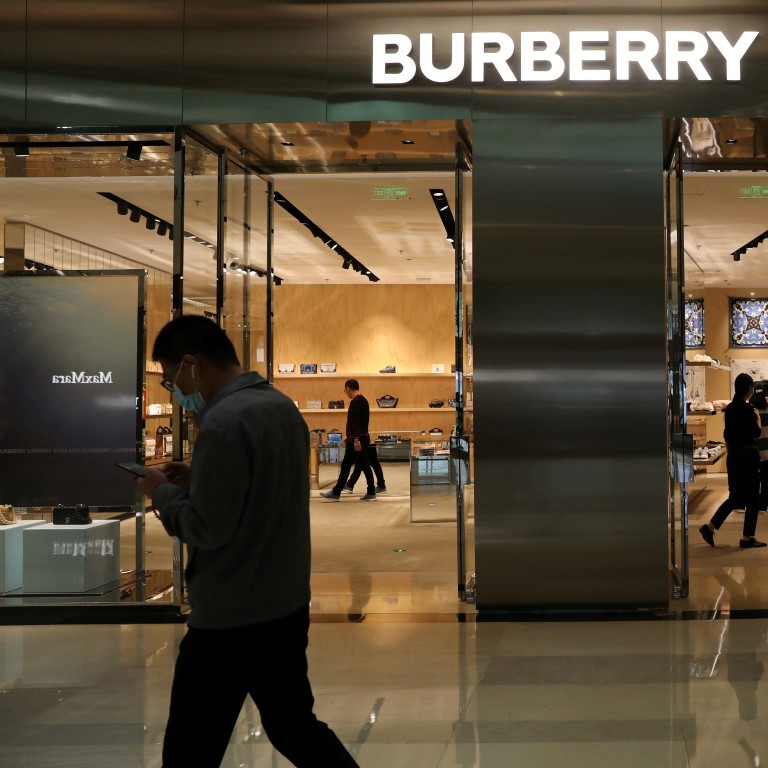 Global luxury brands stand a better chance of weathering China's nationalistic consumer fervour, says Credit Suisse
The investment bank believes famous high-end brands are less affected than their more downmarket peers by the bloom of 'Guochao'
Consumers, especially young ones, are opting for domestic brands amid a wave of patriotism recently exacerbated by a row over cotton produced in the Xinjiang region
"The brand strength of these international high-end brands remains high [in China], and this is because they are long-established and they have relatively better quality products," said Jesalyn Wong, China consumer analyst at the investment bank.
They are also drawn by the local brands' stronger digital and marketing capabilities, Credit Suisse said.
"Domestic brands are more down to earth, especially in how they leverage the online short-form video platform. They are able to react quicker to consumers," said Edmond Huang, head of China securities research at Credit Suisse in a media briefing on Thursday. "More local brands manage to express their own personality as well."
Chinese
sportswear brand Li-Ning
has gained significant momentum in recent years, with its sales increasing by about a third in 2019 from the previous year. Local cosmetics brands enjoyed a 15 per cent gain in market share between 2010 and 2019.
British luxury fashion house Burberry appears to be one such foreign brand that is weathering the rise of Chinese nationalism and patriotism in retail sales. The design firm, which traces its history to an outdoor clothes shop opened in England in 1856 by a former draper's apprentice, said it was "pleased with its performance in China" in a conference call to announce its preliminary financial results on Thursday.
"In China, we leveraged the market momentum post-Covid and captured repatriate spend," said Burberry's chief operating and financial officer Julie Brown on the call, after her store sales in China grew 53 per cent in the fourth quarter from two years ago.
Burberry has opened 13 new stores in China in the past year, including the fashion house's first so-called social retail store in Shenzhen. It is a partnership with Tencent Holdings, which operates China's dominant social network with about 1.2 billion monthly active users in its mobile messaging app WeChat.
To be sure, Burberry may have to deal with a new kind of nationalism, over its membership of the Better Cotton Initiative (BCI), which said it was suspending its approval of cotton sourced from western China's
Xinjiang
autonomous region, citing labour and human rights concerns.
In retaliation, Chinese consumers have called for boycotts of Western brands among BCI members, including Burberry. The brand's ambassador, the Chinese actress Zhou Dongyu, has terminated her contract with the company following the China backlash.
Burberry declined to comment on the
Xinjiang
topic but the firm "continues to have good relations with Tencent," Brown said without elaborating.
An average of 18 per cent of Burberry's stores were closed during the Covid-19 pandemic. The luxury brand's revenue shrunk 11 per cent to £2.3 billion (US$2.55 billion) in the financial year to March.
Its adjusted operating profit fell 9 per cent to £396 million. It enjoyed a 70 per cent gross margin, a slight 2.6 per cent increase compared to last financial year.
The 2020 global luxury goods industry has shrunk by 23 per cent to €217 billion (US$263 billion), according to management consulting firm Bain & Company. This is the first contraction recorded since 2009.
Despite the drastic fall in global luxury spending, China was the only region to report growth in 2019, with its domestic luxury market expanding by 45 per cent to reach €44 billion (US$53.4 billion) as tourists shifted to buying in their home markets, Bain's report revealed.
This article appeared in the South China Morning Post print edition as: Global high-end brands 'less affected' by Chinese patriotism for local rivals