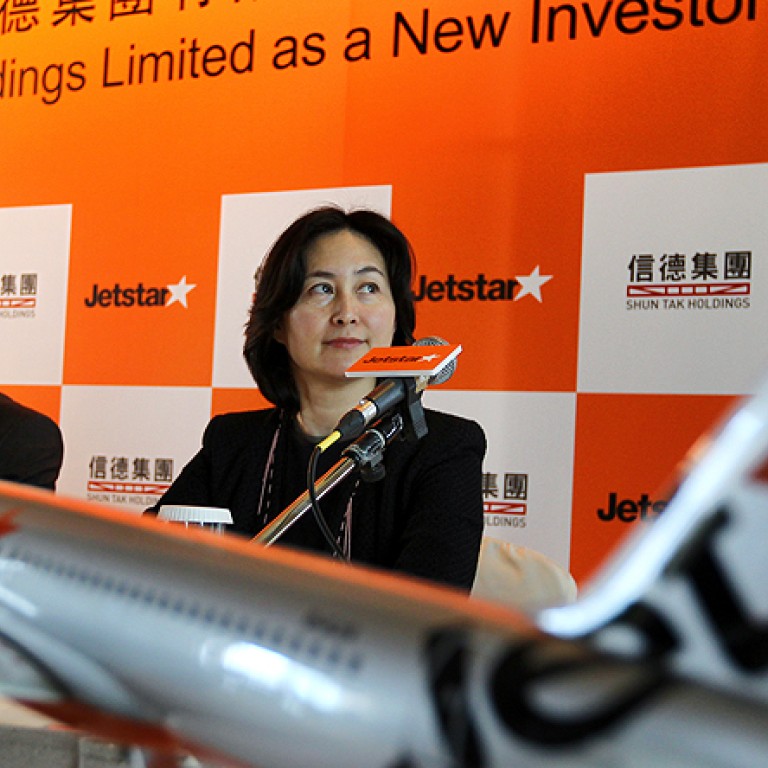 Jetstar Hong Kong's arrival puts airline control rules in the spotlight
Alan Tan says HK faces hard decision on joint ventures of foreign carriers
Jetstar's muscling into the Hong Kong market has left a trail of recriminations. The incumbent airlines, primarily Cathay Pacific, have attacked Jetstar Hong Kong's proposed entry as violating the Basic Law requirement that a Hong Kong carrier must be incorporated and have its principal place of business in Hong Kong. Its objection is that Jetstar Hong Kong will be controlled from Australia by its parents, Jetstar Airways and Qantas.
Restrictive airline ownership and control requirements are common in air-services agreements between countries. Often, like in Hong Kong, these requirements also appear in domestic laws.
Generally in air-service pacts, the principal place of business is taken as the place where the airline is headquartered in and run from. Since effective local control is often a separate, explicit requirement, "principal place of business" is not typically understood to encompass control.
In Hong Kong, however, the Basic Law is silent on control. Cathay's position is that "principal place of business" is all about control, not ownership. This gives the phrase a connotation it does not usually have internationally.
Of course, the Basic Law is a domestic instrument that could well carry a broader meaning. Here, the Basic Law's fudging is quite masterful - it protects Cathay, itself an airline with substantial non-Hong Kong interests. So what makes Jetstar Hong Kong different?
The crux lies in its close association with a foreign airline. Indeed, Jetstar Hong Kong is intended to be run as an integrated operation alongside its parent, Jetstar, and siblings, Jetstar Asia (Singapore), Jetstar Pacific (Vietnam) and Jetstar Japan. In contrast, Cathay's parent, Swire, has no other major airline interests.
The comparison with Hong Kong Airlines and Hong Kong Express is more apt, given their substantial links with mainland China's Hainan Airlines. Yet, because they do not share a common identity or operating platform with Hainan, their association with the latter seems more distant.
What about the other countries that have welcomed Jetstar's joint ventures? In some of these, effective local control is actually an explicit requirement. Interestingly, these countries gloss over control and focus instead on majority ownership remaining local.
So airlines such as Jetstar, AirAsia, Tiger, Lion and VietJet have scrupulously kept their joint venture stakes below the prescribed maximum for foreign investors. The irony is that countries with more explicit local control requirements than Hong Kong's have blessed the joint ventures of foreign airlines, including Jetstar's.
Some 10 Asian economies have now allowed foreign airlines to establish local joint ventures. A negative finding on Jetstar Hong Kong would place the city among the minority.
The other issue is whether the Hong Kong public will miss out on the benefits afforded by a more relaxed policy on joint-venture low-cost carriers. Here, Singapore and Bangkok have shown that their markets are big enough for more than one local low-cost carrier. There are also strategic imperatives in enhancing Hong Kong's status as an aviation hub for the burgeoning low-cost sector.
Yet the very public acrimony over Jetstar Hong Kong may actually restore the primacy of the local control requirement that has become all but forgotten in much of Asia. It also reveals how our global airline industry is still wedded to nationalistic notions of ownership and control.
A decision on Jetstar Hong Kong will have to be made soon, but there are problems either way. And I'd imagine that the last thing anyone wants is to have the uncertainty referred to Beijing.
This article appeared in the South China Morning Post print edition as: Jetstar's arrival puts airline control rules in the spotlight