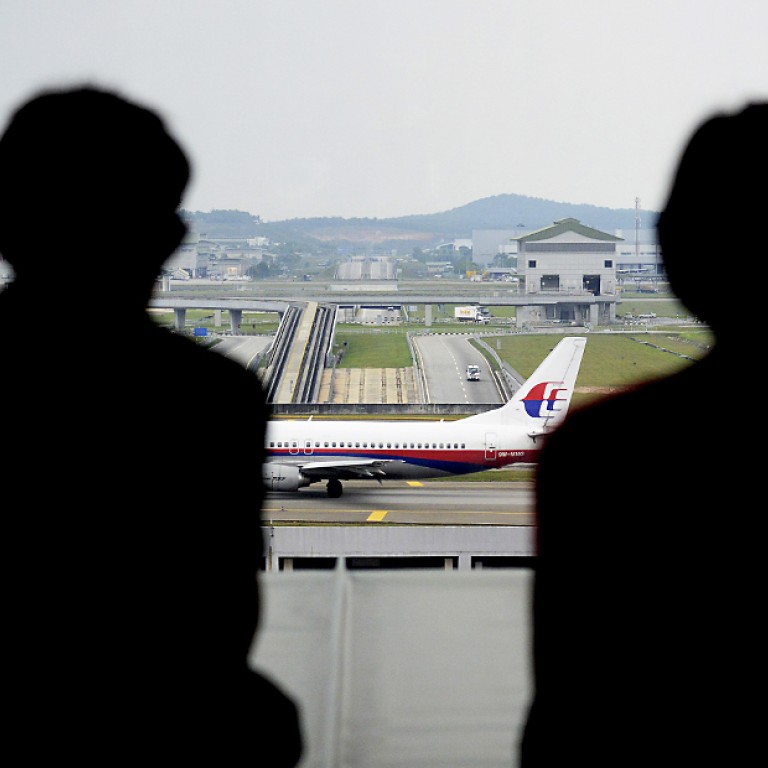 China unlikely to risk hurting ties with Malaysia over missing flight MH370
Daniel Wagner and Giorgio Cafiero say any criticism of Kuala Lumpur's handling will be muted
The disappearance of Malaysia Airlines flight 370 prompted Chinese citizens to pressure their government to react harshly to Malaysia's perceived incompetence. Kuala Lumpur's lack of transparency on the subject and Beijing's sensitivity to domestic populism led Chinese government officials to publicly rebuke Malaysian authorities.
Yet China is likely to remain cautious about taking action that could jeopardise its relations with Malaysia, given the country's increasingly pivotal role in shaping China's influence in the region.
China has a history of encouraging its citizens to rise up against foreign powers when wrongs have been committed against Chinese people or property. The most illustrative example in recent history was the mistaken bombing by the US of the Chinese embassy in Belgrade in 1999. Protests erupted across China, culminating in attacks on the US embassy in Beijing by citizens armed with rocks. To date, no such attack has been waged against the Malaysian embassy - only peaceful protests.
At least part of the reason is that although Malaysia is among the Asian states that dispute China's territorial claims in the South China Sea, the government has been much more muted in its criticism of China's perceived maritime aggression than its counterparts in Hanoi, Manila or Tokyo.
And while Japan and the Philippines have in recent years strengthened defence ties with the US to counter China's perceived threat, Malaysia has instead strengthened its military partnership with China. Last October, Beijing and Kuala Lumpur agreed to hold their first ever joint military drills.
China and Malaysia have a unique relationship rooted in historic ties, economic relationships, and ethnic/cultural bonds. The two governments established diplomatic relations in 1974, making Malaysia the first Southeast Asian country to officially recognise China.
Malaysia's decision to reach out to an isolated China during the Mao era remains significant in defining the nature of bilateral relations today, with 2014 marking the 40th anniversary of diplomatic relations. The Malaysian prime minister who established them was Abdul Razak Hussein - the late father of the current prime minister. Malaysia was a friend when China needed one and Beijing has not forgotten this.
Since then, China and Malaysia have strengthened a de facto strategic partnership economically and politically. Malaysia is China's largest trading partner among members of the Association of Southeast Asian Nations. The roughly 24 per cent of Malaysia's population who are ethnically Chinese have played a crucial role in facilitating the growth of bilateral trade, which reached a record US$106 billion last year.
Although Washington's Middle East foreign policy, stance on human rights and economic policies have historically created tension between the US and Malaysia, the two countries have grown closer since Najib Razak took office in 2009. Malaysia signalled an interest in strengthening bilateral relations last month by elevating the relationship to a comprehensive partnership.
Washington's muted response to the disappearance of MH370 and support for Malaysia's government throughout the course of the search for the plane have underscored Washington's own interest in not isolating Malaysia, which stands to play an important role in the US effort to counter China's expanding influence in Asia.
Within the context of the China-Malaysia-US triangular relationship, Beijing's reaction to MH370 will probably remain measured. China is unlikely to impose sanctions on, or sever ties with, Malaysia. The fact that the Chinese press has begun to soften its tone towards Malaysia's government reflects the view that China is better off swallowing a tough pill than taking any action that could provide the US with a major strategic advantage at Beijing's expense.
Knowing where its bread is buttered, Malaysia has made a conscious decision to embrace China while hedging its bets by simultaneously extending a hand to the US. However, the Malaysian government must be careful not to be perceived as being too enthusiastic about an alliance with Washington, as many in Malaysia remain deeply suspicious of the US and its intentions.
The emerging relationship with the US is new, and its limits have yet to be tested. However, there is little chance the US will supplant China as Malaysia's pre-eminent economic and political partner. Malaysia has the luxury of being able to straddle the fence, as both of its suitors will continue to court it indefinitely.
This article appeared in the South China Morning Post print edition as: Wary of the US, China won't risk ties with Malaysia over missing aircraft