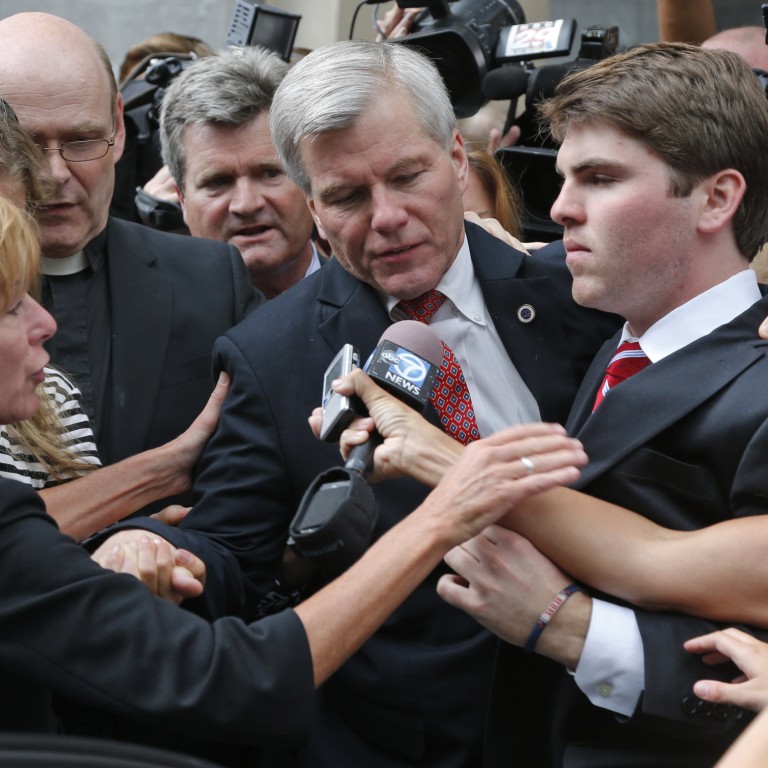 To win war against corruption, Xi Jinping must tackle the rot within the system
Curtis Chin says America's handling of its corrupt officials makes clear the need for rule of law
In recent months, Chinese consumers have seen US companies in China come in for government criticism, if not outright attack, for food safety, price fixing and other unsavoury practices. The not-so-subtle message to China's citizens could well be: don't go thinking that foreign brands, products or behaviour are better than those of China.
That message could well be expanded to the behaviour of government leaders, as senior officials in both China and the US have been brought down by corruption scandals.
Yet critical differences also abound as contrasting approaches to fighting corruption underscore that China, for now, remains more rule by party, or "people", than rule by law.
In the US, the conviction by a federal court of Bob and Maureen McDonnell, the former governor and first lady of my former home state of Virginia, for taking bribes has derailed the career of a rising political star, once touted as a presidential or vice-presidential candidate.
The verdict stemmed from charges related to the couple helping a wealthy businessman, Jonnie Williams, in exchange for more than US$177,000 in gifts and loans.
A world away, President Xi Jinping's much touted anti-corruption drive against "tigers" and "flies" continues to unfold.
In the parlance of the Chinese, the McDonnells would no doubt be tigers. McDonnell is one of the most senior US elected officials to be brought down by corruption in recent years. But others have included officials from US President Barack Obama's own home state of Illinois. Former Illinois governor Rod Blagojevich is serving a jail term for trying to sell Obama's vacant Senate seat, for example.
As the US media noted, McDonnell joins at least eight other former governors, from both major US political parties, who have been convicted of corruption in recent years after having had their day in court, or admitting the charges in a plea deal.
And therein lies an important difference between US and Chinese efforts to police corruption: the role of an independent judiciary and a free media. In US trials - often widely covered by journalists - politicians and business leaders, like all Americans, have recourse to law and legal counsel, and the chance to defend themselves. Verdicts are not foregone conclusions.
For China's anti-corruption efforts to succeed in the long run, Xi must pair this latest campaign with the more difficult political and systemic reforms. Otherwise, his efforts may well be perceived as little different than those of his predecessors.
In the past, anti-corruption campaigns have been used to conceal political struggles inside the Communist Party. Frequent official announcements of corrupt officials being brought to "justice" have also been used by the party to demonstrate its own achievements while seeking to limit the space for outside anti-corruption voices.
In 2012, China watchers were riveted by the then largest political scandal to unfold in years, namely the downfall of Bo Xilai , the former party chief in Chongqing and one-time high-flyer. Bo's trial began on August 22 last year and ended just four days later. On September 22, he was found guilty of all charges and sentenced to life in prison. On October 9, a Chinese court said it would hear Bo's appeal. On October 25, that appeal was rejected.
Bloomberg has reported that "Xi's nationwide campaign to rein in graft has ensnared more than 480 officials spanning all of China's provinces and largest cities".
Investigations continue as Xi moves to take down the biggest tiger yet: former security chief Zhou Yongkang .
In his campaign, Xi may well be advancing a systematic effort to stem the corruption that undercuts support for, and could well one day threaten, the legitimacy of one-party rule. But he will also have to address the underlying system if he is to change both the perception and the reality of modern China.
According to the latest Corruption Perceptions Index by Transparency International, which ranks countries and territories based on how corrupt their public sector is perceived to be, China continues to do poorly. In 2013, it ranked 80th out of 177 places reviewed. The US ranked 19th.
In China today, anti-corruption efforts and the transparency around such efforts only go so far. Corruption exists in many places, including those that require some form of financial disclosure of the assets of top leaders. China is not alone in not requiring such transparency.
But all citizens will ultimately have the greatest confidence in systems driven by the rule of law, not by personal vendetta or power pushes.
Without significant changes to the underlying system, it will continue to be the case in China - unlike perhaps in Virginia - that some people are still above the law.
This article appeared in the South China Morning Post print edition as: To win war against corruption, Xi must tackle the rot within the system