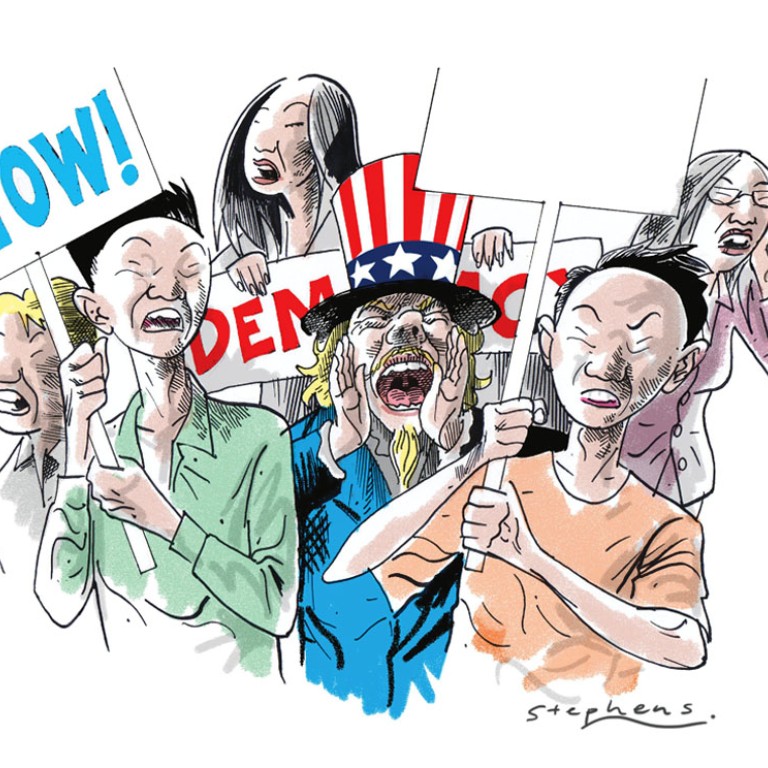 How China's very real national security fears shaped its reform plan for Hong Kong
David Zweig looks at how China's worries about Western interference threatening its national security were the main motivation behind the decision to set strict limits on Hong Kong's political reform process
Some observers explain that the very restrictive nomination process for universal suffrage in 2017 directed by the National People's Congress Standing Committee was driven by the Communist Party's fear of losing power in Hong Kong and the demonstration effect on Chinese society.
However, an alternative explanation is Beijing's worries about national security. In the eyes of many Chinese government and party officials, "civic" nomination and a low threshold (under 15 per cent) for the nominating committee that would allow a pan-democrat to run would open the door to Western "interference" on China's sovereign territory.
Due to the problems in Xinjiang and Tibet and the fact that the Uygurs have brought their anger into Han China, spending on national security surpassed spending on national defence in 2011. As China also asserts its sovereign claims over disputed territories in neighbouring seas, it now finds a "re-engaged" US military supporting states that feel bullied by it.
Compared to on the mainland, foreign intelligence agencies freely collect information in Hong Kong and, according to WikiLeaks, diplomats regularly meet opponents of the central government.
Albert Ho Chun-yan, a leader of the Democratic Party and candidate for chief executive in 2012, told me that, in such meetings, he informs consular officials about the Democratic Party's plans but never receives strategic advice from them. Still, Edward Snowden's revelations have confirmed Chinese fears that the US collects intelligence in Hong Kong.
Chinese officials magnify such meetings as proof of US meddling in Hong Kong. After the massive anti-Article 23 march of July 1, 2003, Gao Siren, then director of the central government's liaison office here, made a ludicrous claim that all marchers received US$100 from the US consulate. The US consul general said he only wished he had US$50 million.
According to Hong Kong sources, this March, NPC chairman Zhang Dejiang , the Politburo Standing Committee's point man on Hong Kong, told government officials responsible for affairs here that they must fight "foreign interests" who use Hong Kong to undermine China's authority. In his view, "international political forces and anti-Communist Party international organisations" are deeply involved in transforming Hong Kong into an anti-Communist Party and anti-China region and making Hong Kong "a battlefield of international political power". Immediately, mainland officials of various stripes sought examples of US and British efforts to use Hong Kong's political reform to destabilise China.
Counterarguments could not convince these mainland officials that foreigners were not promoting Occupy Central to undermine China's sovereignty in Hong Kong. After all, the US and Britain have so much invested in Hong Kong stability.
But pan-democrats ignored Beijing's worries about national security. While Anson Chan Fang On-sang and Martin Lee Chu-ming visited Washington and London to rekindle interest in Hong Kong's democratic struggle, those trips did mobilise foreign governments to become more involved in what China sees as its internal security.
For the first time since 2007, the US Congress will resume annual reporting under the 1992 US-Hong Kong Policy Act, and Britain's House of Commons Foreign Affairs Committee has initiated an inquiry into Beijing's record in promoting freedom here as stipulated in the Joint Declaration of 1984. Those efforts will stoke China's deep fear of foreign interference.
Denials of US involvement also became more difficult after someone hacked Jimmy Lai Chee-ying's files and showed that Mark Simon, an American who had headed the Hong Kong chapter of Republicans Abroad, dispersed funds for Lai to pan-democrats, who failed to report such donations, and for aiding Occupy Central.
But Lai, as a Hongkonger, has the same right to do so as the tycoons who regularly donate millions to pro-Beijing parties - particularly the Democratic Alliance for the Betterment and Progress of Hong Kong - who also fail to report this critical support.
Central leaders also worry that Taiwanese pro-independence forces will make Hong Kong's democratic movement an anti-mainland effort. So when student leaders from Taiwan's Sunflower movement, which "occupied" Taiwan's Legislative Yuan earlier this year, tried to enter Hong Kong in late June, mainland officials were thrilled they were refused entry, but worry that a pan-democratic chief executive might not prevent such "infiltration" from Taiwan.
From Beijing's perspective, Hong Kong has long been a source of anti-Communist Party activities. In 1989, when students in Tiananmen Square challenged the communist authority, Hong Kong raised over HK$1 million to support that occupation. Also, Operation Yellowbird smuggled student leaders, who were labelled "criminals", to safety in Hong Kong.
Yet the NPC's decision, which may bring to power in 2017 a chief executive lacking public support and legitimacy, might destabilise Hong Kong and China's national security more than an open electoral process. If the pan-democrats vote down the government's reform plan, making it possible for Chief Executive Leung Chun-ying to be re-elected, Hong Kong could become another thorn in Beijing's side, which will be difficult to control without worldwide criticism.
The risk of escalation into social unrest in Hong Kong has increased since the NPC Standing Committee decision. Beijing should have allowed a lower nominating threshold, which would have created the possibility for a democrat to run, as the possibility of a pan-democrat winning is extremely small.
Many members of the democratic camp have reportedly told mainland officials that the pan-democrats might promise not to put forward a candidate this time if a more democratic system were put in place.
But, in the eyes of the leadership in Beijing, and many officials in China working on Hong Kong affairs, in the current domestic and international climate, allowing a system that could even possibly allow for the election of a chief executive with close ties to the US or Britain was simply too scary.
This article appeared in the South China Morning Post print edition as: Foreign fears