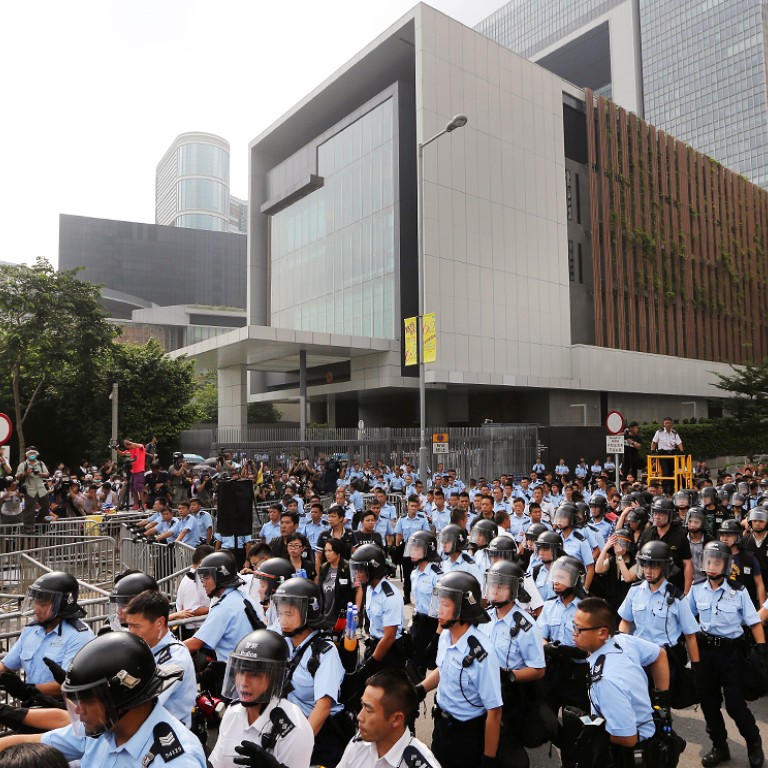 Hong Kong police are not the enemy
Steve Vickers says the impasse with protesters requires a political solution
Police forces in democracies (or semi-democracies, as here in Hong Kong) can only sustainably operate with the tacit agreement of the majority of the people.
Any hope, in Beijing or Garden Road, that the Hong Kong police force can be used to squash the aspirations of a large section of the people is completely erroneous. The police force is composed of Hong Kong people and their views probably mirror much of the rest of mainstream society.
The impasse can only be resolved by way of a clever and pragmatic climbdown by both sides. There will certainly be an important role for the police to play in support of this, but the solution is essentially political.
As the demonstrations peak, there will be an understandable temptation by those in power to order the police to swiftly retake lost ground, thus saving face for the administration and regaining some trust with the large number of Hong Kong people who cannot understand why the government hasn't adopted a tougher line already.
However, a sudden move in this direction, before some form of accommodation or tacit agreement is reached, would be a serious mistake and might even bring more people out onto the streets and invigorate a now somewhat flagging movement.
The police force, especially the junior police officers, currently feel bruised and bemused under the withering barrage of criticism: this levelled at them from the media, the public and some grandstanding politicians; who say they thought they were going to be killed by the 87 rounds of tear gas that were let off at nine different locations.
Significantly, the police force and particularly its public relations machine failed to convince the public of the obvious truth that it is a great deal better to use tear gas to hold back a charging crowd than to wade in with batons - where serious casualties will almost certainly result.
The students have drawn largely justified praise for their discipline and civic behaviour in most locations. There was, however, an ugly hard-core group of demonstrators who deliberately escalated the confrontation with police on Sunday evening, repeatedly charging officers, and who frankly are very lucky to have got off so lightly - with a whiff or two of smoke. Had they tried such behaviour in New York or London, there would have been very many cracked heads.
Once some form of accommodation or agreement is reached, the police must move carefully and firmly to restore order. During the short period of "occupation", a lot of invisible damage may have occurred underneath the water line: especially so in West Kowloon, where various murky figures seem to have "assisted" in the securing and management of these important and historically triad-influenced areas. Triad influence remains a curse in Hong Kong society and it is pretty much an open secret in Hong Kong that elements of both pro-democracy and Chinese government agencies have made use of them in the past.
The police force will undoubtedly dust itself off from stinging (and largely unfair) criticism and it certainly has the ability to firmly and carefully deal with the business of getting the city back to normal.
The lessons learned must include a priority to adopt a better public relations approach and to convince the force at all levels that the media are not the enemy. Likewise, and in hindsight, some high-profile elements of the mass media might also want to dispassionately consider their role in this matter.
I am 100 per cent behind real democracy for Hong Kong. The police are just not the enemy.
This article appeared in the South China Morning Post print edition as: Police have vital role to play, but they are not the enemy