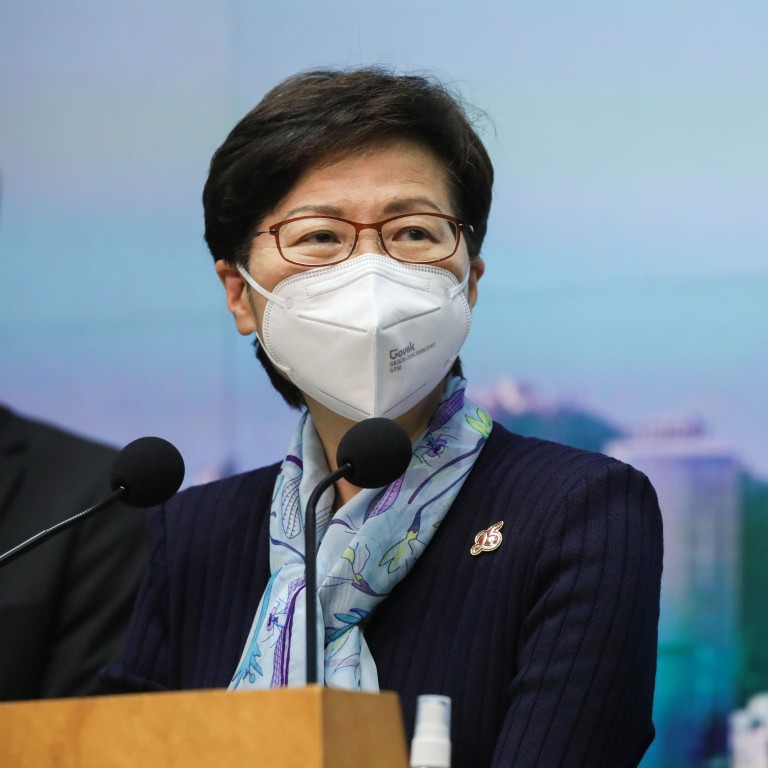 Opinion
Editorial
by SCMP Editorial
Editorial
by SCMP Editorial
Carrie Lam leaves a mixed legacy after five years in charge
By some measures, Hong Kong's outgoing leader can be proud of her achievements but on hot-button issues such as politics and the Covid-19 pandemic, the final verdict is still pending
Carrie Lam Cheng Yuet-ngor is assured of a place in Hong Kong history when she leaves office on Thursday. Whether she will be remembered as a good chief executive is open to debate, though. Recently, she has been trying hard to put her five-year term in a positive light, saying it was a perfect full stop to her decades-long public service career. But there are those who think otherwise.
Official data suggests the city has become a better place under her leadership in some respects. The number of regional headquarters and offices here of parent companies based outside Hong Kong rose from 7,986 in 2016 to more than 9,000 in 2021. The number of homes increased from 2.75 million in 2016 to 2.96 million last year. A plethora of government support measures and subsidies have lifted 1.1 million people out of poverty, cutting the poverty rate by 15.7 percentage points, by far the greatest reduction on record.
However, property prices continue to spiral, with more nano flats and subdivided units built. More people have emigrated amid growing concerns over the city's future. Today, the political divide is even deeper, contrary to her pledge to reconnect with the people.
Despite the difficult political and economic climate, Lam, to her credit, has checked off most of the items on her to-do list. This includes the controversial Mandatory Provident Fund offsetting mechanism, more transport subsidies and an increase in statutory leave for workers and parents. But whether the people actually feel they are better off is another matter. Many take issue with her handling of the coronavirus pandemic and the seismic political shifts sparked by her now-defunct extradition bill. The impact of the ensuing national security law and electoral changes is still unfolding.
During a closed-door meeting at the height of the 2019 social unrest, Lam reportedly admitted that the
havoc caused by the proposed extradition bill was unforgivable
. She has since sought to excuse herself. The political storm, she argued, would have cropped up sooner or later because no efforts were made to rectify deviations from the "one country, two systems" governance model over the past 25 years. She also lamented that the government's efforts in fighting the pandemic had not been duly recognised.
Admittedly, even the most capable leader might be overwhelmed when facing the double blow of social unrest and a global pandemic, especially when wedged between Beijing and local expectations. Matters were further compounded by complex geopolitical issues and factors beyond Hong Kong's control.