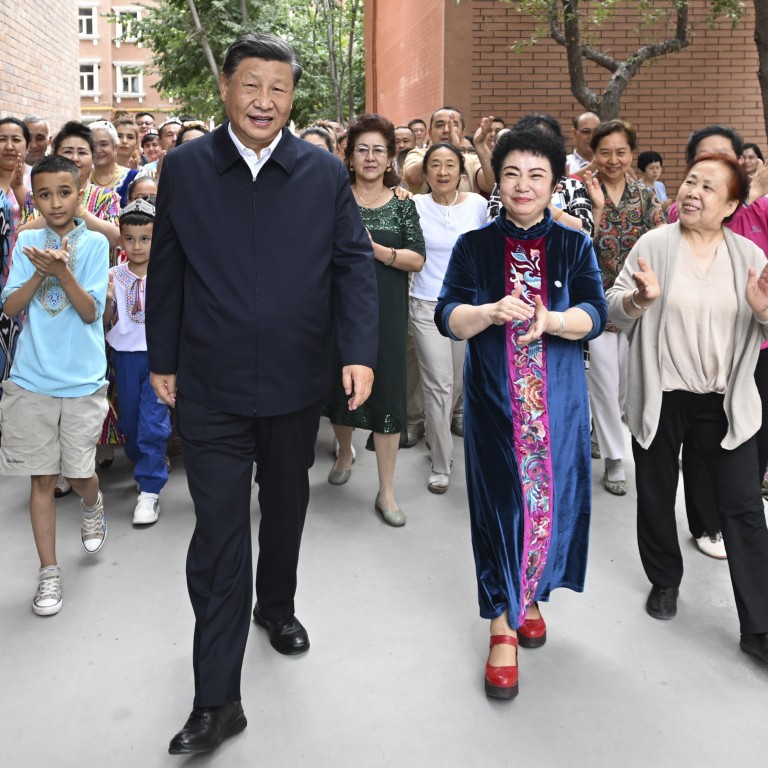 Opinion
Editorial
by SCMP Editorial
Editorial
by SCMP Editorial
Despite sanctions, Xi presses for Xinjiang to be a super connector
The region's geographical location is critical to the Belt and Road Initiative, offering unparalleled opportunities and, as the president has made clear, the rewards are not for some, but all
Xinjiang marks the geographical centre of Asia, the exact point being 20 kilometres southwest of the capital, Urumqi. President Xi Jinping, visiting the nation's westernmost region last week for the first time in eight years, had every reason to call it an important part of the Belt and Road Initiative (BRI). So central a location gives China vast connectivity to the rest of the world through rail, road and air links. For local people, no matter what their ethnic background, and those of neighbouring countries and beyond, the benefits are already apparent and will increase as infrastructure is put in place.
Xi made the significance of the BRI's links clear during his
four-day trip to the semi-autonomous region
. Visiting the Urumqi International Land Port Area, from where more than 5,000 Europe-bound freight trains depart each year, he said Xinjiang "is no longer a remote area, but a core hub". Once among China's poorest regions, it is now one of the most economically vibrant, with energy projects, mining, agriculture and trade driving growth.
Many Western governments see matters differently, Xinjiang being a focus for claimed human rights abuses against ethnic Uygur Muslims. During Xi's last visit, in 2014, he ordered "most effective means" to be used against terrorism blamed on Islamic extremists. His latest trip came in the wake of Washington's implementation of an import ban on goods from Xinjiang claimed to be produced by forced labour. The action has been taken without evidence being provided;
Michelle Bachelet, the UN commissioner for human rights, toured the region in May and had open access to people of her own choosing, among them prisoners and members of ethnic groups who had participated in courses at vocational training centres.
The president also visited Xinjiang University and the Museum of the Xinjiang Uygur Autonomous Region, the latter apparently a gesture to show Beijing's desire to preserve the region's ethnic culture. He urged authorities to boost economic development and ensure people's livelihoods. The importance of telling "the Xinjiang story" was stressed. It is to be hoped this means a further opening up so visitors from home and abroad can see for themselves.
The BRI was launched in 2013 with development in mind, the building of infrastructure linking neighbouring countries by land and sea to the rest of Asia, Middle East, Africa and Europe being about growth, prosperity and mutual benefit. Xinjiang's location and size give it a major role; accounting for one-sixth of Chinese territory and one-quarter of the nation's land border, its adjoining seven Central Asian countries offers unparalleled opportunities. As Xi has made clear, the rewards are not for some, but all.