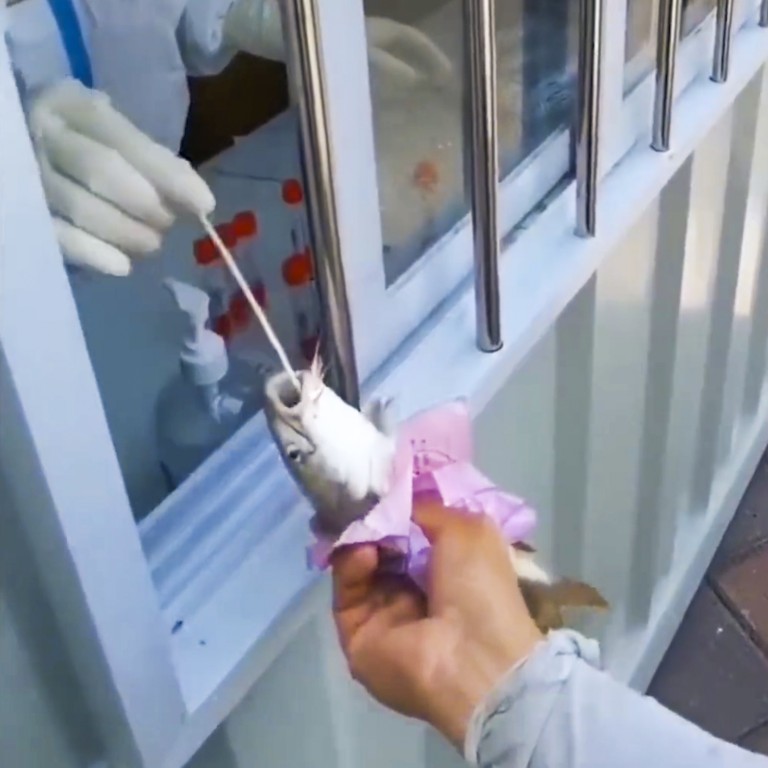 Testing fish for Covid-19 is a sign that political dogma has trumped common sense in China
The muted response from public health experts over extreme coronavirus control measures has given local authorities a tacit green light
Sensible instructions from China's national health commission are quickly ignored by provincial government officials
The sight of a hazmat-suited medical worker in the Chinese city of Xiamen sticking a cotton bud into the mouth of a fish to test whether it had coronavirus was saddening.
It is a sign that common sense and pragmatism in China are retreating, giving way to self-destructive madness, where political correctness trumps basic reasoning.
The ridiculous conduct in Xiamen received no official reprimand from the provincial or state authorities because, politically speaking, it was seen as the right move towards implementing Beijing's strict dynamic zero Covid-19 policy.
After all, why leave any stone unturned, or in this case a fish "unturned", when pursuing the ultimate goal of minimising coronavirus risks, and who could blame local officials' enthusiasm in tackling the priority task assigned from the very top?
Few Chinese scientists, doctors or public health experts called this out as unnecessary. The increasingly muted response from Chinese scientists and public health experts over extreme coronavirus control measures has given local authorities a tacit green light to do whatever they see fit to keep the virus at bay.
The way local officials see it, there may not be sufficient scientific evidence to support going the extra mile by Covid-testing fish, but there's also no pushback by scientific experts, so why not?
As a result, sensible instructions from China's national health commission that provincial governments must not impose additional controls are quickly ignored because local officials will only be punished for failing to prevent outbreaks, not for "over reacting" when it comes to preventing local outbreaks.
In an example of the latter, whole-city lockdowns are again taking place in Daqing and Pingyao, where roadblocks were quickly imposed between provinces, trapping tens of thousands on the roads.
For the general public, the act of swabbing a fish mouth to detect the coronavirus borders on insanity. What will China do if a fish tests "positive"? Will it build fish tanks to quarantine them?
However, for those who decided to take the absurd measure, it was a chance to show extra diligence and perhaps even party loyalty. This is particularly worrying because Xiamen was one of the first four special economic zones in China – areas deemed to have been unshackled from political dogma and operate in a realistic fashion.
Local officials in these zones should provide the country with examples of how to be pragmatic, and dare to "seek truth from facts", not seek traces of a respiratory disease from fish, crab or shrimps.
One important lesson from China's economic boom over the past half-century is that the country allowed common sense to return to everyday life after the chaotic years under Mao Zedong. It is heart-wrenching to see that common sense being chipped away.