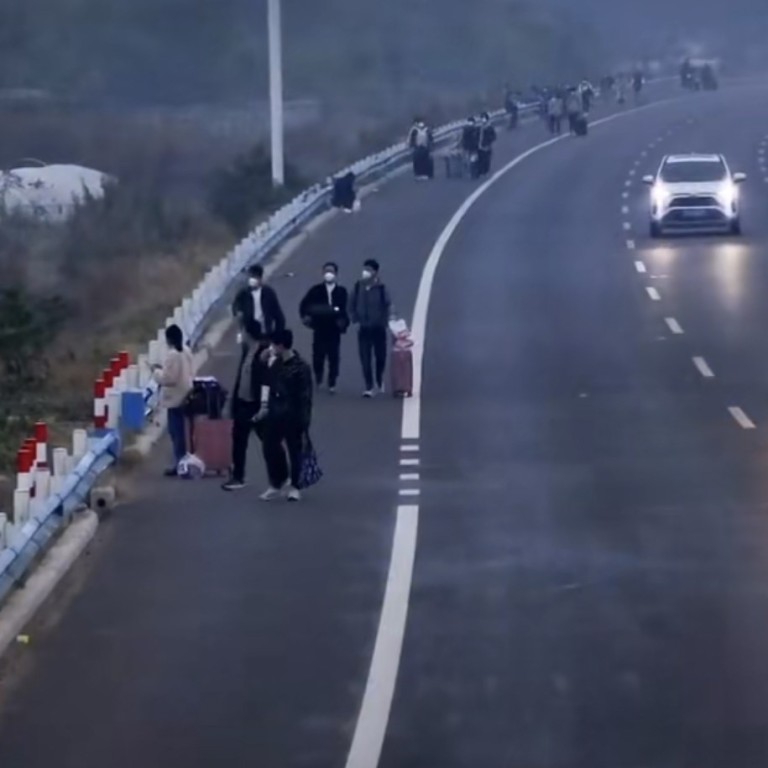 Opinion
Editorial
by SCMP Editorial
Editorial
by SCMP Editorial
Accurate information key to avoiding Covid-19 panic in China
Overreaction and ensuing exodus from iPhone factory in Zhengzhou is a result of poor knowledge about the true risks posed by Covid-19
The images of workers fleeing an iPhone factory amid a partial lockdown have put China's zero-tolerance approach towards Covid-19 under the spotlight again.
The exodus is not just a reflection of public fatigue and resistance during a long battle against the pandemic, but also the fear and distrust stemming from a lack of awareness and transparency over the evolving nature of the disease.
Footage started emerging just over a week ago showing scores of Foxconn workers escaping from the industrial compound in Zhengzhou and has probably reinforced the negative perception of China's draconian strategy.
This is especially so when many countries have learned to live with the virus and gradually bring life back to normal. The panic and defiance at the factory is a stark contrast to the general compliance with the confinement operations imposed elsewhere in the country from time to time.
The official narrative of Covid-19 as a killer virus might have helped reduce public resistance against the stringent measures imposed by the authorities. But it has also nurtured an unhealthy sense of fear that is disproportional to the threats to public health.
This is not helped when the true state of the outbreak is often shrouded in patchy data, giving rise to misinformation and irrational behaviour.
In the case of Foxconn, the world's largest smartphone assembler, rumours circulated that there were as many as 20,000 infections, equivalent to about 10 per cent of the staff.
The local authorities gave no details about the scale of the outbreak, but ordered the company to take strict enforcement actions and deployed task forces to the plant to help restore order and productivity.
The zero-infection approach has enabled moderate economic growth while keeping the pandemic under control over the past three years.
But it also comes at heavy costs to society. Given there is still no indication of a policy change any time soon, the approach could and should be refined.
This includes enhancing the dissemination of accurate information, educating the public about the health risks and making compulsory tests and lockdown operations more humane and scientific. This will help avoid overreaction when an outbreak occurs.