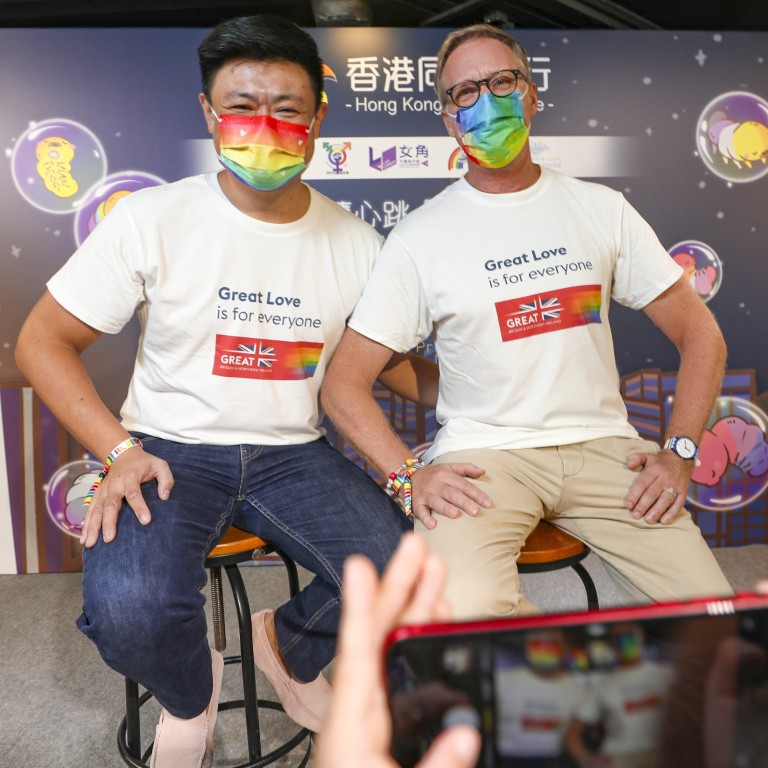 Opinion
Editorial
by SCMP Editorial
Editorial
by SCMP Editorial
Increased inclusivity could help Hong Kong rebuild
While traditional social attitudes may still frown on same-sex partnerships, finding ways to balance such norms with better safeguards for LGBTQ rights could benefit everyone and attract talented people to live and work here
Pride has been relatively scarce in Hong Kong as the city struggles to regain its footing after absorbing shocks of the pandemic and civil unrest. So it was encouraging to hear a top UK diplomat suggest that broadening inclusivity could help the city rebuild its reputation as the leading Asia-Pacific financial centre and attract talented people to live and work here.
British Consul General Brian Davidson said that while the city is "inclusive and welcoming to all talent", it would be wise to catch up to the rest of the world by firmly establishing fairer treatment of sexual minorities. Davidson was among several foreign diplomats at Hong Kong's recent Pride Parade, and attended with his husband Scott Chang and their three children. He said increasing equality for the LGBTQ community could be "one of Hong Kong's selling points" over its rivals. Openness to other sexual orientations could also decide whether international corporations are able to move their LGBTQ employees to the city.
After a record wave of emigration in recent years, the government has prioritised attracting talent to the city and addressing roadblocks that discourage people from choosing Hong Kong. Chief Executive John Lee Ka-chiu has pledged to work towards a more diverse society.
Hong Kong, however, does not legally recognise same-sex marriage in general, except for areas such as tax declaration and spousal visas. Such rights have been achieved only in recent years after litigation. The courts have so far rejected legal bids to fully recognise same-sex relationships, but they have advised the government to carry out a comprehensive review of its policies to ensure they comply with the principles found in previous rulings siding with the LGBTQ community.
Advocates like Davidson are right to encourage such efforts, as well as dialogue with other communities around the world that have found success addressing LGBTQ concerns that are "sympathetic to the local environment". While traditional social attitudes may still frown on such partnerships, finding ways to balance such norms with better safeguards for LGBTQ rights could benefit everyone in a city that prides itself on inclusivity as much as its Lion Rock Spirit.