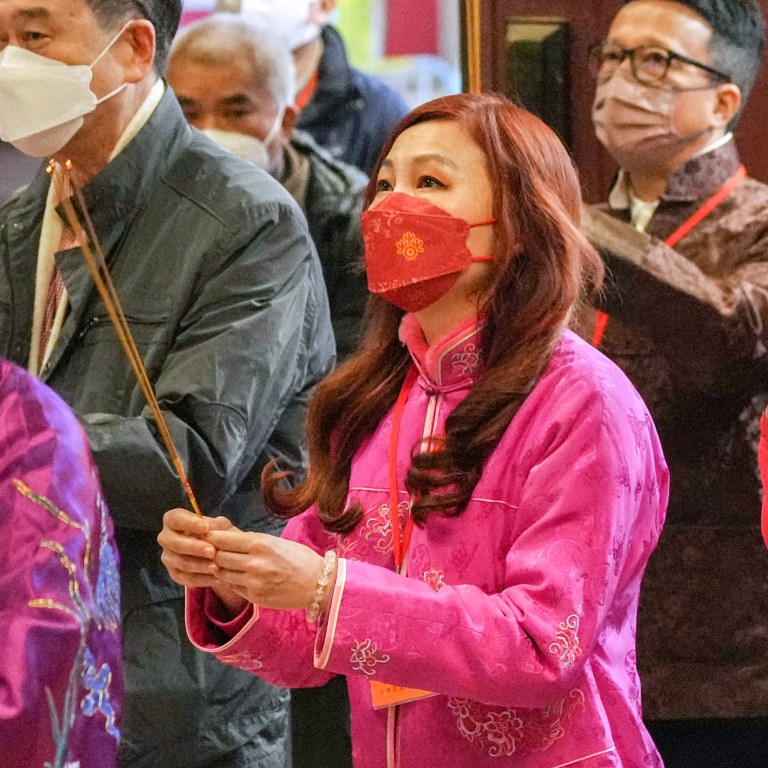 Opinion
Editorial
by SCMP Editorial
Editorial
by SCMP Editorial
Drawing of fortune stick may be a ritual but offers sage advice
For some it may be mere superstition, but when stick No 11 was drawn the last time, in the previous Year of the Rabbit in 2011, Hong Kong's economy saw positive developments. Will history repeat itself this time?
The whole world could use a change of fortune for the better, and few places more so than Hong Kong after the social and economic devastation of Covid-19 on top of protests, political crackdown and reform.
At such times uncertainty abounds, and rituals can assume more than their cultural significance.
An example is to be found in yesterday's drawing of a fortune stick by a community leader in a Lunar New Year ceremony at Che Kung Temple in Sha Tin, with 96 sticks – each bearing a prophecy that either bodes well, or ill or is neutral.
Rural leader Kenneth Lau Ip-keung, chairman of the Heung Yee Kuk, urged the authorities not to flaunt their power and heed public opinion after drawing neutral fortune stick No 11, which read: "Those powerful should not flaunt their power and prestige. They should work hard on listening to advice."
That sounds like sage advice when unity is to be valued above all.
Feng shui master Chan Tin-yan said it meant "some people from the past" would play a crucial role in helping Hong Kong out of its predicament, especially its economic woes.
It would not be the first time former officials had done a good job in boosting the local economy. Johnson Chan, a fellow master of the practice, said the fortune stick also suggested authorities should cautiously work towards the city's recovery.
The underlying theme of the community needing to put aside differences for the sake of unity for the common good resonates with the task of recovery facing Hong Kong.
The fortune stick may just be a ritual but there can be wisdom in it. At a time when the city is facing many challenges, it is good for leaders to be humble and open to ideas and feedback from the ground.
There is, after all, no monopoly on good ideas. It is time to harness them from all sectors and for the city to galvanise as one united society to shake off the economic doldrums and recover its vibrancy.
The prophecy also resonates with Financial Secretary Paul Chan Mo-po's Lunar New Year message that the economy could face difficulties in the first quarter, amid calls for another round of consumption vouchers, but shows signs of recovery in the coming months.
Underlying issues remain. A lot of work is still to be done. The less division the better. Hong Kong has never needed its renowned resilience as it does now.
The same fortune stick was also drawn in 2011, the previous Year of the Rabbit, by Lau's late father and former Heung Yee Kuk leader Lau Wong-fat. That year ended with positive economic developments that provided a springboard into the Year of the Dragon, which comes around again next year.
The new year is a time of hope. Here's hoping that history will, in this case, repeat itself.