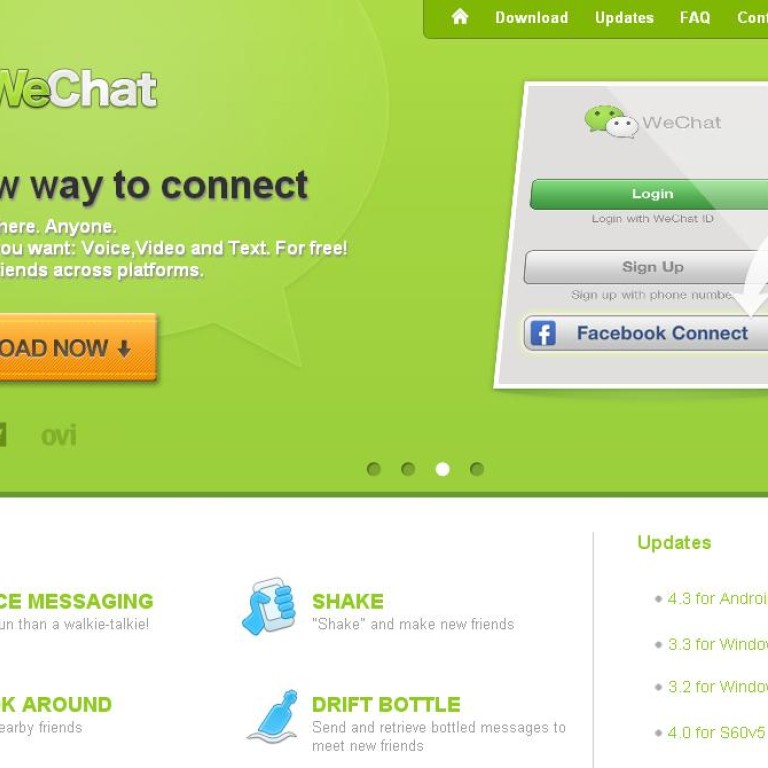 Opinion
Locustland
by John Kennedy
Locustland
by John Kennedy
Hu Jia explains why mobile apps make activism spooky
The convergence of text and voice messaging in tools like WhatsApp, the well-known activist says, has made real-time surveillance not just possible but highly cost-effective.
Earlier this week, well-known dissident
Hu Jia
complained
 on Twitter about how easy
WeChat
- a slick text and voice instant messaging app developed by Chinese Internet giant Tencent that closely resembles WhatsApp - has made it to keep him and other Chinese dissidents under real-time surveillance.
Hu says he isn't choosing to single out the company, rather that the Guobao - the domestic security arm of China's Public Security Bureau - has for years relied heavily on Tencent for surveillance work due to the high degree of popularity of its products and
hundreds of millions
of users in China.
We got in touch with Hu to get some details on why he says WeChat now makes it possible for state agents to carry out the kind of surveillance we're used to seeing in futuristic sci-fi movies.
The first indication, Hu says, came when friends began telling him voice-message exchanges they'd had through WeChat were being recited by Guobao in precise and full detail almost immediately after taking place.
"For example, conversations will have just finished an hour ago and already they're interrogating friends about the content."
One of the features that makes WeChat so popular, Hu says, is the ability to leave voice messages that can be read on-demand.
While on one hand this allows users to skip idle chatter and get straight to, say, deciding on a place to meet, it also means the information that is sent is often exactly what activists' silent interlocutors, historically, have had to spend the majority of their surveillance details waiting for.
Not only has WeChat helped speed up their response time, the fact that all this is happening on a mobile device means cyberspooks are able to simultaneously track Hu's physical location.
Just like with my mobile phone and SMSs, I believe they have people whose job it is to monitor my WeChat in real-time, allowing them to respond within 1-2 minutes.

To give you an example, one time I got off the subway at Beijing's Dongdan station. Just as I exited the station I got an SMS from a friend telling me to meet up at the Starbucks in the basement of Oriental Plaza. One minute later as I was crossing the overpass above Silver St., I heard one of the plainclothes guobao tailing me take a call; he repeated a few words: "Oriental Plaza...the basement...Starbucks." It was clear the Guobao tech investigation command centre was telling my followers, in real time, precisely where I was headed.

Another time, I was on the subway when I received an SMS [from a friend] telling me of a last-minute change of venue for us to meet. I had to jump off Line 4 and take Line 1 to Line 5. That went quickly, the subway trains were all running on time. When I went to exit the station, I noticed that aside from the two plainclothes behind me, two of the Guobao cars that normally tail me were already parked and waiting outside, camcorders and cameras fixed on me.

This just once again proves that their monitoring of SMSs and WeChat contact between my friends and I adapts in real-time. You can think of WeChat as a more economical kind of SMS with better functions and faster delivery, and Guobao are now able to monitor WeChat just as rapidly and easily as they monitor SMSs.

By monitoring WeChat, they're able to get both voice and text messages. Because we usually keep the WeChat voice messages we send to under a minute, detailed and straight to the point, it's more efficient for them than doing long-term surveillance on a telephone. When we spend 15 minutes discussing something on the telephone, the Guobao have to spend the same amount of time analysing it. With WeChat, though, we can work it out in less than 5 minutes sending back-and-forth voice messages, making it more convenient for guobao to get the key information they need.
Citing things he was told after being sentenced to prison for "inciting subversion of state power" in 2008 as well as numerous experiences resembling the ones above, Hu has come to the conclusion that:
The Guobao have become more efficient in their jobs by eliminating the need for cooperation from China Mobile or Tencent in many surveillance tasks. What they have now is direct backdoor access to China Mobile and Tencent systems. The Guobao are now able, in real-time, to both eavesdrop on or block your SMSs or WeChat from their technical investigation department offices.

Be it telephones, mobile phones, SMS, QQ, MSN Messenger, microblog platform private messaging, or WeChat, for every new form of communication that has strengthened interaction between members of the public, Guobao have simultaneously been given new means to surveil those.
We e-mailed Tencent to see if we could get any sort of information about how the company complies with requests for WeChat user information and if Tencent requires authorities to provide a search warrant, court order, or supboena before information is handed over. We also asked for a description of the specific types of information that are usually requested and if any measures have been taken to allow the PSB to access user information remotely or in such a way which would facilitate the kind of real-time surveillance that Hu describes.
None of that was provided, but we did at least get a reply:
We have taken user data protection seriously in our product development and daily operations, and at the same time, like other international peers, we comply with relevant laws in the countries where we have operations.
One QQ.com department head based in Beijing who was willing to speak off the record would only say:
As far as I understand, there is no full backdoor surveillance access given to the PSB. When QQ [was still Tencent's flagship product], there was a department set up in Tencent's office in Shenzhen tasked with dealing with PSB inquiries and providing assistance with cases. With regard to surveillance of dissidents, if the PSB provided an administrative order Tencent would provide the requested information...Each separate case required [that the PSB provide] a new order.
Hu's final words?
WeChat was developed by Tencent, but it wouldn't have made a difference if it had come from Sina, Sohu, NetEase, Alibaba, Qihoo 360, Baidu or another company. Any [Internet] company that operates in this country has to give the Communist Party's unrestrained Ministry of State Security and PSB Guobao departments backdoor access for surveillance of citizens.

Under this regime, any big players in China regardless of industry that don't cooperate with the government, even if it means being complicit in crimes, won't be in business for long. Tencent and Sina have both been forced into cooperation by the government, and now they just do what they're told.

The minute Tencent and Sina's microblogging services began to play an irreplaceable role in maintaining national security and social stability, those two companies became extensions of the government's stability maintenance apparatus.