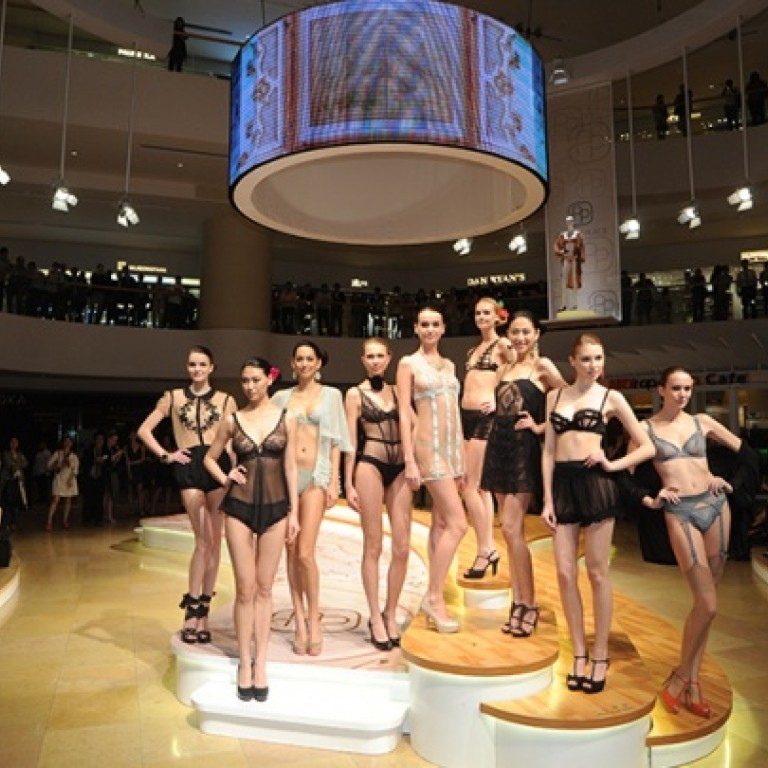 The right to bare arms… legs and a lot more
No ifs, ands or buts about it, the grand finale of "My Gallery, My Place" at Pacific Place was a cheeky affair as the finest Italian lingerie house, La Perla, showcased its latest collection.
With a strict, by-invitation only policy at the door… well, at the mall... a large chunk of Garden Court was cordoned off with velvet ropes. There were several guards and men-in-black bouncers redirecting the teeming masses in the cavernous venue as the on-display mannequins showcased some of the more risqué threads. As the models strutted out in little gossamer ensembles inspired by vintage lingerie and Bolognese corsetry, there wasn't an empty pocket in the multi-tiered balconies that rim the main hall of the mall, as the show kicked off in style and stilettoes.
Of the many who attended the event, we spotted a few known names, most notably the drop-dead-gorgeous model turned actress Jennifer Tse, who was escorted to her front-row seat by Andrea Bonardi, Managing Director of La Perla, Asia. Other notable guests we saw in the mix included Tina Liu, Helena Pong, Tansy Tom, Judy Yu.
Standing tall and sparkling, we found former model-turned-photographer Sabrina Sikora nursing a glass of champagne and asked for an expert opinion behind the seams. "It was a beautifully done show - especially in such a public environment," she said. Indeed, past La Perla shows have been intimate affairs in stores and not such a public venue in Hong Kong. "There were so many pieces that I loved, it was sensual and lovely and girly and most importantly, wear-able. It was sexy but not overdone, such a tastefully done show. Because its lingerie, it can get really racy but the robes and the sheer gowns and the smaller pieces with the cover-ups, all gorgeous. There was an elegance to it all."
When asked if she owns any of the pieces, she said, "No, well, not yet! But they are well worth the investment!"
Newlywed fashion blogger and popular stylist in Hong Kong Jasmine Smith, née Webster, was taking some serious snaps for her dress me blog. "Good show, so different from past ones which have been smaller. There were so many pieces that just made me go 'wow'. It's the details that make La Perla such an interesting brand – and really a cut above the rest when it comes to lingerie. Each piece is so beautiful and lovely."
Judy Yu and Tina Liu
Helena Pong and friends
Helena Pong, left, and Jennifer Tse