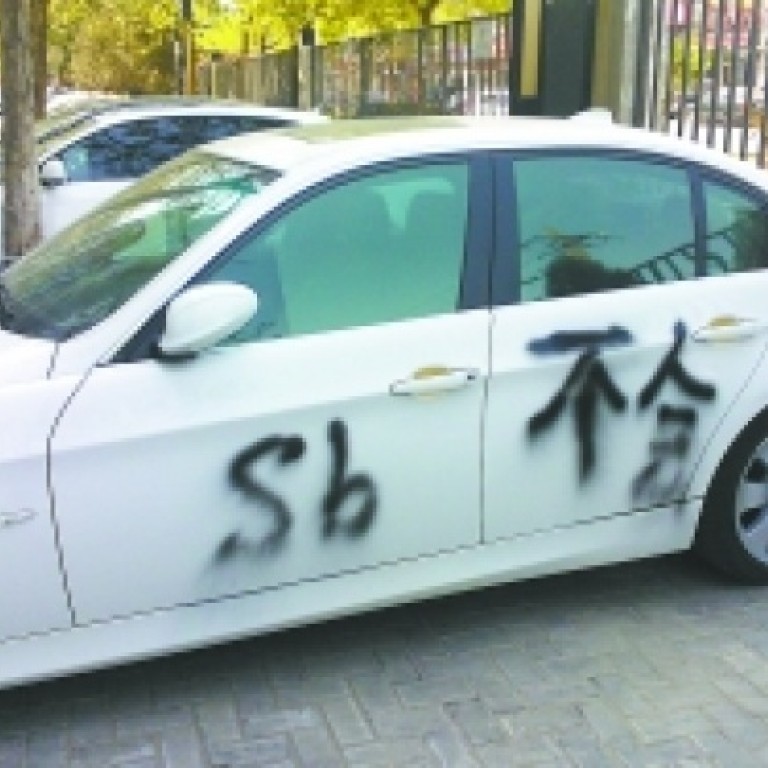 Poorly parked BMW in Beijing spray-painted with insults
If you drive a luxury car in Beijing, you should be careful how and where you park it.
A white BMW sedan that apparently occupied space of two neighbouring spots in a residential parking lot - a mistake or an intentional negligence - was spray-painted with graffiti and attacked on some social websites on Thursday,
according to the Beijing Evening News. 
"Stupid f*, you can't park," the words were seen sprayed on one side of the car in black paint.
The same words were also sprayed on a Mercedez parked nearby, said the report.
"As much as I loathe bad parking, this is wrong," said a blogger on Weibo, where the photo went viral on Friday.
Others blamed the rich-hating mentality prevalent in China, where the gap between rich and poor has widened in recent years. 
"Would this have happened if it's not a BMW?"asked another: "Stop hating rich people!"
"They deserve it," chanted others.
Bad driving and parking is common in many Chinese cities, where a growing number of middle-class residents are buying cars and driving to work.