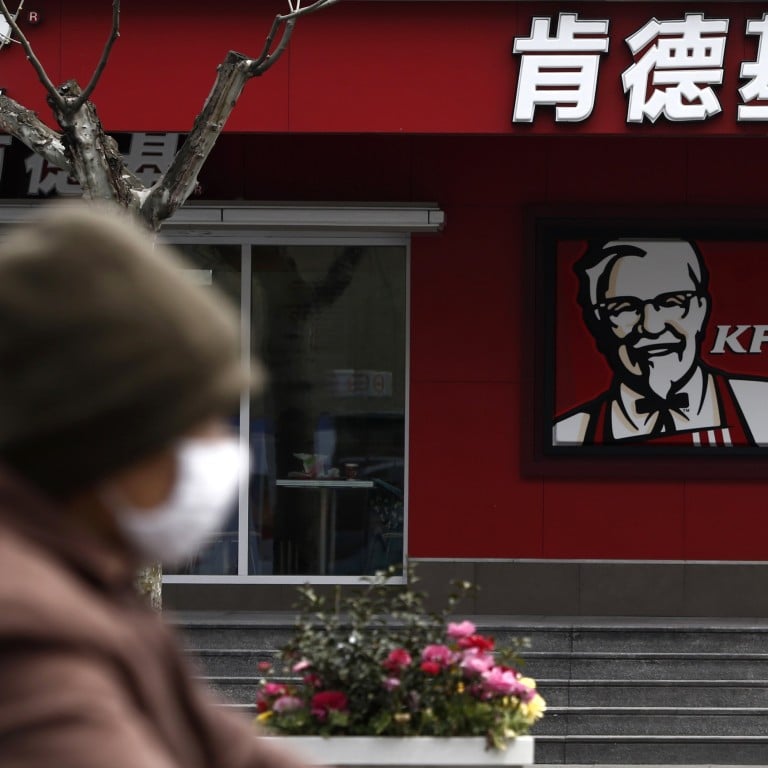 Yum reels as avian flu eases
KFC's downturn should ease with the end of the bird flu emergency in Shanghai, but the chain still faces longer-term slow growth in China
Embattled hoteliers and restaurant operators whose businesses have been hit by China's H7N9 bird flu outbreak are finally getting some relief with
Shanghai's formal cancellation of its bird flu emergency
after the city went three weeks without any new cases.  But companies could continue to feel the fallout from the scare for at least the next few months, with Yum's (NYSE: YUM) KFC perhaps the most vulnerable to longer term damage.
Reflecting just how bad things got, Yum announced late last week that its China
same-store sales plunged 29 per cent in April
at the height of the scare. That number looks bad, but it actually eclipsed an even bigger decline for KFC, since Yum's Pizza Hut chain actually posted China same-store sales growth of 5 per cent for that month.
KFC, on the other hand, saw its same store sales tumble by 36 per cent, according to Yum's latest report. I'm sure that KFC's rapid decline was even worse in Shanghai, the epicentre of the outbreak, with sales down by 50 per cent or more at many of the chain's restaurants in the city during the month. I can say that because I live in Shanghai, and couldn't help but notice how empty the normally bustling KFC stores have been these last few weeks.
I am personally a big fan of fried chicken, but typically avoid KFC both for health reasons and also because it's often difficult to find seating during mealtimes. While the health issues remain, the crowds have become a non-issue these last few weeks, with large sections of KFC restaurants often roped off and closed down during that time to hide the lack of customers.
KFC has certainly taken the hardest hit during this outbreak, not only because its core product was shunned by consumers but also because Shanghai is probably its biggest single market in China. I would guess that perhaps as much as 20-30 per cent of the 4,000 China KFC outlets are concentrated in the Shanghai area and surrounding Yangzte River delta where the outbreak was centered.
Others who felt a pinch in April included hotel operators like Home Inns (Nasdaq: HMIN) and China Lodging (Nasdaq: HTHT), as tourists and business travelers avoided Shanghai during the outbreak. I previously said that other restaurant operators like McDonalds (NYSE: MCD) and Hong Kong-listed Japanese noodle chain Ajisen (
0538
.HK) may have felt some effect as well. But based on the strong posting for Pizza Hut, it's quite possible that perhaps these other chains saw relatively limited impact, and possibly even gained some business from customers who shunned KFC.
This lifting of the bird flu emergency in Shanghai should provide some much needed relief for Yum and KFC, and I'll be watching closely to see if Shanghai's other restaurants add chicken dishes back to their menus in the next couple of weeks. Most had taken those items off their menus, partly to ease consumer concerns but also because there was no demand.
Longer term, some are also saying that Yum faces bigger issues in China beyond this latest bird flu hit, and that the company could be facing a much longer downturn in what had become its most promising market over the last decade. The company is still recovering from a scandal surrounding high levels of antibiotics in some of its chickens late last year, and will be prone to similar scandals in the future due to its high profile in the market.
But more fundamentally, the
company's glory days in China may already be in the past
due to growing competition and lack of strong expansion opportunities following its rapid buildup over the last decade. The effects of the bird flu downturn will probably recede within the next couple of months and even the antibiotics scandal will fade over time; but Yum needs to find a way to either rejuvenate KFC or create more excitement around some of its other China brands if it hopes to reignite its heady growth of the past - a task that looks increasingly difficult.
Bottom line: KFC's downturn should ease with the end of the bird flu emergency in Shanghai, but the chain still faces longer-term slow growth in China.
To read more commentaries from Doug Young, visit youngchinabiz.com