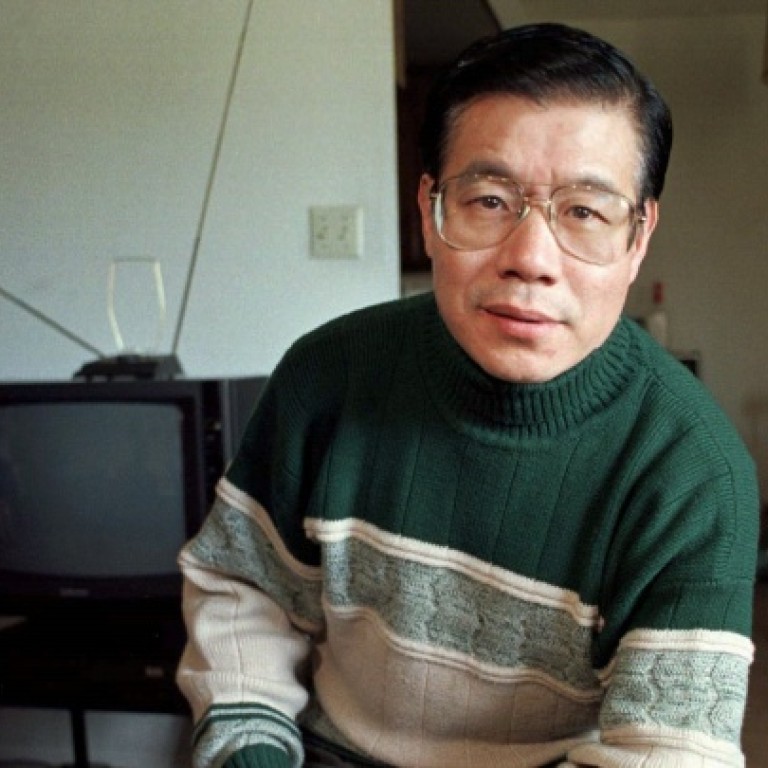 Crusade of jailed Chinese democracy activist Wang Bingzhang's daughter
This year marks the 10th anniversary of a Shenzhen court sentence, which put Ti-Anna Wang's father in prison for life on charges of terrorism and espionage. A decade on, his daughter is still campaigning for his release.
Some people are named after their parents or grandparents, but Ti-Anna Wang is named after a massacre.
"On June 4, after the [1989 Beijing] massacre, it was decided that I would be named in commemoration of the victims who died that night," said the 24-year-old daughter of Wang Bingzhang. By then her father had already become one of the most prominent critics of the Chinese Communist Party. 
"He was a pioneer in the activist movement," said Yu Jie, a renowned writer who left China for exile last year. "As an activist, he was a genius."  
Video: Ti-Anna's fight for justice
This year marks the 10th anniversary of a Shenzhen court sentence, which put Ti-Anna Wang's father in prison for life on charges of terrorism and espionage. A decade on, his daughter is still campaigning for his release.
"The things I do safeguard the way he is being treated," she said. "I think international attention is the only chance that we have that could help in some way towards his release."
Wang Bingzhang, now 66, was born in northern China's Hebei province two years before the founding of the People's Republic. He studied medicine and worked as a doctor. In 1979, he moved to Canada and later New York, where he founded a prominent dissident magazine, China Spring, and set up an opposition party in exile.
Chinese dissident Wang Bingzhang is shown in 1998 in a friend's apartment in Monterey Park, California. He had been expelled from China for attempting to set up a pro-democracy group.
For nearly two decades, he collected funds, made speeches and rallied people to bring down the Communist Party. In 1998, he returned to China to organise the opposition Chinese Democracy and Justice Party. He was expelled within weeks.
In 2002, while trying to meet other activists in Vietnam, Wang disappeared. Only when his two fellow travellers were released and he appeared in a Chinese jail did his family discover what happened.
"While he was having lunch, he was kidnapped by Chinese thugs, beaten and blindfolded and put on a boat, forced into the mainland where he was left at a temple with two of his colleagues," said Ti-Anna Wang, who now lives in Taipei. "Shortly afterwards he was picked up by Chinese police and taken into custody."
"For six months, my family had no information about his whereabouts. China denied having any information as well," she said. "In December 2002, six months later, we found out he was in Chinese custody and being charged with terrorism and espionage."
In a sham trial, he was sentenced to life imprisonment in 2003. Ever since, he has been serving his sentence in solitary confinement at a prison in Shaoguan, three hours' drive north of Guangzhou.
Wang was one of about 300 people who had been charged with politically motivated crimes that year, said Nicholas Bequelin, a senior researcher with Human Rights Watch in Hong Kong. Over the last 10 years, the number has increased to about 500 annually.
"The only known way out for either political dissidents or people sentenced on security charges is to get medical parole," Bequelin said, adding that Wang's chances are slim because the activist advocated the violent overthrow of the Communist Party.
Wang would easily qualify for medical parole, said his daughter. "He always had health problems that have got worse since his imprisonment," she said. "He suffered three strokes in prison, he has seasonal hay fever and also an inflammation of the veins in his legs. He is also severely depressed."
Ti-Anna Wang has not seen her father since 2008 because her visa applications to the mainland keep being denied. She was previously in Washington DC to campaign for his release. She has helped work on a book, Nine Days, which is a fictional account of her quest. She has also campaigned with human rights organisations and moved to Taipei to study Chinese. 
She is still hopeful her father could be released on humanitarian grounds, she said, but she does not "try to think about the future too much".
Prisoners can apply for medical parole after serving seven years of a life sentence, said Joshua Rosenzweig, a human rights researcher at the Chinese University of Hong Kong.
"But it's possible to imagine the authorities think he is much less of a problem for them if they keep him in prison for life, than if they release them," he said.
The likelihood that outside pressure could bring about Wang's release are also slim. "China uses the release of prisoners as a bargaining chip from other governments to get what it wanted, to get a nice state visit for [former president] Jiang Zemin, to get into the World Trade Organisation, or to get its Olympic bid," said Rosenzweig.
"These days, it's not that China wants things from the west, it's that the west wants things from China," he said. "Circumstances have changed."
Yu Jie, who now lives in Virginia, agreed. "Western countries are only interested in economic benefits," he said. "They care less and less about human rights, it's disappointing."
If he were released and were to retire in exile, he would find that the tactics of his anti-party activists has changed. "The exile dissident community has a less central role in determining what activism means in China these days," explained Rosenzweig.
"The idea of grass-roots level of social change has become the predominant theme of activism since 2003. The citizen movement is a classic example of the new model, it has no centre, no leadership, no organisation."
"He has already made it clear in his letters that he would not continue his activism," said Ti-Anna Wang. "He has made that quite clear in promising not to go back to democracy activism if released."
Wang seems to have given up hope, said his daughter. "In recent letters, he is quite clear that he is saying he is losing hope of being free, that he weeps, cries quite a bit about all the things he is missing out on and will miss out on," she said.
While the world and Wang's own aspirations have changed during his decade in prison, the Chinese government's tolerance for activists like him has not, said his daughter. "My father hoped for a China that would not lock people like him up, that would embrace different opinions, that dignified people and treated everyone with fairness and respect."