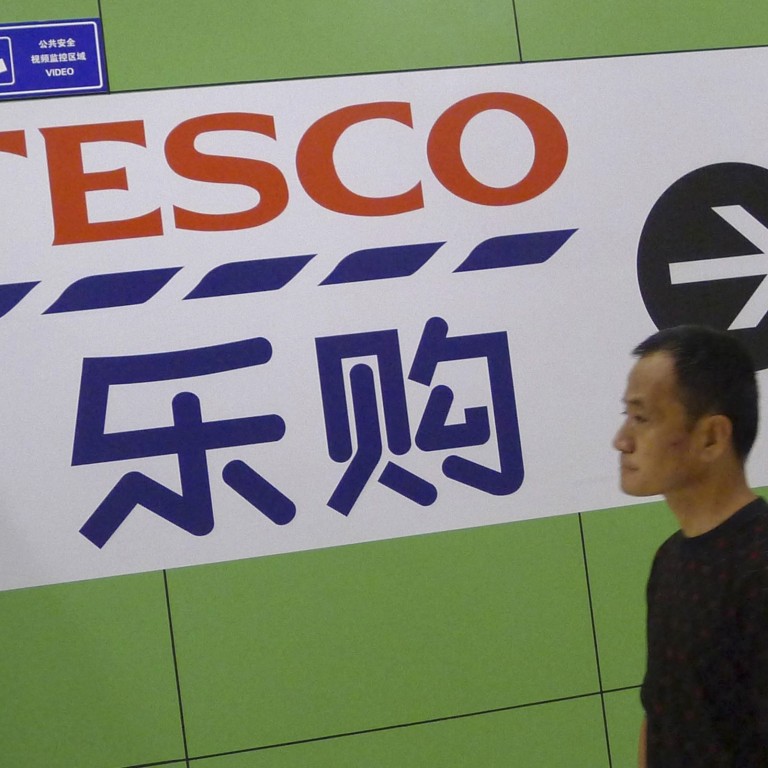 Opinion
Corporate China
by Doug Young
Corporate China
by Doug Young
Tesco ditches China shopping cart, Carrefour next?
Tesco's China withdrawal could be followed by a similar retreat by Carrefour and a slowdown in Walmart's expansion due to the challenge from e-commerce.
I wasn't too surprised to read the latest news that British retailing giant Tesco (London: TSCO) was effectively bowing out of the Chinese supermarket business, as the company never really found a niche in the fiercely competitive market. But more interesting will be the fate of remaining giants Walmart (NYSE: WMT) and Carrefour (Paris: CA), and even domestic leader Sun Art (
HKEx: 6808
), as these companies struggle to remain relevant amid a major assault from e-commerce firms. Of those big players, only Walmart has made a serious move into e-commerce, which looks set to rapidly overtake traditional markets in China's retailing space.
Tesco became the latest victim in China's crowded general merchandising space when
it announced it would roll
its chain of 131 mainland stores into a joint venture with China Resources Enterprise (
0291.HK
), operator of a chain of nearly 3,000 smaller stores called Vanguard. Tesco will become a minority stakeholder in the joint venture with just 20 per cent of the company, while China Resources will hold the remaining 80 per cent. Observers are saying the move represents a surrender by Tesco, which failed to make much headway in the market after nine years. The retreat also follows Tesco's recent pullbacks from the US and Japan to focus on its home British market
From my perspective, this new joint venture looks just as doomed to failure as the original Tesco business. I can only speak from my own experience living here in Shanghai, but the kind of mid-sized stores that China Resources operates are already far less popular among Chinese shoppers than the hyper markets operated by France's Carrefour, US giant Walmart and homegrown Sun Art. Even those larger markets are often populated more by older people who like to browse the aisles for bargains rather than young people who are bigger spenders. By comparison, those younger people increasingly prefer to do their shopping online, even for traditional products like groceries.
Tesco is hardly alone in its inability to compete in China. Earlier this year media reported that Walmart and Carrefour were closing several of their underperforming stores, even though both companies called the move a regular business adjustment. In June, media also
reported that Carrefour
was looking to sell a stake in its Chinese operations or launch an IPO for the unit to raise cash. Carrefour quickly denied the reports, but it was clear that something was happening behind the scenes.
In fact, companies like Carrefour and Tesco have been closing down many of their global operations over the last few years, as they grapple with bigger problems in their recession-hit home European markets. But the rapid rise of e-commerce in China has been compounding their headaches in a market once seen as full of big potential due to the rapid rise of a Chinese middle class. E-commerce sites run by Jingdong, Alibaba and Tencent (
0700.HK
) now carry many of the same items as traditional hypermarkets but for far less. What's more, most of those online names can often deliver goods on the same day, and a few are even trailing services that deliver in two hours or less.
Walmart is taking a double-pronged approach to the e-commerce threat, combining its traditional retailing strength with its recent purchase of a controlling stake in up-and-coming online retailer Yihaodian. Suning (Shenzhen: 002024) has taken a similar approach, even as Carrefour and Tesco largely failed to develop their online businesses. In light of this latest surrender by Tesco, I wouldn't be surprised to see some similar news from Carrefour by the end of this year. Even Walmart could feel the pinch that could see it sharply scale back its plans to open 100 new stores in the next three years.
Bottom line: Tesco's China withdrawal could be followed by a similar retreat by Carrefour and a slowdown in Walmart's expansion due to the challenge from e-commerce.