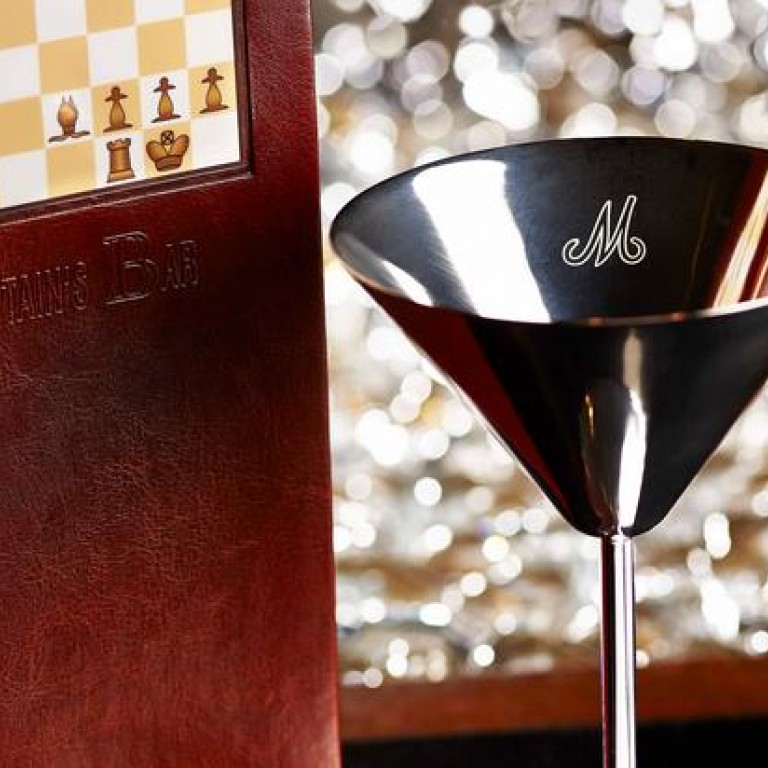 Opinion
Wealth Blog
by Anna Healy Fenton
Wealth Blog
by Anna Healy Fenton
Captain's Bar outs best customers
It's dimly-lit. It's cosy. You sink into the red leather sofas for a late nightcap and feel pleasantly incognito in a rather glamorous 1960s James-Bond sort of way.
It's dimly-lit. It's cosy. You sink into the red leather sofas for a late nightcap and feel pleasantly incognito in a rather glamorous 1960s James-Bond sort of way. You are in one of Hong Kong's best-loved oases, the Captain's Bar in the flagship Mandarin Oriental in Central. The singer warbles away, but few listen. Three types of highly savoury nibbles arrive in a silver tray to make you thirsty and drink more. Of course, Dominic and the other bartenders know your name, because they see you so often, but you fondly imagine that apart from discreet nods from staff and the other regulars, you slink in and out unnoticed.
The big reveal  
But now, tralalala, if you are one of their 50 biggest customers, you're going to be awarded a silver martini glass with your name inscribed on it. Remember all those nights you said you were working late? Now there's nowhere to hide. It's all part of the hotel's 50th anniversary celebrations. Ten years ago the Captain's Bar's 40 biggest boozeliers got inscribed silver tankards. This time it's martini goblets, I suppose you'd call them. Bit chunky to be called glasses.
First of all, you chaps who got tankards last time, don't worry, they are safe.  "Their silver tankards will always belong to them," said a Mandarin spokesman soothingly.  "We will not take it back and give it to someone else. It is just that we will select a different batch of VIPs for our 50th anniversary celebrations in regard to giving away some new silver martini glasses and silver tankards."
In case of confusion, the hotel also sells plain silver tankards in its kiosk. "Therefore, quite a lot of people have these silver tankards, apart from those VIPs who got one for hotel's 40th anniversary." If the guest already has a silver tankard, he will receive a silver martini glass.
So let's be clear. If the Mandarin awards you a silver martini mug, it's very nice. But it also means you're being branded a mega drinker, does it not? At least these Mandarin Oriental guys have a sense of humour. "Yes, probably! " came the reply.
Chinese go property shopping
It's the topic du jour – where are the mainland Chinese buying property? Even Forbes magazine is on the case, telling us that this fall, (autumn to non- American ) droves of affluent Chinese will be looking for a piece of US real estate. Countries around the world are seeing affluent Chinese gobble up property, Forbes adds, "most of it prime-time." They spoke to Andrew Taylor, CEO of China real estate news site, Juwai.com. This site is a favourite with Chinese overseas house hunters. As prices in Shanghai, Shenzhen and Beijing soar, China investors are widening their nets.
Buying for the kids
They are not buying for themselves, it seems. Instead it's for their children's future, in cities with good colleges, good value housing and a good lifestyle. Typically when they take vacations to places like Australia and New Zealand, they are also sourcing real estate. According to Forbes, rich Chinese shy away from the stock market - too volatile. Gold doesn't do it for them any more, having been "bitten by the gold bug" two years ago.
Chinese pay a premium
What they want is real estate, with a view. National Realtors Association statistics show that Chinese buyers accounted for 12 per cent of all non-US buyers of California real estate in March 2013, forking out an average of US$425,000 (HK$3.3 million) for it. That exceeds the average price paid for an American home in June: $214,000 (HK$1.66 million). It also tops the average price of a Californian home, listed at US$365,000 (HK$2.83 million). Meanwhile, in June in Singapore, Forbes reports that Chinese were 34% of the foreign property buyers, according to international agents Knight Frank. Interestingly, Malaysia, No. 2 in the Lion City's foreign buyer league table, accounted for just 11.4% of real estate transactions. In fact, the rise of China's numbers in Singapore have prompted the government to curb foreign house purchases, reports Forbes.  It seems as the Shanghai and Beijing governments' restrictions on second homes buying, Singapore, Sydney, London and California become more appealing, even though often more expensive.