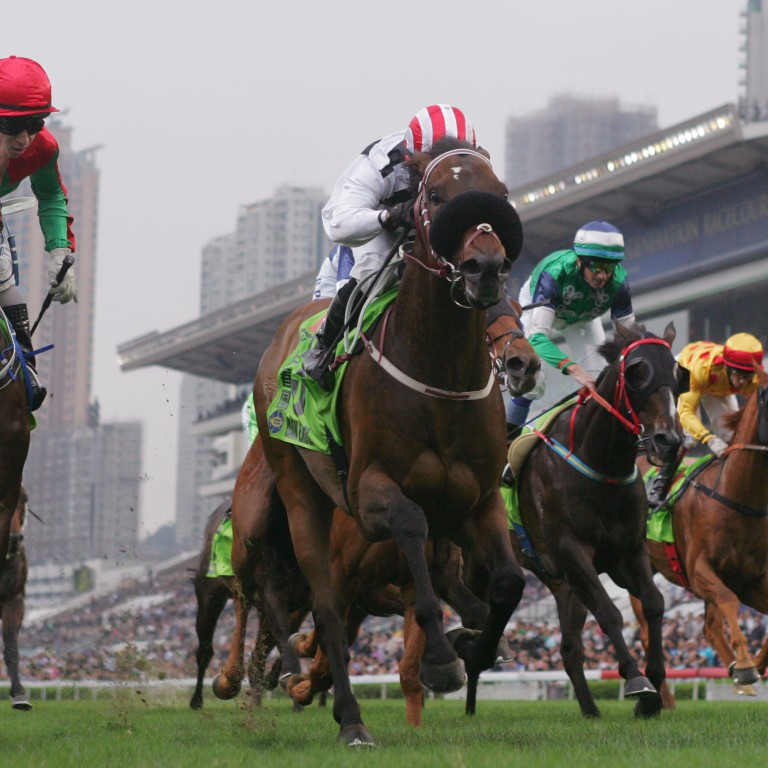 Opinion
Happy Lucky Dragon Win
by Michael Cox
Happy Lucky Dragon Win
by Michael Cox
Let bygones be bygones and make Champions Mile a Doncaster double
Racing New South Wales' revamped autumn carnival "The Championships" has been derided by some for its lack of overseas interest – and the Hong Kong Jockey Club's Champions Mile has had its critics, too.
Racing New South Wales' revamped autumn carnival "The Championships" has been derided by some for its lack of overseas interest – and the Hong Kong Jockey Club's Champions Mile has had its critics, too. But a little bit of collaboration between the two once-warring jurisdictions could go a long way to help both turn around what is looking like lacklustre international involvement in their upcoming rich mile features.
To say there's a little tension between the men at the top of the Hong Kong Jockey Club and Racing NSW  – Winfried Engelbrecht-Bresges and Peter V'Landys – is probably understating it, even if the matter of jockey Chris Munce being allowed to ride in Australia while still banned elsewhere was more than five years ago.
There was also Racing NSW breaching an Asian Racing Conference protocol by taking on a sponsor, leading to Engelbrecht-Bresges resigning as chairman of the Asian Racing Federation, with the German citing an inability to work with V'Landys. The only real manifestation of the whole brouhaha, other than nasty letters and chest pounding, was that the Jockey Club stopped shopping at Sydney's Inglis Easter Yearling Sales for a time, returning last year.
We aren't here to dig up any of that controversy and pick over it – plenty has been written – but rather to suggest it be left behind when it comes time to talk racing and the two jurisdictions work together to help two races worthy of the boost. Both are in desperate need of more quality international runners.
Quite frankly, it seems the Champions Mile is dying a slow death, losing relevance quicker than Vanilla Ice did post-Ice Ice Baby. It is without a sponsor for this year and, even though it is still worth HK$12 million, it still feels like a comedown after the richer HK$14 million Audermars Piguet QEII Cup seven days earlier.
The Champions Mile only attracted two overseas entrants last year, and has oscillated between two and four over the past five years. The race had a worthy winner in Dan Excel last year but as an event it lacks the excitement top-class visitors bring.
Racing NSW has thrown a government fund of A$10 million (HK$69.7 million) at The Championships – and the Doncaster Mile has had its purse doubled to A$3 million, making it the richest mile handicap in the world.
Even then it may not have an international runner, with Irish sprinter-miler Gordon Lord Byron likely to skip the race. Trainer Tom Hogan fears his multiple Group One winner would have to give too much weight away to a classy three-year-old like John Moore-owned Not Listenin'tome.
Instead, Gordon Lord Byron will race in the Group One George Ryder Stakes at Rosehill on March 29, not part of the two-Saturday programme for The Championships, but also doubled in prizemoney to A$1 million. He will then come back to 1,200m and race for A$2.5million in the TJ Smith Stakes on the same day as the Doncaster, April 12.
It is what Hogan then plans to do with Gordon Lord Byron next that could make him a trailblazer – head to the Champions Mile 22 days later.
From 1,500m, back to 1,200m, and back up to a mile isn't an ideal pattern but who is to say that it can't be done?
And what is a more natural progression is to come from the Doncaster Mile to the Champions Mile with a three-week break in between. Could we even suggest the QEII be run seven days after that, offering horses a chance to build to a 2,000m "grand final"?
Interestingly, connections of one Hong Kong horse did express interest in heading to the Doncaster, but Sha Tin's quarantine facilities could not cope with more outbound traffic at that point in time. It would be nice to see a tough Hong Kong miler take on both races in the future though.
If Gordon Lord Byron is successful, or at least runs well at both ends of his campaign, it can only help both races attract more foreign interest. But what is more important is that the two leading men put any lingering resentment aside to work on the betterment of their product. May's Asian Racing Conference in Hong Kong is a perfect place to start.
A return to the Asian Mile Challenge isn't necessary – horse racing series don't work although a bonus wouldn't go astray for the two races – but at the very least a spirit of co-operation and open communication would be a start.