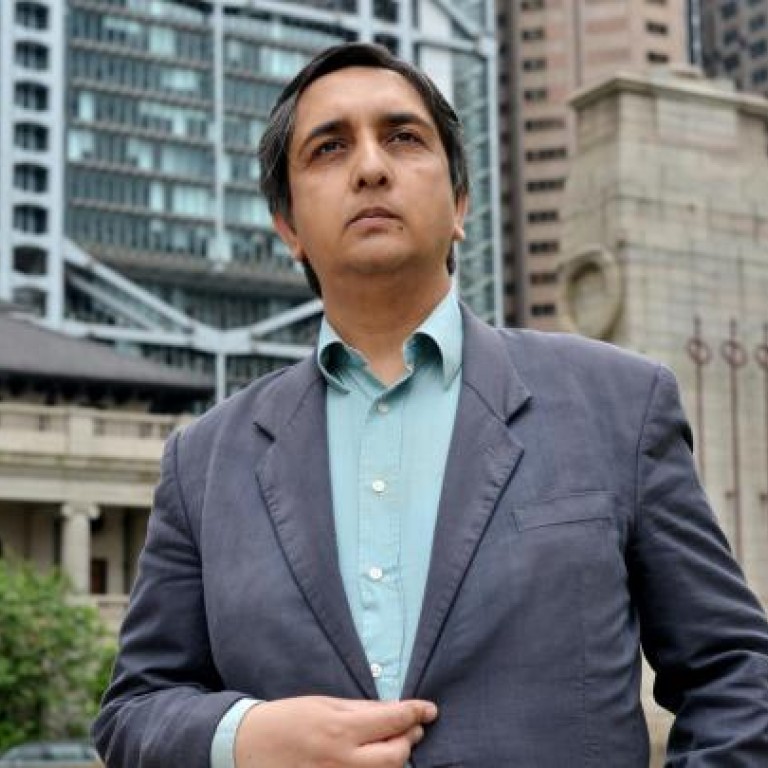 Opinion
Public Eye
by Michael Chugani
Public Eye
by Michael Chugani
His name is Khan and he has been discriminated against. Or so he claims. It would be reprehensible for a government to discriminate against its citizens on ethnic grounds. Is that happening here? The government isn't saying. Businessman Philip Khan, 50, was born in Hong Kong. His family has been here for generations. A fluent Cantonese speaker, he recently agreed to renounce his Pakistani passport to qualify for a Hong Kong one. But immigration officials showed him the door. These same officials had rolled out the welcome mat for Mike Rowse, Allan Zeman and Paul Zimmerman - all Westerners who neither speak Cantonese nor were born here. When Khan told the officials he wanted to be naturalised so he could run in the Legislative Council election, they told him not to bother. When Zimmerman sought naturalisation for the same reason, they expedited his case. Any mainland baby whose mother comes here solely to give birth before promptly returning home with her newborn still qualifies for a Hong Kong passport. But Khan - a genuine Hongkonger with family roots stretching back generations - does not. Maybe his problem is that his name is Khan. Forget about the Equal Opportunities Commission. The government put itself out of the commission's reach when it wrote our anti-racism laws. Reason? The government insisted it does not discriminate. Yet a bona fide Hongkonger is denied a Hong Kong passport. How can that possibly be unless he has done something horrible that disqualifies him? The government needs to explain. Lam Woon-kwong, who heads the Equal Opportunities Commission, confesses he is powerless to act in cases such as Khan's. Lam is also the convenor of the Executive Council - Chief Executive Leung Chun-ying's cabinet. He has said if push came to shove he would fight the commission's corner. Surely, Khan's case is tailor-made for him to walk the walk. He should be banging the Exco table demanding to know why a Hong Kong-born man can't get a local passport when others with far fewer local roots can. Or is he just all talk? When Leung won the election, he said he would be the chief executive for all Hongkongers. He said he would make our society fairer for everyone. Khan's case has left Hong Kong's so-called ethnic minorities smelling the stench of bigotry. They need to be credibly reassured that racism is not at play. Will Leung do that or is he all talk too?
Public Eye has a dream, but to realise it you must all imagine. You need to take John Lennon's lyrics seriously. Okay, most of the lyrics are a fool's dream. There's no way you can imagine there's no religion. The Muslims, Jews, Hindus and Christians will tell you that. But the Diaoyus are just a bunch of barren islands. Their only worth is the rich natural resources around them. Countries claiming sovereignty just crave the resources. Only the common people are stupid enough to believe it's an issue of national pride worth dying for. Lennon called for a brotherhood of man, all the people sharing all the world. Surely, his dream can be realised in the case of the Diaoyus. The competing countries simply have to put bluster aside and share the natural resources. There's plenty enough to go round. All it takes for that to happen is for Hongkongers, mainlanders, Taiwanese and Japanese to imagine.
Tsang Kin-shing, aka the Bull, must be finding it hard to imagine. He sails to the Diaoyus, bravely swims ashore with a national flag and is handcuffed by the Japanese. The central government demands his release. He comes home a national hero and a patriot. But the Bull is also a rabid critic of the central government. That's why he can't enter the mainland. A national hero who's barred from the country. Go figure that one out.